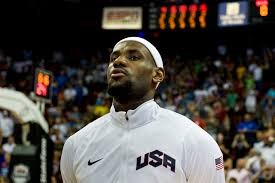 LeBron James issues warning shot to outspoken LaVar Ball
LeBron James directed a cease-and-desist order of sorts Tuesday to LaVar Ball, the outspoken father of three boys -- including star UCLA freshman Lonzo Ball -- who said earlier this month that his children are set up better for future success than those of the Cleveland Cavaliers' star.
LeBron James responds to LaVar Ball: 'Keep my kids' name out of your mouth'
For weeks now, LaVar Ball has been going on practically every sports media platform that will have him and saying some incredible things, such as how his son Lonzo (currently a freshman at UCLA, and projected to be a top-three pick in the NBA Draft later this summer) is already better than Stephen Curry , how he, LaVar, would have "killed" Michael Jordan in one-on-one , and how he's seeking a $1 billion shoe deal for the family.
LeBron James warns LaVar Ball: 'Keep my family out of your mouth'
LaVar Ball is up to something again. According to ESPN's Dave McMenamin, he now has LeBron James angry with him.
Earlier in March, Ball spoke out about LeBron's sons on an episode of the In the Zone with Chris Broussard podcast. In that episode Ball mentioned that his sons would have a better chance in the NBA than James', suggesting that it would be too hard to live up to James' legacy.
[ESPN]
LeBron James to LaVar Ball:
"Keep my kids' name out of your mouth, keep my family out of your mouth" pic.twitter.com/ik6fN93a55

— Cavs Sports Talk (@CavsSportsTalk) March 21, 2017