Drinking and partying can be fun to do especially if its a big occasion such as someone's birthday, or during the holidays or if it's New Year's Eve. Drinking can make people do stuff that is not normal- drunk texting or calling someone they wish to talk to for a while, mistakenly purchase something online, walking miles on foot coming from the party, or maybe fall asleep at a park's bench.
However, to some people, it can only go that far. Just like Peyton Haag, a young man from Minneapolis, Minnesota, who got a little too drunk on New Year's Eve and drunkenly adopted a baby kangaroo. The funny part is, he only knew the adoption a few months after that night he got drunk.
How Peyton Ended Up Adopting Poppy
Just like any other young man, Peyton was only one guy who loves to party. It was New Yea's Eve when he drunkenly adopted a baby kangaroo. However, he was not aware of this after that day and he only found out about the adoption a few months in 2020.
According to Peyton, he was starting to wonder why there was always a deduction of $5 on his bank account. This happened ever since January 2. According to him, he keenly checks all the deductions he has in his checking account, and at the same time he was paying his other subscriptions, he did not think about it too much thinking it may be some tax or charge fee alongside the subscriptions.
However, he realizes that the deductions were happening every week and decided to dig on it. After connecting the dots, he was led back to what happened in New Year's Eve and had found out that he adopted a baby kangaroo.
According to Peyton, he knew about the adoption when he wrote a note on his phone the same night and listed that he adopted a baby kangaroo. He then went to his bank account details and transactions and discovered that the $5 were deducted and sent to a wildlife and environmental group.
He also realized that he named his adopted baby kangaroo as "Poppy."
When Peyton discovered about the adoption, he went to this email for his receipt and there he found his adoption confirmation email from the wildlife group confirming his adoption to an injured joey named Poppy.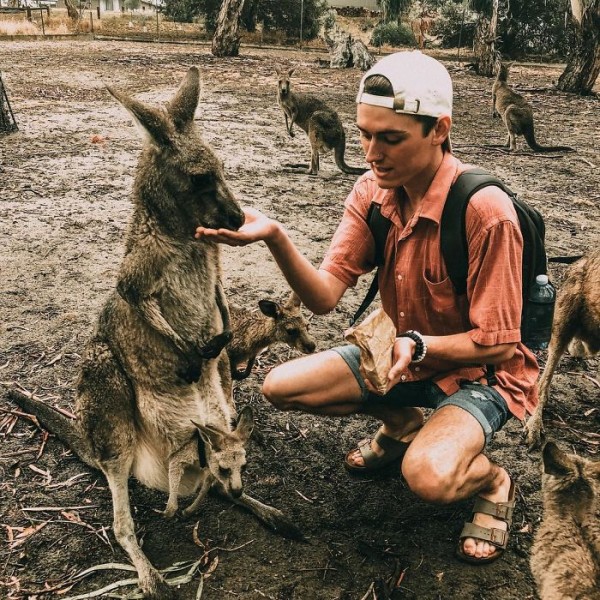 Peyton then went on Twitter to share his unbelievable drunk experience in adopting a baby kangaroo. He also shared to his followers that people can give a donation to the same wildlife group that he helps and where he adopted Poppy.
Supporting the Kangaroos
When he realized his drunk mistake, he continued to support his adopted kangaroo, Poppy, and also adopted another one, sponsoring the animal foundation.
Peyton also shared that he possibly got inspired to adopt a baby kangaroo because that was the same time when the Australia wildfire happened. The fire went to bad to worst and he also loves the country so much and has grown fond of the place while he was studying in Adelaide for a couple of months.