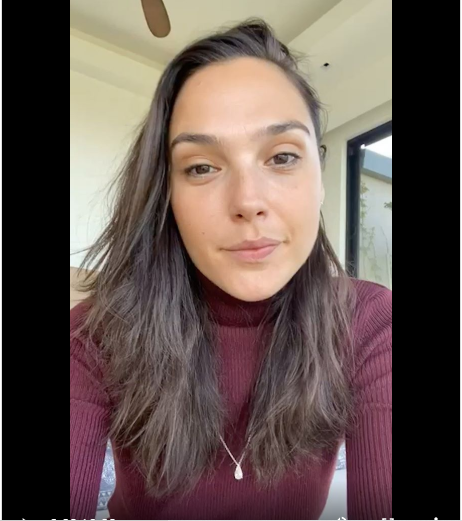 The spread of the coronavirus has got millions of people into a frenzy, and understandably so. Every day, we see news about how many people got infected and how many passed away because of it. But believe it or not, there are still those who try to find humor in the situation and to lighten up the mood on social media sites.
Coronavirus funny jokes
There is a lot of comedy made in response to the pandemic and the recent announcement of community quarantine across America. Although some were unfunny, weird, and very racist, some are absolute gold and can put a smile on anyone's face.
One of the most popular topics online this week was the short video of celebrities singing "Imagine" by John Lennon. On March 18, Gal Gadot posted the video on her Instagram account and it showed dozens of her celebrity friends singing, and even though it was done to inspire people during this difficult time, comedians did not waste any time in mocking the said video by doing parodies of it.
Comedians like Gilbert Gottfried, Tavi Gevinson, Pat Regan and even actor Jeff Goldblum poke fun at the said video by creating their own version, with funny bits added.
Celebrities are not the only ones who are giving us comedy content, those who are forced to stay at home due to the lockdown had come up with hilarious ways on how to cope with being stuck in their apartment.Twitter user @MNateShyamalan came up with an idea on how to make the quarantine sound classy.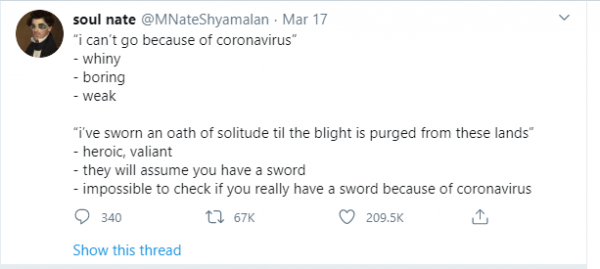 Twitter user @mvazquez17 gave his dog a very important task. Since dogs are said to be safe from contracting the virus, he showed a GIF of a dog driving with the caption "Me sending my dog out for supplies since he can't contract COVID-19"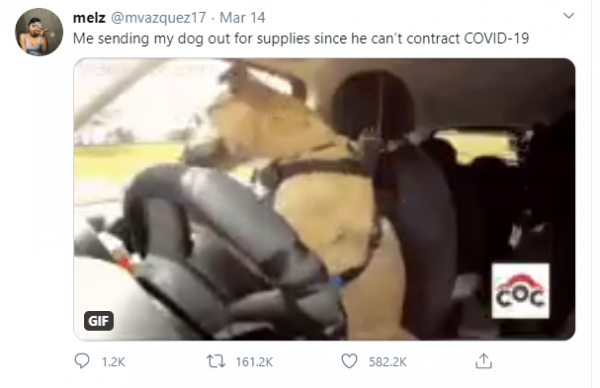 Another Twitter user @alyssalimp regrets not taking up cooking classes. Since restaurants and bars are now closed due to the community quarantine order, people are forced to cook their meals at home and to only go out to grocery shop.

Since people are forced to stay at home, millions are now sharing stories about their families and loved ones. Twitter user @TimJDillon sent his support to those who are not thrilled to be stuck at home with their families for a month or two.

Twitter user @inLaurasWords just discovered something about her partner that she would not have known if they were not stuck in the house together

And Twitter user @tweetrajouhari is not having some good thoughts about her boyfriend, and her comment came up a little disturbing.

Funniest videos
Aside from Gal Gadot's "Imagine" video, the video of Cardi B saying "Coronavirus" is now a certified bop. Her IG live was edited and remixed, and could potentially be a chart-topper.
CNN reporter Chris Cuomo and his brother New York Governor Andrew Cuomo had a little sibling moment on national TV, and it amused millions of people who tuned in.
And of course, netizens did not forget to add jokes about their health conditions. Twitter user @DylanWheeler_ shared his daily quarantine schedule.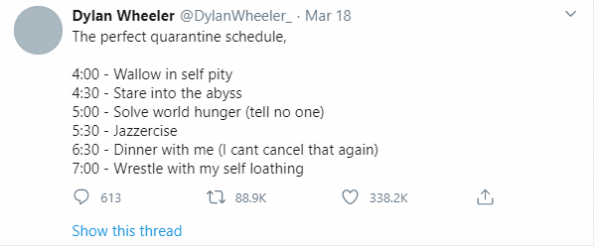 And Twitter user @LeeBruh_Greene knows why anti-vaxxers have been suspiciously quiet lately.

ALSO READ: WATCH: World's Most Hygienic Fare-Dodger Teaches You How to Disinfect When Going for a Ride