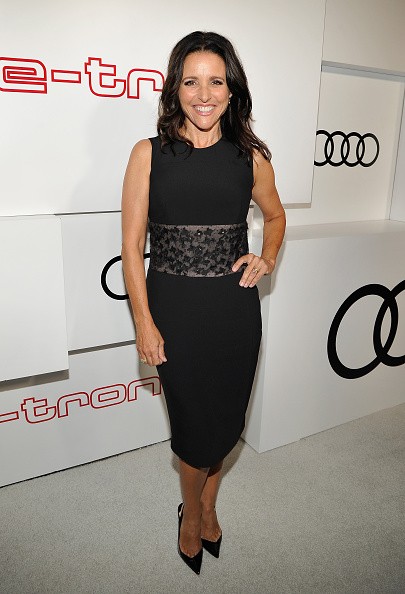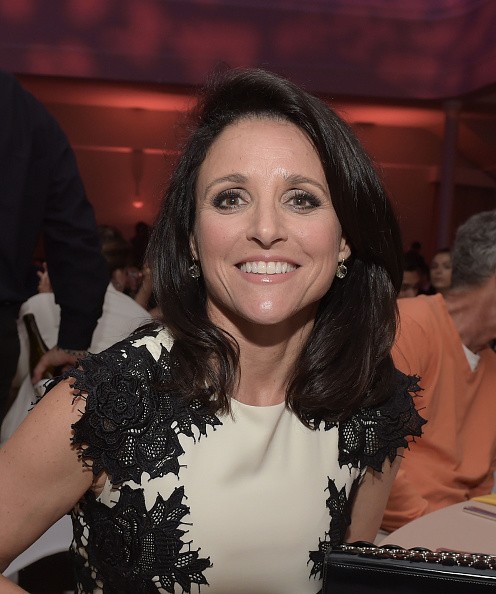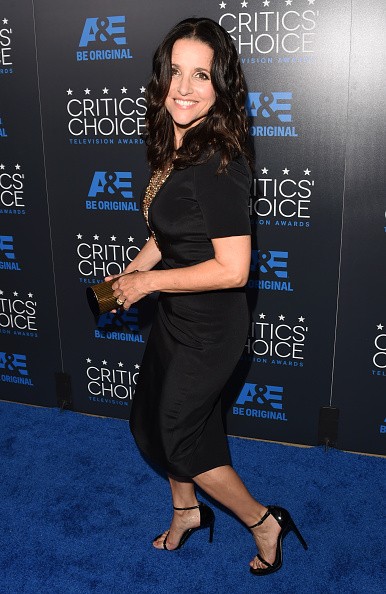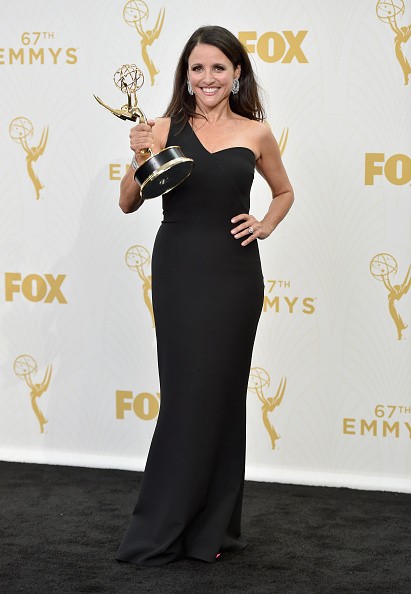 She is known for her work on the comedy series Seinfeld, The New Adventures of Old Christine, and Veep. Learn 50 facts about Julia Louis-Dreyfus.
1. Louis-Dreyfus was born in New York City.
2. Her mother, Judith was a writer and special needs tutor.
3. Her father, Gérard Louis-Dreyfus, chaired Louis Dreyfus Energy Services.
4. She is the great-great-granddaughter of Léopold Louis-Dreyfus, who in 1851 founded the Louis Dreyfus Group, a French commodities and shipping conglomerate, which members of the family control to this day.
5. Her paternal grandfather, Pierre Louis-Dreyfus was president of the Louis Dreyfus Group; he remained in France during World War II, fighting as a cavalry officer and later in the French Resistance.
6. Her father fled to America from France.
7. Her paternal grandmother, Dolores, and her mother, were American.
8. Her paternal grandfather was from an Alsatian Jewish family.
9. Louis-Dreyfus does not consider herself Jewish.
10. In 1962, one year after Louis-Dreyfus's birth, her parents divorced.
11. After relocating to Washington, D.C. when Julia was eight, her mother married L. Thompson Bowles, Dean of the George Washington University Medical School.
12. During her childhood, her mother occasionally took her to Unitarian church services.
13. Louis-Dreyfus spent her childhood in several states and countries, in connection with her stepfather's work with Project HOPE, including Sri Lanka, Colombia, and Tunisia.
14. She graduated from the Holton-Arms School in Bethesda, Maryland in 1979.
15. Attended Northwestern University in Evanston, Illinois. There, she was a member of the Delta Gamma sorority, and studied theatre for several years.
16. She dropped university due to a professional acting job offer.
17. Her full name is Julia Scarlett Elizabeth Louis-Dreyfus.
18. She is an actress, comedienne and producer.
19. She is known for her work on the comedy series Seinfeld, The New Adventures of Old Christine, and Veep.
20. Louis-Dreyfus broke into comedy as a performer in The Practical Theatre Company in Chicago, which led to her casting in the sketch show Saturday Night Live from 1982 to 1985.
21. Her breakthrough came in 1990 with a nine-season run playing Elaine Benes on Seinfeld, one of the most critically and commercially successful sitcoms of all time.
22. Other notable television roles include Christine Campbell in The New Adventures of Old Christine which had a five-season run on CBS, and her role as Selina Meyer in Veep, which has recently been renewed by HBO for a fifth season.
23. Louis-Dreyfus' film roles have included Hannah and Her Sisters, National Lampoon's Christmas Vacation, Deconstructing Harry and Enough Said.
24. She also voiced roles in several animated films, including A Bug's Life and Planes.
25. Louis-Dreyfus has received a Golden Globe Award and seven Emmy Awards.
26. She has also received six Screen Actors Guild Awards, five American Comedy Awards and two Critics' Choice Television Awards.
27. Louis-Dreyfus received a star on the Hollywood Walk of Fame in 2010.
28. Was inducted into the Television Academy Hall of Fame in 2014.
29. As part of her comedic training, Louis-Dreyfus appeared in The Second City, one of Chicago's best-known improvisation theatre groups (whose alumni include Alan Arkin, Steve Carell, Stephen Colbert, Tina Fey, Amy Poehler and Shelley Long).
30. It was her performance with The Practical Theatre Company at their "Golden 50th Anniversary Jubilee" that led to her being asked to join the cast of NBC's Saturday Night Live at the age of 21.
31. Louis-Dreyfus was subsequently a cast member on Saturday Night Live from 1982 to 1985, becoming the youngest female cast member in the history of the program at that time.
32. During her time on SNL she appeared alongside several actors who would later rise to prominence, such as Eddie Murphy, Jim Belushi, Billy Crystal and Martin Short.
33. It was during her tenure on SNL that she met writer Larry David, who would later co-create Seinfeld.
34. Louis-Dreyfus has commented that her casting on SNL was a "Cinderella-getting-to-go-to-the-ball kind of experience"; however, she has also admitted that at times it was often quite tense, stating that she "didn't know how to navigate the waters of show business in general and specifically doing a live sketch-comedy show."
35. Following her 1985 departure from SNL, Louis-Dreyfus appeared in several films, including the Woody Allen-directed Hannah and Her Sisters, Soul Man, starring C. Thomas Howell; and National Lampoon's Christmas Vacation, in which she starred alongside fellow SNL alum Chevy Chase.
36. In 1988 she was cast in the NBC sitcom Day by Day, which aired for two seasons before being cancelled.
37. In the early-1990s Louis-Dreyfus became famous for the role of Elaine Benes on NBC's Seinfeld. She played the role for nine seasons, appearing in all but three episodes.
38. In 1998, Seinfeld decided to end the series after nine seasons. The series finale aired on May 14 and was one of the most watched TV events in history, with over 76 million people tuning in.
39. During her time on Seinfeld she appeared in several films, including Fathers' Day, opposite Robin Williams and Billy Crystal, and Woody Allen's Oscar-nominated Deconstructing Harry.
40. Following a voice role in the successful Disney Pixar's A Bug's Life, Louis-Dreyfus lent her voice as Snake's girlfriend Gloria in The Simpsons episode "A Hunka Hunka Burns in Love". I
41. Louis-Dreyfus's maternal half-sister, Lauren Bowles, is an actress, who has appeared with Louis-Dreyfus on Seinfeld, Watching Ellie and The New Adventures of Old Christine.
42. She also has two half-sisters on her father's side, Phoebe and Emma.
43. Robert Louis-Dreyfus, one of her cousins, was former CEO of Adidas and owner of the Olympique de Marseille football club.
44. While at Northwestern, Louis-Dreyfus met future husband and Saturday Night Live comedian Brad Hall.
45. She and Hall married in 1987.
46. Hall and her have two sons together, Henry, born in 1992, and Charles, born in 1997.
47. In 2007, she was invited back to Northwestern to receive an honorary Doctor of Arts degree.
48. Louis-Dreyfus has stated that she holds much respect for "women who are not afraid of making themselves look bad or foolish to get a laugh".
49. She cites her acting idols as Lucille Ball, Mary Tyler Moore, Madeline Kahn, Teri Garr, Valerie Harper and Cloris Leachman.
50. Actress Tina Fey has stated that Louis-Dreyfus served as inspiration for her character Liz Lemon on the award-winning NBC comedy series 30 Rock.