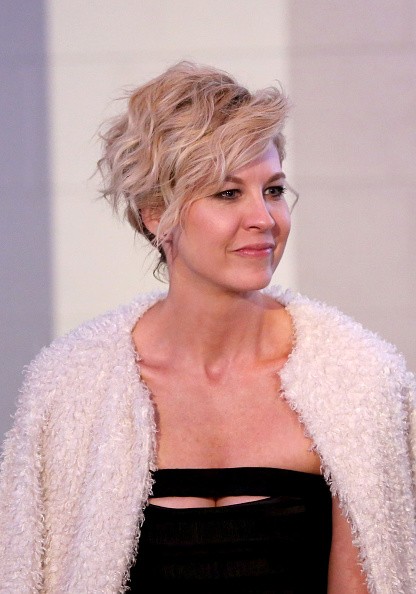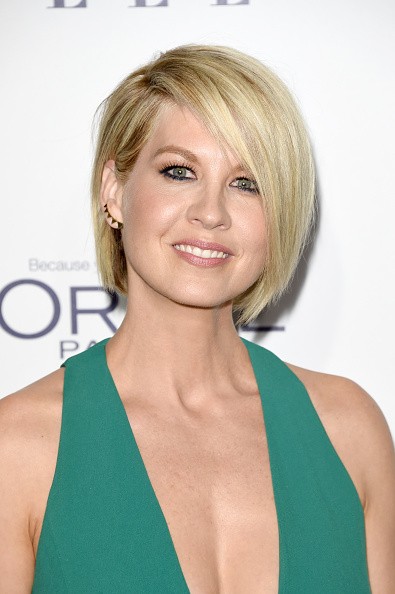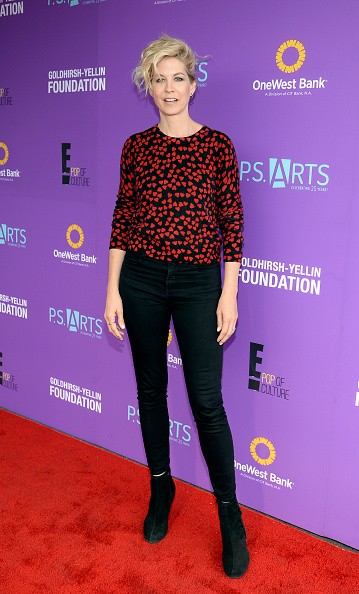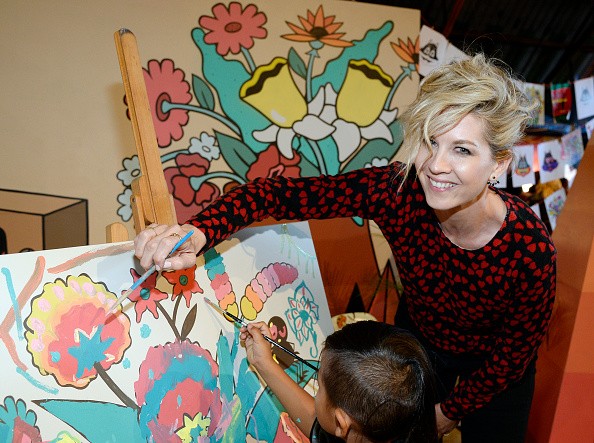 Jenna Elfman's 50 facts.
1. Jennifer Mary "Jenna" Elfman is an American television and film actress.
2. She is best known for her role as Dharma on the 1997-2002 American television sitcom Dharma & Greg.
3. Elfman was born Jennifer Mary Butala.
4. She was born in Los Angeles, California.
5. Is the youngest of three children.
6. Her mother Sue Butala is a homemaker.
7. Her father Richard Butala is a Hughes Aircraft executive.
8. Her father's younger brother, Elfman's uncle, is Tony Butala, lead singer since 1958 of the American vocal trio The Lettermen.
9. She is of Croatian ancestry on her father's side.
10. She was raised Roman Catholic.
11. Elfman attended high school at the Los Angeles County High School for the Arts.
12. Attended college at California State University, Northridge (CSUN).
13. Elfman began her professional career as a dancer.
14. Appeared in the music videos for Depeche Mode ("Halo" in 1990), Anthrax (1993's song "Black Lodge"), Chris Isaak (1995's "Somebody's Crying").
15. Toured with the rock band ZZ Top on their 1994 tour as a "Legs Girl".
16. After appearing in television commercials, Elfman was cast in the short-lived 1996 American sitcom entitled Townies on ABC.
17. In 1997 Elfman was cast in Dharma & Greg on ABC, as Dharma Freedom Finkelstein Montgomery. The show ran for five seasons until its cancellation in 2002.
18. Elfman is married to Bodhi.
19. She attended a ceremony re-naming the Balcony Theatre in memory of Carol Burnett's daughter, Carrie Hamilton, at the Pasadena Playhouse in Pasadena, CA.
20. In 2012, Elfman and her husband Bodhi started their podcast, Kicking and Screaming by Jenna and Bodhi Elfman.
21. In 2013, Elfman appeared in two comedy series (1600 Penn, and Growing Up Fisher) which were cancelled after a single season.
22. In February 2006, Elfman donated an hour of her time to be auctioned to the highest bidder on eBay as part of the "Lunch with a Leader" fundraiser, the proceeds of which benefit the work of communities in Schools. She also participated in the auction in 2007 and 2008.
23. Elfman donated her lip print for a limited edition U.S. postage stamp created by Zazzle to celebrate Valentine's Day in both 2007 and 2008. Proceeds for the "Kiss Stamps" went to support the programs of The Humane Society of the United States (HSUS).
24. In February 2011, she filmed a PSA for HSUS to inspire people to donate to help animals.
25. She is a criminal rehabilitation activist.
26. As a criminal rehabilitation activist, Elfman has traveled to Washington, D.C., to lobby for criminal reform.
27. On April 5, 2007, she was presented with the Goodwill Ambassador Award for her work in human rights and criminal rehabilitation at the Women Ambassadors Foundation 12th Annual Conference.
28. On April 9, 2008, she was a guest at the signing of a new bill by U.S. President George W. Bush that aimed to reduce prisoner recidivism, entitled the Second Chance Act of 2007 (H.R. 1593).
29. In September 2008, Elfman joined the charity: water month-long "September Campaign", asking for donations in lieu of birthday gifts in order to raise money to build freshwater wells in Ethiopia.
30. She ran a second charity: water birthday campaign in September 2011 to aid in funding a drilling rig for wells in Northern Ethiopia.
31. On January 22, 2010, Elfman donated her time to participate in the Hope for Haiti Now: A Global Benefit for Earthquake Relief telethon in Los Angeles, California.
32. On March 2, 2011, she participated in the National Education Association (NEA) Read Across America program by reading to school children in Compton, California in honor of Dr. Seuss' birthday.
33. Elfman walked the catwalk in The Heart Truth Red Dress Collection 2012 Fashion Show in New York on February 8, 2012 to raise awareness for heart disease. The annual event is headed by the National Heart, Lung, and Blood Institute.
34. On March 6, 2012, Elfman hosted Laugh For Sight's comedy show at The Improv in Los Angeles to benefit the Scheie Eye Institute at the University of Pennsylvania.
35. On April 14, 2012, Elfman hosted an environmentally friendly themed charity event at her home in Los Angeles, California for the purpose of the party's attendees to learn more about the Healthy Child Healthy World "Healthy Child Party" program and Best for Babes, a breastfeeding advocacy organization.
36. Elfman met her husband, actor Bodhi Elfman, at a Sprite commercial audition in February 1991.
37. The couple married on February 18, 1995.
38. Director Richard Elfman is her father-in-law and composer Danny Elfman her uncle-in-law.
39. On July 23, 2007, Elfman and her husband's first child, a son, Story Elias, was born in Los Angeles.
40. On September 16, 2009, when Elfman announced she was expecting her second child, she suggested that the pregnancy would help with her role in Accidentally on Purpose.
41. On March 2, 2010, their son, Easton Quinn Monroe, was born.
42. Elfman is a member of the Church of Scientology.
43. In 2005, Elfman appeared at the Scientology-backed Citizens Commission on Human Rights' Psychiatry: An Industry of Death" museum grand opening and she and husband Bodhi are listed on the organization's website as members of the board of advisers from the arts, entertainment and media community.
44. She is also known as Jenna Butala.
45. On May 24, 2006, she was the keynote speaker at the Human Rights Hero Award event in participation with the Scientology-affiliated groups Youth for Human Rights International and Artists for Human Rights (AFHR), an organization formed with the purpose of bringing artists together with the common cause of raising awareness of human rights around the world.
46. On March 27, 2008, Elfman and Charlie Sheen co-hosted the Scientology-affiliated New York Rescue Workers Detoxification Project Charity Event at Geisha House in Hollywood.
47. Appeared on the cover of 2007 Summer issue of Plum Magazine.
48. Jenna and her husband were among the guest that attended Tom Cruise and Katie Holmes' wedding.
49. Jenna performed as a replaced cast member in the Broadway musical Nine.
50. She is a classically-trained Ballerina.