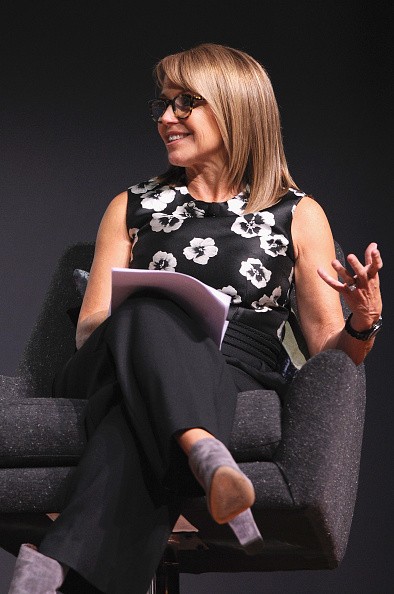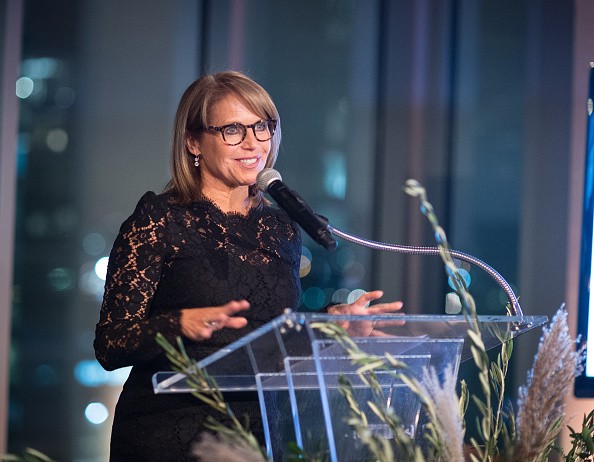 Couric has won multiple television reporting awards through her career, including the prestigious Peabody Award for her series Confronting Colon Cancer. Learn 50 things about journalist and author Katie Couric.
1. Couric was born in Arlington, Virginia.
2. Her mother is Elinor Tullie, a homemaker and part-time writer.
3. Her father is John Martin Couric, a public relations executive and news editor at The Atlanta Journal-Constitution and the United Press in Washington, D.C.
4. Although her mother was Jewish, Couric was raised as a Presbyterian.
5. Couric's maternal grandparents, Bert Hene and Clara L. Froshin, were the children of Jewish emigrants from Germany.
6. Couric attended Arlington Public Schools: Jamestown Elementary, Williamsburg Middle School, and Yorktown High School and was a cheerleader.
7. As a high school student, she was an intern at Washington, D.C. all-news radio station WAVA.
8. She enrolled at her father's alma mater, the University of Virginia, in 1975 and was a Delta Delta Delta sorority sister.
9. Couric served in several positions at UVA's award-winning daily newspaper, The Cavalier Daily.
10. During her fourth year at UVA, Couric was chosen to live as Senior Resident (SR) of The Lawn, the heart of Thomas Jefferson's Academical Village. She graduated in 1979 with a bachelor's degree in American Studies.
11. Her full name is Katherine Anne "Katie" Couric.
12. She is a journalist and author.
13. She currently serves as Yahoo! Global News Anchor.
14. Couric has been a television host on all Big Three television networks in the United States.
15. She worked for NBC News from 1989 to 2006, CBS News from 2006 to 2011, and ABC News from 2011 to 2014.
16. In addition to her television news roles, she hosted Katie, a syndicated daytime talk show produced by Disney-ABC Domestic Television from September 10, 2012 to June 9, 2014.
17. Some of her most important notable roles include co-host of Today, anchor of the CBS Evening News, and correspondent for 60 Minutes.
18. She also reported for nearly every television news broadcast across ABC, CBS and NBC.
19. Couric's first book, The Best Advice I Ever Got: Lessons from Extraordinary Lives was a New York Times best-seller.
20. In 2004, Couric earned induction into the Television Hall of Fame.
21. Couric's first job in 1979 was at the ABC News bureau in Washington, D.C., later joining CNN as an assignment editor.
22. Between 1984 and 1986, she worked as a general-assignment reporter for the then-CBS affiliate WTVJ in Miami, Florida.
23. During the following two years, she reported for WRC-TV, the NBC owned- and -operated station in Washington, D.C., work which earned her an Associated Press award and an Emmy.
24. Couric joined NBC News in 1989 as Deputy Pentagon Correspondent.
25. From 1989 to 1991, Couric was an anchor substitute. She filled in for Bryant Gumbel as host of Today, Jane Pauley, and Deborah Norville as co-anchor of Today, Garrick Utley, Mary Alice Williams, and Maria Shriver as co-host of Sunday Today, and John Palmer, Norville, and Faith Daniels as anchor of the former NBC News program NBC News at Sunrise.
26. She also subbed for Daniels, Norville, and John Palmer as the news anchor on Today.
27. In 1989, Couric joined Today as national political correspondent, becoming a substitute co-host in February 1991 when Norville had to leave. Norville did not return and Couric became permanent co-anchor on April 5, 1991.
28. In 1994, she became co-anchor of Now with Tom Brokaw and Katie Couric-an evening time weekly TV newsmagazine with Tom Brokaw-which was later terminated and folded into part of Dateline NBC, where her reports appeared regularly and she was named the anchor. She remained at Today and NBC News for fifteen years until May 31, 2006, when she announced that she would be going to CBS to anchor the CBS Evening News, becoming the first solo female anchor of the "big three" weekday nightly news broadcasts.
29. Couric hosted or worked on a number of news specials, like Everybody's Business: America's Children in 1995. Similar entertainment specials were Legend to Legend Night: A Celebrity Cavalcade in 1993, and Harry Potter: Behind the Magic in 2001.
30. Couric has also co-hosted the opening ceremonies of the Olympic Games. She has broadcast with Bob Costas, beginning with the 2000 Summer Olympics.
31. She did not co-host the 2006 Winter Olympics opening ceremony in Turin, Italy, because of a scheduling conflict with a live broadcast of Today. Brian Williams co-hosted with Bob Costas instead.
32. Couric has interviewed many international political figures and celebrities, including presidents Gerald R. Ford, Jimmy Carter, George H. W. Bush, Bill Clinton and George W. Bush, and First Lady Barbara Bush. John F. Kennedy, Jr. gave Couric his first and last interviews.
33. Couric has won multiple television reporting awards through her career, including the prestigious Peabody Award for her series Confronting Colon Cancer.
34. Couric has also interviewed former British Prime Minister Tony Blair, Senator Hillary Clinton (her first television interview), Harry Potter author J.K. Rowling, and Laura Bush.
35. On May 28, 2008, Couric made a return visit to Today since leaving almost two years to the very day back on May 31, 2006. She made this appearance alongside her evening counterparts, NBC Nightly News' Brian Williams & ABC World News' Charles Gibson, to promote an organization called Stand Up to Cancer and raise cancer awareness on all three major television networks; ABC, CBS & NBC. Couric, Gibson and Williams made appearances together on all three major network morning shows, first on CBS's Early Show, then on NBC's Today and finally on ABC's Good Morning America.
36. Couric was a 60 Minutes correspondent and contributed six to eight stories a year for the program. Notably, she was the first to interview pilot Chesley Sullenberger after the "Miracle on the Hudson" airplane landing.
37. Couric was the lead reporter for two CBS Reports series, which aired across all CBS News platforms. The first series, "CBS Reports: Children of the Recession", highlighted the pain suffered by the youngest of the then ongoing Great Recession's victims. The series won the Columbia School of Journalism's Alfred DuPont Award for Excellence in Journalism. The second series, which aired in early 2010, was "CBS Reports: Where America Stands", which featured veteran CBS News correspondents reporting on major issues facing the United States in the decade ahead with research by the CBS News Polling Unit.
38. In November 2013, Yahoo! CEO Marissa Mayer announced she had hired Couric as Global Anchor of Yahoo! News. Couric debuted in the new role on January 13, 2014, in an interview with former United States Secretary of Defense Robert Gates. She later interviewed United States Secretary of State John Kerry.
39. In 2011, she gave the university commencement speech at Boston University and was awarded another doctoral degree, Doctor of Humane Letters.
40. She has also hosted a Sesame Street special, "When Families Grieve". The special, which aired on PBS on April 14, 2010, dealt with the issues that children go through when a parent dies.
41. In 2014, Couric produced and narrated the documentary, Fed Up.
42. Couric married attorney John Paul "Jay" Monahan in 1989.
43. She gave birth to their first daughter, Elinor Tully "Ellie" Monahan, in Washington, D.C., in 1991; their second daughter, Caroline "Carrie" was born in New York City in 1996.
44. Monahan died of colon cancer in 1998 at the age of 42. Couric then became a spokeswoman for colon cancer awareness.
45. She underwent a colonoscopy on-air in March 2000, and, according to a study published in 2003 in Archives of Internal Medicine, may have inspired many others to get checked as well: "Katie Couric's televised colon cancer awareness campaign was temporarily associated with an increase in colonoscopy use in two different data sets. This illustrates the possibility that a well-known individual can draw attention and support to worthwhile causes."
46. On October 7, 2005, as part of National Breast Cancer Awareness Month, Couric broadcast her own mammogram on the Today show, in the hopes of recreating the "Couric Effect" around the issue of breast cancer.
47. She also was very active in the National Hockey League's Hockey Fights Cancer campaign, appearing in some public service announcements and doing voice-overs for several others.
48. Couric was the honored guest at the 2004 Multiple Myeloma Research Foundation fall gala. As the Guest of Honor for the inaugural American Cancer Society Discovery Ball, Couric was recognized for her leadership in increasing cancer awareness and screening.
49. In 2011, Couric became the Honorary National Chair of the National Parkinson Foundation's Moving Day campaign, a grassroots campaign to spotlight Parkinson's disease awareness on a national level.
50. In September 2013, she became engaged to financier John Molner after a two-year relationship. Couric married Molner in a small, private ceremony at her home in The Hamptons on June 21, 2014.