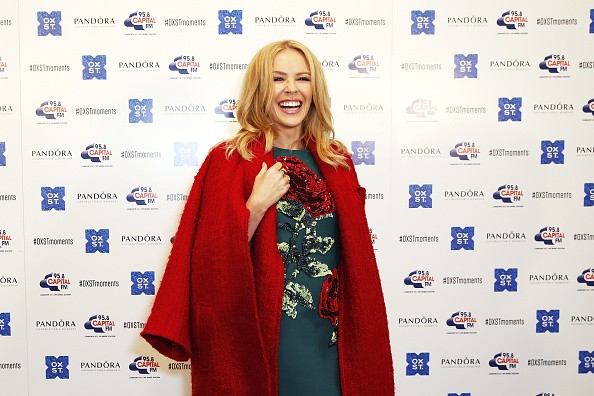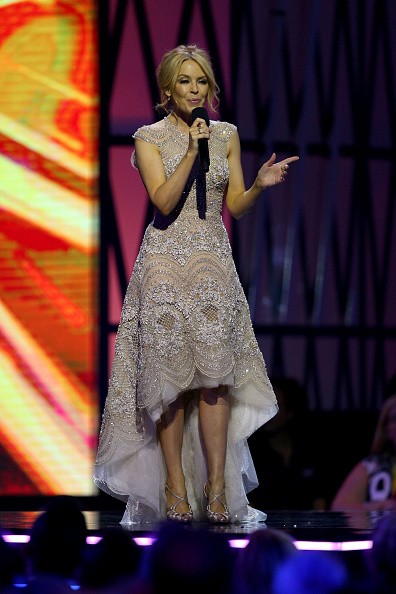 Minogue has been recognised with several honorific nicknames including "Princess of Pop" and "Goddess of Pop". Learn 50 things you didn't know about Kylie Minogue.
1. Her full name is Kylie Ann Minogue, OBE.
2. She is an Australian-born singer, songwriter, and actress.
3. Achieved recognition starring in the Australian soap opera Neighbours, where she played tomboy mechanic Charlene Robinson.
4. Minogue has been recognised with several honorific nicknames including "Princess of Pop" and "Goddess of Pop".
5. She is recognised as the highest-selling Australian artist of all time by the Australian Recording Industry Association (ARIA).
6. Was born in Melbourne, Australia.
7. Minogue has for many years worked and lived in London.
8. She signed to PWL in 1987 and released her first studio album Kylie the next year.
9. Her 2001 single "Can't Get You Out of My Head" became one of the most successful singles during the 2000s, selling over ten million units. It is recognised as her "signature song" and was named "...the catchiest song ever" by Yahoo! Music.
10. Throughout her career, Minogue has released many successful singles, including "The Loco-Motion", "Especially for You", "Hand on Your Heart", "Better the Devil You Know", "Confide in Me", "Spinning Around", "Slow", "2 Hearts" and "All The Lovers".
11. In 2005, Minogue was on her Showgirl: The Greatest Hits Tour.
12. While on her Showgirl: The Greatest Hits Tour, she was diagnosed with breast cancer. After treatment, she resumed the tour under the title Showgirl: The Homecoming Tour, which critics viewed as a "triumph".
13. Minogue resumed work as an actress and appeared in the films Moulin Rouge!, Jack & Diane, and Holy Motors.
14. In 2014, she appeared as a judge on the third series of The Voice UK and The Voice Australia.
15. Her other ventures include product endorsements, children books and fashion.
16. Minogue's own company Darenote oversees all her endorsed products, musical recordings and her range of homeware.
17. As of 2015, Minogue has had worldwide record sales of more than 80 million.
18. She has mounted several successful and critically acclaimed concert world tours and received a Mo Award for "Australian Entertainer of the Year" for her live performances.
19. She was appointed OBE by Prince Charles in 2008.
20. She was appointed by the French government as a Chevalier (knight) of the Ordre des Arts et des Lettres for her contribution to the enrichment of French culture.
21. Minogue was awarded an honorary Doctor of Health Science (D.H.Sc.) degree by Anglia Ruskin University for her work in raising awareness for breast cancer.
22. In November 2011, on the 25th anniversary of the ARIA Music Awards, she was inducted by the Australian Recording Industry Association into the ARIA Hall of Fame.
23. Kylie was born to Ronald Charles Minogue and Carol Ann Jones in Melbourne, Australia, on 28 May 1968.
24. Her father is a fifth generation Australian, and has Irish ancestry.
25. Her mother came from Maesteg, Wales; Carol's mother originated from England.
26. Kylie's younger brother, Brendan is a news cameraman in Australia.
27. Her younger sister Dannii Minogue is also a singer and television host.
28. The Minogue family frequently moved around various suburbs in Melbourne to sustain their living expenses, which Kylie found unsettling as a child.
29. After the birth of Dannii, the family moved to South Oakleigh. Because money was tight, Ron worked as an accountant at a family-owned car company and Carol worked as a tea lady at a local hospital.
30. During her schooling years, Minogue found it difficult to make friends.
31. She graduated high school with a high order certificate for Arts and Graphics and English.
32. Minogue described herself as being of "average intelligence" and "quite modest" during her high school years.
33. Both Kylie and Dannii began their careers as children on Australian television.
34. From the age of 11, Kylie appeared in small roles in soap operas including The Sullivans and Skyways.
35. In 1985, she was cast in one of the lead roles in The Henderson Kids.
36. Minogue took time off school to film The Henderson Kids and while Carol was not impressed, Minogue felt that she needed the independence to make it into the entertainment industry.
37. Interested in following a career in music, Minogue made a demo tape for the producers of weekly music programme Young Talent Time, which featured Dannii as a regular performer.
38. Kylie gave her first television singing performance on the show in 1985 but was not invited to join the cast.
39. Dannii's success overshadowed Kylie's acting achievements, until Kylie was cast in the soap opera Neighbours in 1986, as Charlene Mitchell, a schoolgirl turned garage mechanic.
40. Minogue became the first person to win four Logie Awards in one year and was the youngest recipient of the "Gold Logie" as the country's "Most Popular Television Performer", with the result determined by public vote.
41. Minogue has been known for her soft soprano vocal range, which has been noted as having "a pleasant soft, breathy quality, and the head notes have a warm and versatile timbre."
42. She has a range of approximately 3.5 octaves.
43. In musical terms, Minogue has worked with many genres in pop and dance music. However, her signature music has been contemporary disco music.
44. Minogue's efforts to be taken seriously as a recording artist were initially hindered by the
44.perception that she had not "paid her dues" and was no more than a manufactured pop star exploiting the image she had created during her stint on Neighbours. Minogue acknowledged this viewpoint, saying, "If you're part of a record company, I think to a degree it's fair to say that you're a manufactured product. You're a product and you're selling a product. It doesn't mean that you're not talented and that you don't make creative and business decisions about what you will and won't do and where you want to go."
45. In 1993, Baz Luhrmann introduced Minogue to photographer Bert Stern, notable for his work with Marilyn Monroe. Stern photographed her in Los Angeles and, comparing her to Monroe, commented that Minogue had a similar mix of vulnerability and eroticism.
46. Throughout her career, Minogue has chosen photographers who attempt to create a new "look" for her, and the resulting photographs have appeared in a variety of magazines, from the cutting edge The Face to the more traditionally sophisticated Vogue and Vanity Fair, making the Minogue face and name known to a broad range of people.
47. Minogue is hyperglycemic. She commented in March 2015, "'Sugar is not my friend, I'm hyperglycemic [...]".
48. Minogue follows the controversial paleolithic diet and "loved all these amazing desserts that are made with avocado, almond bake, zucchini... I love it!"
49. In 2008, Minogue pledged her support for a campaign to raise money for abused children, to be donated to the British charities ChildLine and the National Society for the Prevention of Cruelty to Children.
50. In November 2015, Minogue confirmed she was dating British actor Joshua Sasse.