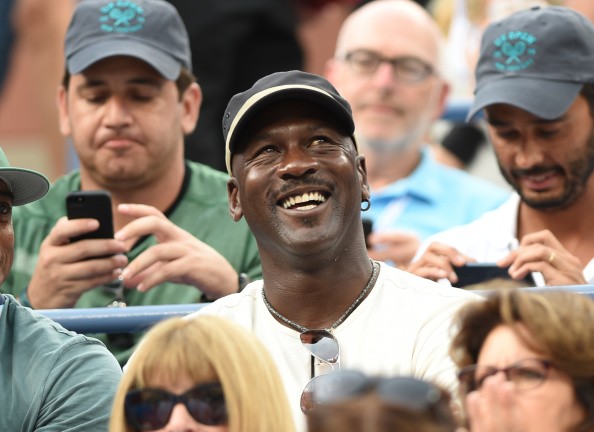 Michael Jordan is an American former professional basketball player. Here are 47 interesting facts you should know about him.
Top 10 Best Air Jordan sneakers and shoes of All Time
His full name is Michael Jeffrey Jordan and is famously known as MJ.

Jordan is the first athlete in history to become a billionaire (source:

Yahoo

).

He is also known as "Air Jordan" and "His Airness," thanks to his exceptional leaping ability, illustrated by performing slam dunks from the free throw line in slam dunk contests (source:

Wikipedia).


Jordan started his athlete career from his school (Emsley A. Laney High School in Wilmington) where he played baseball, football, and basketball.

Jordan has played 15 seasons in the National Basketball Association (NBA) for the Chicago Bulls and Washington Wizards.

Initially, (and ironically) he was cut from the varsity team as a sophomore. But eventually he made the team and led it to the state championship.


According to NBA website, Jordan is "the greatest basketball player of all time."

He holds the NBA records for highest career regular season scoring average (30.12 points per game) and highest career playoff scoring average (33.45 points per game).

Jordan has also bagged awards like 'Defensive Player of the Year' and 'Rookie of the Year.'

ESPN has named Jordan as the greatest North American athlete of the 20th century.

Jordan also holds five Most Valuable Player (MVP) Awards.

He has starred in the 1996 feature film Space Jam, portraying himself.

Before joining the Bulls, Jordan was a member of the Summer 1984 United States Olympic basketball team that won the gold medal in Los Angeles, California.

Jordan retired after the 1997-98 season but soon joined Washington Wizards as a part owner and president of basketball operations.

In 2001, he was back on the court and played for the Wizards for two seasons before finally hanging up his jersey in 2003.


Jordan has played two Olympic gold medal-winning American basketball teams.


In December 2006, Jordan divorced his wife Juanita Vanoy, who had three children together.

In 2007, Jordan's eldest son, Jeffrey Jordan made the team at the University at Illinois.

In April 2009, Jordan 'sadly' accepted one of basketball's greatest honors: He was inducted into the Naismith Memorial Basketball Hall of Fame.

Jordan's father, James R. Jordan, Sr. was murdered (shot dead) on July 23, 1993 and his body was found on August 3 in a swamp in Bennettsville, South Carolina.

Jordan has also played baseball for 2 years in minor league.

Number of documentaries have been dedicated to him and one of the most popular is

Michael Jordan to the Max

.

He has also appeared in a movie called He Got Game.

Jordan is the majority owner of Charlotte Bobcats and also acts as the team's chairman.

Outside the United Center in the Near West Side community area of Chicago, there stands a Michael Jordan statue, officially known as The Spirit.

One of the most famous quotes by him is: "I've missed more than 9000 shots in my career. I've lost almost 300 games. 26 times, I've been trusted to take the game winning shot and missed. I've failed over and over and over again in my life. And that is why I succeed."

Jordan also owns several restaurants such as

MICHAEL JORDAN'S THE STEAK HOUSE N.Y.C.
He hosts an annual golf event known as the Michael Jordan Celebrity Invitational.


He was married (again) to 35-year-old Cuban-American model Yvette Prieto on April 27, 2013, in Palm Beach, Florida.


A pair of Nikes that were one of the earliest of Jordan, fetched over $71K at an auction.

Nike exclusively produced shoes for Jordan in 1984 under the name of subsidiary, Jordan Brand. It was later released for general public consumption in 1985.


A Tumblr blog is dedicated to his everyday clothing -

What The F*** is Michael Jordan Wearing?

Air Jordan is a brand from Nike that produces shoes and athletic clothing designed and produced for Jordan.

Jordan Brand generates $1 billion in sales for Nike.

Jordan also owns Michael Jordan Motorsports, a professional closed-course motorcycle road racing team that competes with two Suzukis in the premier Superbike class sanctioned by the American Motorcyclist Association (AMA) (source:

Wikipedia

).

Many computer games have also been developed after the name of Jordan, including Jordan vs. Bird: One on One, NBA 2K12, Michael Jordan: Chaos in the Windy City and Michael Jordan in Flight.

Jordan is also active in charity activities. His clothing line, Jordan Brand has made donations to Habitat for Humanity and a Louisiana branch of the Boys & Girls Clubs of America.

In the first game in Madison Square Garden against the New York Knicks, Jordan received a prolonged standing ovations which is an absolute rarity for an opposing player.

Jordan has been a major spokesman for brands like Nike, Coca-Cola, Chevrolet, Gatorade, McDonald's, Ball Park Franks, Rayovac, Wheaties, Hanes, and MCI.

He has appeared in more then 20 commercials for Gatorade.

Jordan has also featured in "Jam" is a song by Michael Jackson.

One of the most famous commercial in which he appeared was "Be Like Mike," in which a song was sung by children wishing to be like Jordan.

Jordan is the 20th most powerful celebrity in the world. He earned $55 million between June 2009 and June 2010.

Jordan wore a nameless no. 12 jersey n a February 14, 1990 game against the Orlando Magic because his no. 23 jersey had been stolen.

Last year, Jordan said that he's "not a Twitterer, not a twerker," but he sometimes tweet from Hornets account.

The Jordan brand grossed an estimated $2.25 billion in 2013, and Jordan reportedly netted about $90 million.

Michael Jordan still makes $100 million a year and is one of the highest paid retired athletes in 2015.
1)
2)
3)
4)
5)
6)
7)
8)
9)
10)
12)
13)
14)
15)
16)
17)
18)
19)
20)
21)