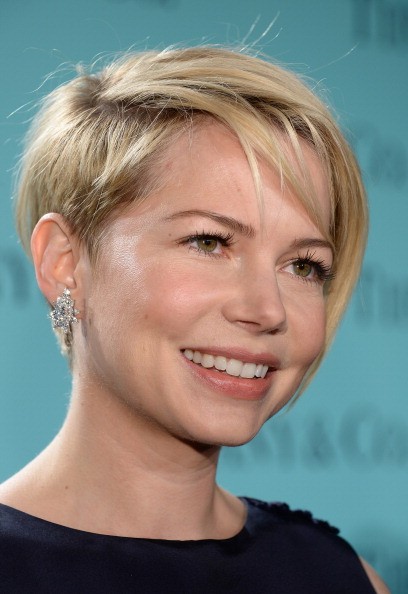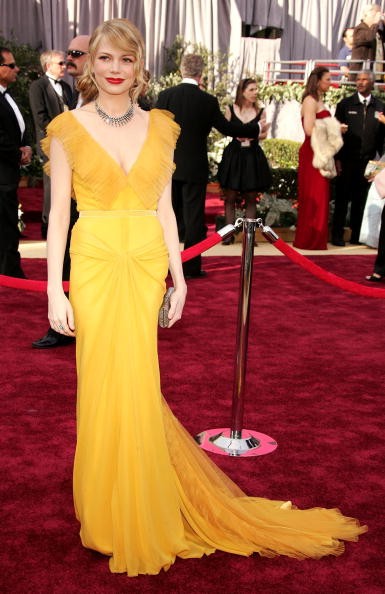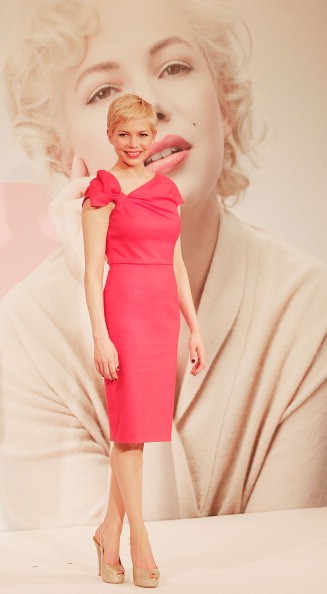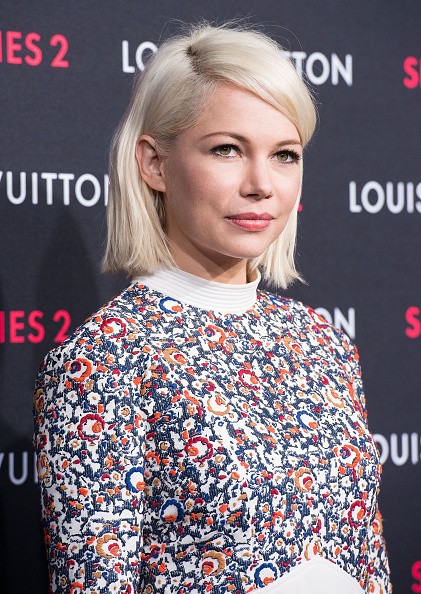 Michelle Williams portrayed Marilyn Monroe in My Week with Marilyn. Learn other 49 things about the actress.
1. Michelle Ingrid Williams is an American actress.
2. After starting her career with television guest appearances in the early 1990s, Williams achieved recognition for her role as Jen Lindley on the The WB television teen drama Dawson's Creek, which she played from 1998 to 2003.
3. Michelle Williams graduated to full-length features, including Halloween H20: 20 Years Later (1998), Dick (1999), and Prozac Nation (2001).
4. From the 2000s, Williams appeared primarily in dramatic, independent films for which she has received critical acclaim.
5. One of her career highlights was Brokeback Mountain (2005), which earned Williams a Best Supporting Actress nomination from the Academy Awards for her role as the wife of Ennis Del Mar.
6. Michelle Williams followed this with I'm Not There (2007), Synecdoche, New York (2008) and Martin Scorsese's Shutter Island (2010).
7. Williams's performance as a drifter in 2008's Wendy and Lucy earned her critical praise and her work opposite Ryan Gosling in Blue Valentine (2010) garnered her a nomination for the Academy Award for Best Actress.
8. Michelle Williams won the Golden Globe Award for Best Actress in a Motion Picture Musical or Comedy for her portrayal of Marilyn Monroe in My Week with Marilyn (2011), which also garnered her third Academy Award nomination.
9. In 2014 she made her Broadway debut in a revival of Cabaret as Sally Bowles.
10. Williams was born in Kalispell, Montana, the daughter of Carla Ingrid (née Swenson), and Larry Richard Williams.
11. Her parents are separated, and she has one sister, Paige, and three half-siblings.
12. Her mother is a homemaker, and her father is an author, stock and commodities trader, and two-time Republican candidate for the United States senate.
13. Michelle Williams is of Norwegian, English, German, Danish, Swiss, Swedish, Scottish, and Welsh descent.
14. As a child, she kept to herself and was self-sufficient; as she has said, "I was really secretive with my parents and I think I sort of continued that... I found that by keeping to myself I got on OK. I don't know why."
15. When Williams was nine, her family moved to San Diego, California.
16. Michelle Williams became interested in acting at an early age when she saw a local production of The Adventures of Tom Sawyer.
17. Michelle Williams began her career in the early 1990s by making guest appearances in television programs such as Step by Step and Home Improvement.
18. Michelle Williams In 1993, she portrayed the role of Bridget Bowers in Baywatch.
19. The actress debuted in the adventure film Lassie (1994).
20. In Species, she played a role as the younger version of Sil, an alien-human who quickly grows up to become the monster character played by Natasha Henstridge. Following this, Williams made appearances in the made-for-television movies My Son Is Innocent (1996), which saw her transition into more dramatic work, and Killing Mr. Griffin (1997), where she plays a member of Susan's (played by Amy Jo Johnson) geek clique.
21. At age 15, with her parents' approval, she filed for emancipation from them, so she could better pursue her acting career and not have to worry about child labor work laws.
22. After completing the ninth grade at the Upper School of Santa Fe Christian Schools, in Solana Beach, California, she left school because of severe bullying.
23. Subsequently, Williams was home-tutored by her father and later graduated with a GED from a correspondence school.
24. Michelle Williams moved to Los Angeles and quickly secured a prominent role in Dawson's Creek. Williams said later that she thought she knew all she needed to know since age 15.
25. Michelle Williams said in 2011 that she chose emancipation as she was influenced by other young actors doing it.
26. In 1997, unhappy with the roles they were being offered, Williams and several actor friends wrote a script entitled Blink. It was sold, but nothing happened with it.
27. A starring role alongside James Van Der Beek, Katie Holmes and Joshua Jackson in hit teen TV drama, Dawson's Creek (1998-2003), helped raise them to prominence.
28. At age 17, Williams portrayed Jen Lindley, to whom she related because they both grew up "too fast."
29. For filming of the semi-autobiographical series based on its creator, Kevin Williamson's childhood, she moved to North Carolina. In an interview with USA Today, she described her character as "this stable, happy-go-lucky girl still wrestling with demons."
29.
30. Her first mainstream production was in the slasher film Halloween H20: 20 Years Later (1998). It was a financial success, making $55 million against its $17 million budget.
31. Following in her father's footsteps, in 1997 Williams entered the Robbins World Cup Championship of Futures Trading which she won by turning $10,000 into more than $100,000. With a return of 900%, Williams is currently ranked as the third highest winner of the competition since it began in 1984.
32. Wim Wenders wrote the film Land of Plenty (2004), which investigates anxiety and disillusionment in a post-9/11 America, with Williams in mind. She played Lana, a worker in a homeless shelter trying to contact her troubled Vietnam veteran uncle (John Diehl). The 2006 Independent Spirit Awards nominated her for Best Actress.
33. With Meat Loaf, she starred as an impressionable young woman fixated on mental health in A Hole in One, a period piece that was the 2005 feature film debut of Richard Ledes and generally ignored.
34. In a rare comedy turn, she starred in The Baxter alongside writer/director Michael Showalter.
35. Michelle Williams gained public recognition for Brokeback Mountain, a film directed by Ang Lee that depicts the homosexual relationship between Ennis Del Mar and Jack Twist (Heath Ledger and Jake Gyllenhaal).
36. After viewing The Station Agent, casting director Avy Kaufman suggested to Lee that he cast Williams as Alma. The film was a box office hit, grossing around $178 million worldwide in ticket sale revenue against its $14 million production costs. The film received eight nominations, the most for any film that year, including a Best Supporting Actress nomination for Williams, and it won three accolades at the 78th Academy Awards.
37. The saffron Vera Wang dress, which she wore to the Academy Awards in March 2006, has been cited by Cosmopolitan magazine as one of the Best Oscar dresses of all time.
38. Five months after giving birth, Williams was back in front of the camera for The Hottest State, a film by Ethan Hawke adapted from his 1996 book.
39. Williams played Edie Sedgwick, muse of Andy Warhol, as a part of the biographical ensemble piece I'm Not There, inspired by the musician Bob Dylan.
40. In October 2006, she signed on to play a blonde known as S, who seduces Ewan McGregor's character in Deception (2008), originally called The Tourist.
41. Williams and McGregor worked together again in Incendiary, about the aftermath of a terrorist attack at a football game, based on Chris Cleaves's 2005 book of the same name.
42. Impressed by her work in Dick, the screenwriter Charlie Kaufman cast Williams in his directorial debut Synecdoche, New York, with a cast featuring Philip Seymour Hoffman and Emily Watson.
43. Wendy and Lucy, an acclaimed small-budget, low-key drama directed and co-written by Kelly Reichardt, follows Wendy (Williams), a drifter looking to start a new life, searching for her dog Lucy after a series of setbacks. Unlike others, including the director, Williams did not find the film depressing. "Personally I like seeing those kinds of movies. I find them comforting because they make me feel less alone."
44. Filming for Mammoth (2009) took Williams to locations in Sweden, Thailand and the Philippines.
45. She and Gael García Bernal played the co-leads: a successful couple dealing with issues related to modern day globalization. It was director Lukas Moodysson's first English-language movie and found distribution through IFC Films.
46. Martin Scorsese cast the actress in the supporting role, of the dead wife haunting the dreams of marshal Teddy Daniels (played by Leonardo DiCaprio) in Shutter Island, a psychological thriller based on Dennis Lehane's 2003 best-selling novel by the same name.
47. Williams was cast over Kate Hudson, Scarlett Johansson, and Amy Adams as Marilyn Monroe in My Week with Marilyn, a British drama film based on two novels by Colin Clark, depicting the making of the film The Prince and the Showgirl (1957).
48. Initially terrified of taking on the role, she turned down the offer. "Physically and vocally, everything about her is different from me," she explained. Eventually, she found the offer too good to pass-up.
49. Michelle Williams took vocal lessons so she could sing in the movie, as lip-syncing was uncomfortable. won the Golden Globe Award for Best Actress in a Motion Picture Musical or Comedy for her performance.
50. Williams began dating Australian actor Heath Ledger, her Brokeback Mountain co-star, in 2004 after meeting on the set of their film. In late April 2005 People first reported that Williams and Ledger were expecting a child together. In 2005, Williams gave birth to their daughter Matilda Rose Ledger.
Source: Wikipedia.org