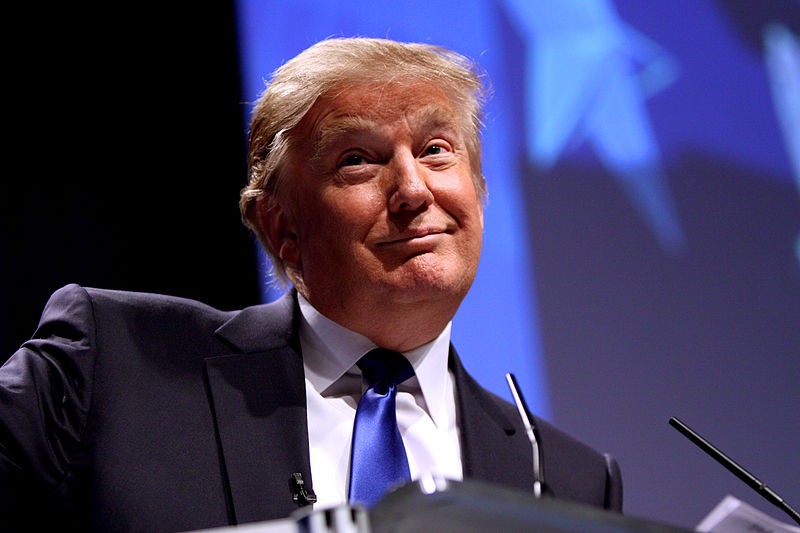 1) Donald John Trump is his full name
2) Donald Trump was born in June 14, 1946
3) Trump is scheduled to run office as the 45th President on January 20, 2017.
4) Trump was born in Queens, New York City.
5) Trump got a bachelor's degree in economics from the Wharton School of the University of Pennsylvania in 1968.
6) Trump owned the Miss USA and Miss Universe pageants from 1996 to 2015.
7) Trump sought the Reform Party's presidential nomination in 2000, but withdrew right before voting started.
8) At age 70, Trump will become the oldest and richest person to be president, the first without prior military or governmental service, and the fourth to be elected with less than a plurality of the national popular vote.
9) Donald Trump's Net Worth is $4.5 billion. (113th in the United States, 324th in the world)
10) Trump has married three times
Ivana Zelníčková
(m. 1977–92)
Marla Maples
(m. 1993–99)
Melania Knauss
(m. 2005)
11) Trump has 5 children.
Donald Trump Jr. (b. 1977)
Ivanka Trump (b. 1981)
Eric Trump (b. 1984)
Tiffany Trump (b. 1993)
Barron Trump (b. 2006)
12) Trump is of paternal German ancestry and maternal Scottish ancestry.
13) The Trump family were originally Lutherans, but Trump's parents belonged to the Reformed Church in America.
14) Trump's first major real estate deal in Manhattan was the remodeling of the Grand Hyatt Hotel in 1978, located next to Grand Central Terminal.
15) Trump bought the Plaza Hotel in Manhattan in 1988 for $400 million.
16) Trump owns and manages 18 golf course.
17) In 2006, Miss USA winner Tara Conner tested positive for cocaine, but Trump let her hold on to the crown, for the sake of giving her a second chance which led to a feud with Rosie O'Donnell.
18) In May 16, 2011 Trump once has Announced he will not run for president.
19) In June 28, 2015 Trump announces that he's giving up the TV show "The Apprentice" to run for president.
20) In July 8, 2015 in an interview with CNN's Anderson Cooper, Trump says he "can't guarantee" all of the people he employs have legal status in the US.
21) In 1999, Trump proposed a one-time tax of 14.25% on individuals with networth $10 million or more and said that it could raise $5.7 trillion which can clear all the national debt.
22) Trump gets haircuts from his wife Melania.
23) SPY Magazine once sent some of the world's wealthiest people checks of 13 cents to find out who would deposit them. The only two people to do so were an arms dealer and Donald Trump.
24) Trump tried to trademark the word "You're fired!"
25) Trump once tried to sue an author of the book TrumpNation for $5M because he called Trump a millionaire instead of a billionaire.
26) The character Biff Tannen from the Back to the Future trilogy was based on Donald Trump.
27) Trump played a small role in Home Alone 2: Lost in New York.
28) Donald Trump says he doesn't drink any alcohol and stated that he has never drank at any time throughout his life.
29) Trump Says He's Never Used an ATM.
30) It's been reported that Trump sends around 372 Tweets every month.
31) Trump Owned 14,000 Apartments by the Time He Was only 27.
32) In 2011, Forbes' financial experts estimated the value of the Trump brand at $200 million. Trump disagreed with this valuation, saying his brand was worth about $3 billion.
33) Trump was named on the initial Forbes List of wealthy individuals in 1982 as having $200 million.
34) Trump himself stated that his net worth was over $10 billion.
35) Trump has twice been nominated for an Emmy Award and has made cameo appearances in 12 movies and 14 TV series.
36) For the first year of the show, Trump got $50,000 per episode (roughly $700,000 for the first season), but following the show's big success, he received $1 million per episode.
37) NBCUniversal had paid Trump $213,606,575 for his 14 seasons hosting the show.
38) Trump is a WWE fan and a friend of WWE owner Vince McMahon.
39) Trump showed up at WrestleMania 23 in a match called "The Battle of the Billionaires."
40) Trump's campaign tax plan called for levelling the corporate tax rate to 15%, getting rid of various business loopholes and deductions.
41) Trump doesn't accept the scientific consensus on climate change.
42) Trump supports increase spending for United States military defense.
43) In order to fight ISIS, Trump in 2015 called for seizing the oil in ISIS occupied areas, using U.S. air power and ground troops.
44) Trump vows to make a more substantial wall on the Mexico–United States border to keep out illegal immigrants, a wall which Trump says Mexico will pay for.
45) Trump personally supports "traditional marriage" but thinks the nationwide legality of same-sex marriage a "settled" issue.
46) Trump has been nicknamed "The Donald" since Ivana referred to him as such in a 1989 Spy magazine cover story.
47) Trump calls his own book The Art of the Deal (1987) "my second favorite book of all time".
Must Read: (PHOTOS) 22 Revealing Photos Melania Trump DOESN'T Want You To Know About
48) In an April 2011 interview on The 700 Club, he commented: "I'm a Protestant, I'm a Presbyterian. And you know I've had a good relationship with the church over the years.
49) Trump says that he has never smoked cigarettes or marijuana, or consumed other drugs.
50) Trump once said "Do you know what my first is? The Bible! Nothing beats the Bible."
Editor's Rating : 9.6 out of 10