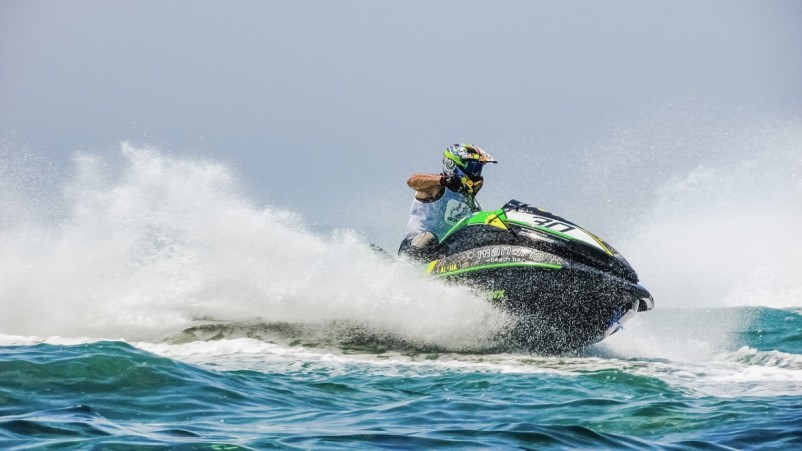 21 Tips To Learn Jet Ski Fast
If you are looking to have fun on the water, rather than simply sun bathing on the beach, you can go for jet skiing. It is a fact that you will need to learn how to jet ski so that you can enjoy the most without hurting yourself or people around you.
Here we present 21 tips to learn jet ski fast.
1. Be prepared: Before you start jet skiing, you need to be prepared. This includes not just wearing a life jacket and checking the fuel before you venture out in the water, but also having proper documentation done according to the law of the state. Also, ensure that you have the right shoes and apparels on.
2. Familiarity with the craft: It is essential that you know the controls of the jet ski that you would be using. Different models of the same jet ski can have different controls so, you need to be well versed with all and most importantly with controls that includes emergency shut off, brake system, to name a few.
3. Comfort: After you are ready to get started, seat yourself comfortably and hold the handlebars securely. This is because, if you are not seated comfortable, the chances of you falling from the watercraft will be much higher.
4. Start slow: As you begin jet skiing, keep the speed low and try to stay close to the shore. This will be a good idea till the time that you are confident enough to venture out to long distances from the shore.
5. Take small steps: Once you are comfortable near the shore, increase the distance and the speed a little at a time. This will not just increase your confidence gradually, but will also be a safe option for beginners.
6. Turning: The next thing that you need to learn is turning. For this, you need to be at a safe distance from the shore. Moreover, most watercrafts will require you to speed up in order to turn.
7. Learn jumping: It is only after you are comfortable with riding that you can move to the next step that is jumping wakes. It will take a lot of practice before you can jump wakes, but it is undoubtedly the most interesting part of jet ski. And, rather than hurrying, it is going slow that will help you to learn jumping wakes faster.
8. Practice: 'Practice maketh a man perfect.' This applies to jet skiing as well. The ocean will be the best place to practice as the vastness will provide you with a lot of scope to practice.
9. Situations: While jet skiing, you might face three situations, head on, cross over and overtake. Be mentally prepared to face situations like these so that once you come face to face with any of these, you will be able to handle it comfortably.
10. Choose the best day: If you are planning to venture out to jet ski on the ocean choose a day when the water is calm. A jerky ocean can make het skiing tough so it is best avoided to try jet skiing on such days.
11. High maintenance: Take good care of your watercraft to make it last longer. Simple maintenance efforts will ensure that your jet ski lasts long and you can have a lot of fun on the water. During the winter season, when you will not be using the watercraft, store it properly to use it once the spring season sets in.
12. Ride with friends: Give your friend a ride on your jet ski and teach them small tips that you have learned as a beginner. With more and more friends taking interest, you can have a lot of fun together while you jet ski on the ocean.
13. Go camping: Just like camping allows you to venture out in the lap of nature, jet ski camping with your group of friends will allow you to explore remote islands, which can be your own camping spot, and a place that is inaccessible to others.
14. Invest in a GPS: A jet ski GPS will be an added advantage in your watercraft as it will make navigation much easier. Also, you can save locations like the new camping spot that you found to revisit later on with your group of friends.
15. Get a jet ski wetsuit: When you are equipped with a wetsuit, you can have the jet ski season started for yourself, as per your wish. It will be an investment that will double up the time that you can spend on the water with your watercraft.
16. Tutorial videos: Several tutorial videos as well as regular jet skiing videos are available online. You can watch them to improve your riding or for trying new tricks.
17. Indulge in water sports: The best use that you can put your jet ski to is by indulging in water sports. There are several adventurous water sports that you can try with your jet ski. So, just take your pick and indulge yourself.
18. Try new watercrafts: Trying a new jet ski will give you a new experience altogether. So, don't hesitate to try newer watercrafts that belong to your friend as it is good to mix things now and then.
19. Customization: You can customize your watercraft with cool stickers or with accessories that you like. Several such accessories that will not just beautify your watercraft, but will also add to the utility aspect are available.
20. Safety: Your personal safety as well as the safety of the skiers, swimmers or fishermen on the ocean is of utmost importance. So, be sure to learn the safety techniques adequately to avert any unforeseen circumstances.
21. Repair: In case you find you watercraft stopping mid water, never try to get down of the jet ski to repair it in the water itself. Seek out for help to tow your watercraft and do remember to keep wearing your life jacket.
Jet skiing will give you the flexibility of having an adrenaline-rush as you speed up and go far on the water, or enjoy a slow ride, just skimming over the water and feeling the breeze. Be sure to read the 21 tips to make your jet skiing experience even more enjoyable.