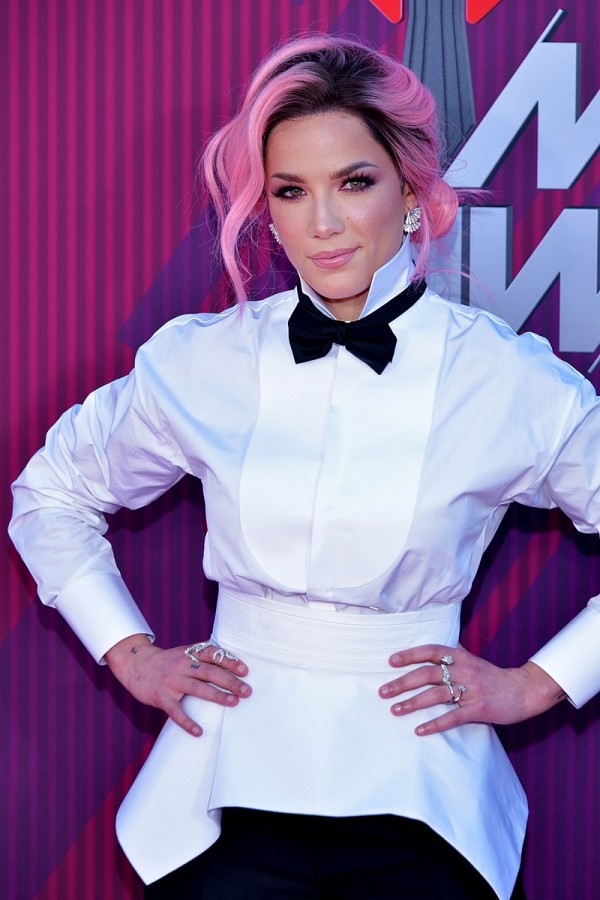 Over this past weekend, Halsey and boyfriend Evan Peters, were spotted having a nice stroll through Santa Monica, California, and the couple looked very sweet and in love between their kisses.
However, because of the same date, Halsey was photographed together with Evan, who sparked speculations that the two lovebirds might be having a baby--and expecting one.
The 25-year-old "Without Me" singer was seen and photographed together with her 32-year-old boyfriend with both their hands resting on the top of her belly.
People were fast to spark rumors that Halsey might be pregnant, because of the way she was cupping her stomach in the photo. The gesture sparked speculations and rumors in an instant that it might be possible that the singer was expecting a baby.
However, on Monday evening, Halsey cleared off rumors on Twitter and she blamed her "baby bump" to the pancakes she had eaten earlier that day. She wrote that she was not pregnant, and despite of her being allergic to gluten, she still loves pancakes. She even further joked on a follow-up tweet stating that the pancakes she had eaten were a "boy or a girl."
But come to think of it, Halsey isn't new to pregnancy speculations circling around her. And this one with Evan, is no different than any she has experienced before. In fact, earlier this year when Halsey was still dating her co-singer Yungblud, she teased some news that would make her fans go crazy and "explode into actual pieces."
While her fans, and pretty much everyone that is familiar with her, were eager for her to spill some baby news, Halsey joked on how much she was just gaining weight and not expecting a baby anytime soon.
Halsey and Evan's Relationship
Their simple yet adorable date in Santa Monica, California was filled with smooches and cuddles and just the two talking to each other. Their PDA-filled date came one month after the couple made their relationship official and their red-carpet debut in October.
Halsey was the one who confirmed that they were dating during an interview on the "Ellen
DeGeneres Show," where Ellen "tricked" her into a question as she played a prank on her.
According to the interview with Ellen, Halsey expressed whether or not she should be more scared about talking about her boyfriend on TV, or "it just happens" For the actress, it was a double whammy and Ellen was able to hit two birds with the same stone.
Halsey and Evan were linked just in September this year, and Halsey's public confession on Ellen's show was the first time she announced that she and Evan are officially dating.
A few weeks after the interview with Ellen, Halsey made their relationship Instagram official by posting a photo of her and Evan posing in a Sonny and Cher costume for Halloween this year at the "American Horror Story 100th Episode Celebration" in Los Angeles.