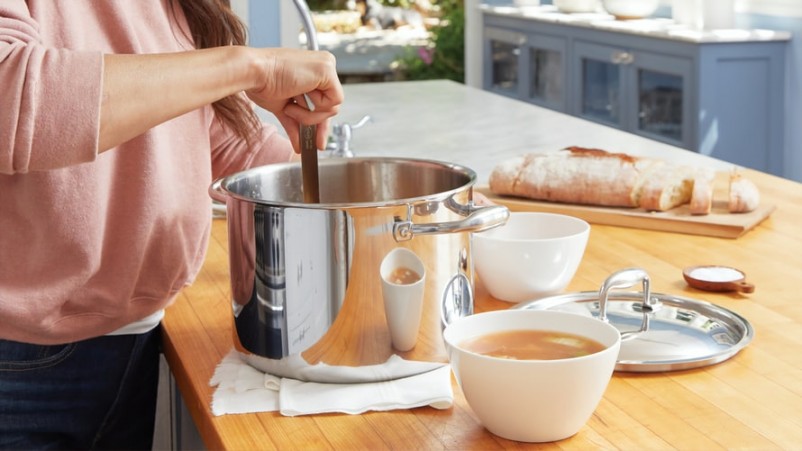 Are you someone who loves to cook? If so, this article is just for you. Cookware and kitchenware are a part of home essentials that you should have. Pots, pans, knives, plates, bowls, and such, you should have all of that in your kitchen.
Having enough cookware will also make you feel cozy when you cook for your family and friends. Whether you're planning to get new kitchen equipment or if you plan to give one to a friend or family member, you need to know what is the best cookware to get in the market. Amazon has tons of cookware items that you can check out today, and here are some of those items you can see on their website.
This cast skillet iron comes with a red silicone handle cover that will protect your hands from burning when you cook your meals on this skillet. It also has two convenient pour spouts. The handle cover is heat-resistant and can protect your hand up to 450 degrees Fahrenheit.
This blue, 4.3-quart enameled cast-iron Dutch oven is made perfectly for baking, braising, roasting and different cooking ways. It is made of heavy-duty cast iron for thorough, even heating and optimal cooking performance. It has an enamel finish that won't react to food. Aside from cooking, the pot can also be used to marinate, cook, and store food. It is also oven-safe up to 400 degrees Fahrenheit and is suitable for all types of cooking and cooking surfaces. However, you need to handle this pot with care especially if you place it on glass and ceramic stovetops. It has loop side handles that make it easy to transport anywhere in the kitchen.
This cast iron pot has 1.5-quart capacity and has a stainless steel knob. Its porcelain surface eliminates the need to season and the rim is made of black matte enamel. The cast iron core is unparalleled in heat retention and even heating. You can boil, broil, braise, saute, simmer, bake, and roast in the oven up to 500 degrees Fahrenheit. Enamel cast iron is made in China.
This 8-piece nonstick cookware set includes an 8-inch fry pan, a 10-inch fry pan, 1.5-quart saucepan with lid, 2-quart saucepan with lid, and a 3-quart casserole pan with lid. Its aluminum body has a nonstick coating for easy cooking and cleaning. It is BPA-free as well. This cookware set has comfortable soft-touch handles that stay cool during use and vented glass lids that let steam escape. These pots and pans should be hand-washed only because it's not dishwasher safe.
This is an ideal cookware gift for a family or friend if you're looking for one. These accessories for instant pot provides all you need for cooking. It includes 60 pieces of baking cake papers, 2 steamer baskets, 1 steamer rack, 1 non-stick springform pan, 1 egg rack, 1 egg bites mold, 1 kitchen tong, 1 dish plate clip, 2 oven mitts, and 3 magnetic cheat sheets.
This electric fondue set is suitable for chocolate, cheese, broth, or oil. It includes one base, a bowl temperature probe, 8 fondue forks, and a fork rack. It also comes with an elegant, brushed-stainless steel 3-quart bowl with nonstick interior. It has a removable temperature control that is adjustable for wide range of recipes.