Looking for something elegant for a fancy dinner or a corporate party? You don't have to worry about where to get and find one because you can get these five amazing and elegant brands that you can get on Amazon in just one tap of a finger.
We can admit, branded clothes are still the bomb. Whether you're wearing something from Gucci or Versace, sometimes your clothes and accessories' brands matter. If you want to reward yourself a nice dress because of your hard work at your job or just a little self-appreciation, here are five clothing brands that you can check out on Amazon today. Go treat yourself something luxurious without the hassle of going to the mall to shop!
Ganni
The brand Ganni is about advanced contemporary fashion that markets effortless, comfortable, and easy-to-wear pieces that women would surely love. This Danish brand is started by couples Ditte and Nicolaj Reffstrup for just about nine years ago. The brand that they establish basically focuses on girls and ladies. This brand is one of those brands that give out authentic designs that other brands don't have. Authenticity has been their way of success. Through the years the brand has become a designer label that women loved. Their clothes are to-die-for and every design is a must-have that would surely give women the confidence that they want for their social media posts.
One of Ganni's designs is the ¾-sleeve button front silk-blend shirt. This imported blouse is very classy and elegant to wear on any occasion. Whether you're going to work or going out with your girlfriends for a night out, this top can definitely rock you. It has a leopard print that is made of 92% silk and 8% spandex and elastane. This top should be dry cleaned only to keep it high-quality.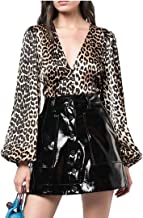 Petersyn
This brand is also known for contemporary women's fashion. In fact, Petersyn is best known for different feminine aesthetics that fuses brilliant and trendy women styles. You can go from tomboy fashion to absolute city girl chic with their clothes. The designer label was founded way back in 2016 in New York. Petersyn's signature look is ruffle details along with fashion-forward cuts.
Petersyn pieces can be found on Amazon. Get this cute velvet off-the-shoulder blouse. It is made of 90% polyester, 10% Lycra, and has a velvet fabric that will surely look elegant on you. It is also ruffled, given that it is the brand's signature look.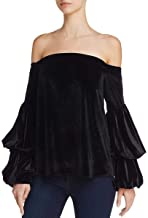 Cami NYC
At Cami NYC, their main objective is to give women timeless and perfectly feminine fashion. all products made by this brand is personally handpicked and crafted at the utmost perfection and elegance. It is one of the most high-end brands that ensure pieces withstand both timeless style and frequent wear.
For this brand, you can get their cute and The Axel Cami on Amazon. It has a pull-on closure and is made of 100% silk. The silk is specifically silk charmeuse. The top should be dry cleaned. It comes in a spaghetti strap design as well.