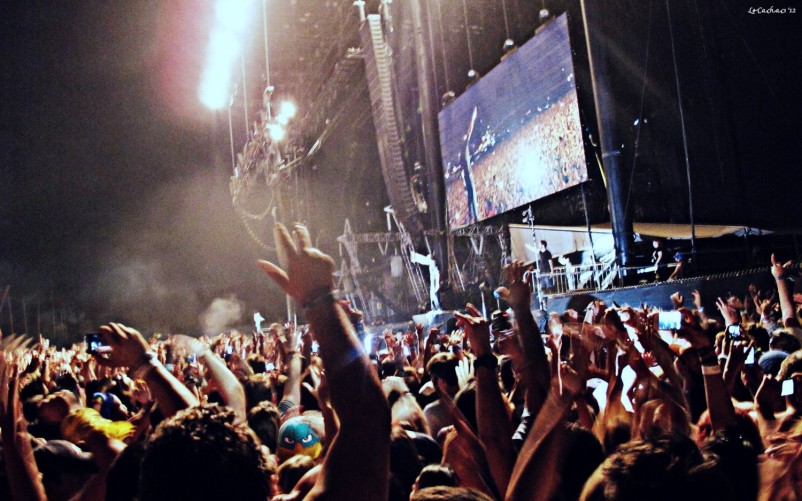 The temperatures might still be cold, but it won't be long before the music festival season begins. For many music lovers, it means getting ready to attend one of the most popular outdoor events of the year - Coachella. Held over the course of two weekends, Coachella starts April 10-12 and April 17-19 this year. Tickets went on sale at the begining of this year, so if you're reading this, chances are you're one of the lucky few that will be in attendance.
This year's Indo music festival has a pretty big line up with artists like Frank Ocean, Travis Scott, Calvin Harris, Flume, Disclosure, and Rage Against the Machine will be making an appearance. Don't forget there are also lots of other things going on like food trucks and plenty of vendors with custom inflatables and tents advertising all types of merch for sale. If you're going to have a good time at this event, there are a few things you'll want to know.
Book Your Flight in Advance
If you're traveling by plane, make sure you get your tickets well in advance. Seats tend to fill up pretty quickly. Not to mention, the longer you wait, the more costly it will be. If you're traveling in groups, buying your plane tickets together can save you a ton of money as well.
Rent a Car
If you live close enough to the event that you can drive a rental car will be necessary to get you to and from. This too should be done in advance so you can get a large enough vehicle for you and your travel companions at an affordable rate.
Decide Where You'll Stay
Make sure you've made accommodations before going to Coachella. There are several options on where you can stay. You might opt to stay on-site. This option will require you to bring camping gear as you'll be sleeping in tents on the Indio grounds. If camping on-site is too expensive for you, there's also the option of camping at some of Coachella's most recommended campgrounds nearby. Lastly, you can search for nearby hotels and/or rentals available during your stay. Again, with an event as large as Coachella going on, all accommodation options will fill up quickly. So, be sure to book your stay in advance.
Don't Sacrifice Comfort for Fashion
Yes, you'll find some of the best-dressed people attending Coachella 2020, and you'll probably want to look your best as well. Be that as it may, it's an outdoor event that spans for hours. You're going to want to make sure that you're comfortable first. Though the springtime in California is pretty warm during the day, at night it can get pretty cold. So, make sure that you pack things like shorts, sunglasses, a hat, a pair of comfortable shoes, and a poncho or umbrella just in case it rains. A quick tip would also be to bring a watch to keep track of performance times.
Other Things to Pack
As you're walking around the event you want to be sure you have everything you need to stay safe and have a good time at Coachella. A few necessities would include bug spray, cash, a water bottle, a towel, sunscreen, a small first aid kit, and a phone charger. You can carry all of these items in a backpack so you're not weighed down all day.
Make a Plan
When you arrive at Coachella, make sure that you've grabbed yourself a map or guide so you can plan your day. This guide tells you who will be performing and on which stage so you can map out your path. You should also pay attention to key places like the restrooms, charging stations, or water refill stations. Remember you'll be walking from one place to another, so keep timing in mind when deciding when to walk where. Also, select a meetup spot for you and anyone you're traveling with just in case you get separated.
Coachella is one of the most talked-about music festival of the year. If you happen to be one of the lucky concert-goers this year, you'll want to start preparing now. Use the above-mentioned tips to ensure you have a great time rocking out to some of the country's hottest music. The last bit of advice would be to record special moments, let your hair down, and have an amazing time.