The coronavirus outbreak has led to many changes in one's everyday life. Some people have been suspended from going to the office to work. Thus, they have to work from home. If you're more of an office type of person rather than a work-from-home type of person, it might be hard for you to work on your daily tasks without the office room vibe.
Upgrade your office space at your home by getting the best work-from-home essentials, such as foldable laptop stands. Achieve the utmost convenience and comfort while working from home with these amazing foldable laptop stands from Amazon and stay productive.
This foldable laptop stand is made with high-quality, anodized aluminum panel that is incredibly durable, functional, and makes colors look beautiful. The aluminum naturally dissipates heat, keeping your laptop running at a cooler temperature. It comes with a twin USB cooling fan that enhances the cooling effect. This panel can support all sorts of laptops in the most common size. The push-button joints on the base of the panel let you adjust the panel's angle in 15-degree increments from flat to vertical.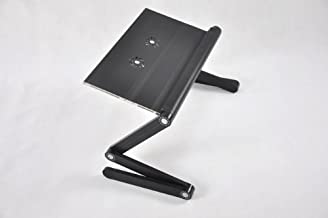 This ventilated laptop stand helps keep laptops running cooler to help reduce crashes. It has a metal-mesh platform that draws heat away from the laptop. The adjustable height for increased airflow and comfortable reading and typing can be adjusted from 12-35 degrees. It also comes with a cord organizer with six slots that promotes a tidier desktop.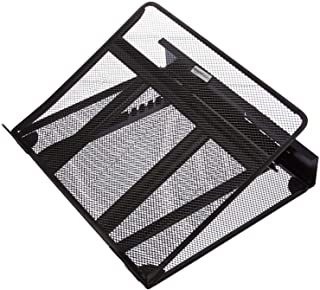 This is a 3-in-1 laptop stand: open the bottom of the left and right foot frame and put your laptop on it. The laptop stand can be used as a display height bracket that can be used for storage keyboard and mouse. It comes with 9 levels of view angle that can be adjusted according to your different demands to prevent eyestrain and neck pain. On this stand's back, it is designed with a phone holder on the left and the right sides to place your mobile phone.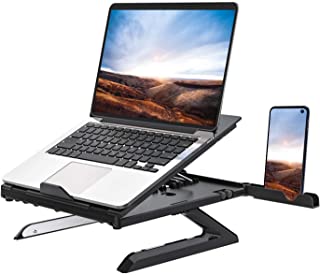 This laptop stand can fit almost all makes and models of laptops there is in the market. The universal fit is for 11.6 inches or larger and comes with a front-edge less than 1 inch thick and keyboard width greater than 11 inches. This adjustable laptop stands offering from 5.5 inches to 12.6 inches of lift, with height adjustment letting you raise screen height to eye level for comfort and protection from injury. It durable, stable, compact, lightweight, and foldable so you can use it at home, at the office, or anywhere you wish to go.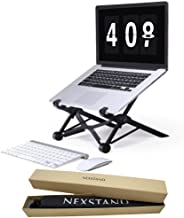 This laptop stand is smooth, durable, and is made with premium aluminum steel that matches all surfaces and devices. It also prevents hand, wrist, neck, and eye strain and promotes proper posture while sitting. It is sturdy, stable, and can be organized and optimized according to your needs.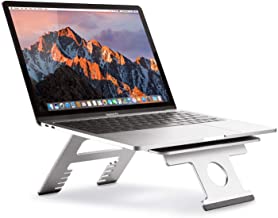 The laptop and tablet stand that supports most devices from 10-14 inches. This stand for laptops and tablets can provide a 6-speed adjustable height that enables you to adjust to a comfortable operating angle and height based on your actual need. It has a creative portable and foldable design that makes it easy to carry on everywhere.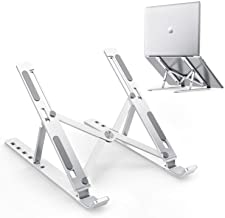 Disclosure
BOOMSbeat writes about stuff we think you'll like. We have affiliate partnerships and may earn commission from any sale resulting from this page.