Looking for a way to declutter your desk? It is time to get a desktop and workspace organizer. This type of organizer can help you arrange your office essentials and supplies neatly to make sure that they are within reach and stored safely. Organizers can also help in taking up less space and it can fit pens, files, and other small supplies.
There are a lot of desktop and workspace organizers in the market, some have unique designs, some are made from metal, some from plastic and some even from rubber, so it can be overwhelming to choose an organizer that will match your needs and your decor. Here are some of the best desktop and workspace organizers that you can purchase.

The Safco Products Onyx Mesh Desktop Organizer looks sophisticated and sleek with its sturdy and stylish steel and it is made with durable, thick commercial-grade steel to endure heavy and repetitive use. It has six 2-inch wide sections that make it easy to organize cluttered desktop, it also helps in keeping important files and binders vertically so you can select what you need fast.
It has two horizontal trays that can hold stacks of paper, mail, folders, catalogs, and envelopes conveniently. It is built to last as it has a durable, powder coat finish that helps resist scratching or chipping. The mesh design can also promote airflow to reduce the dust buildup for less maintenance.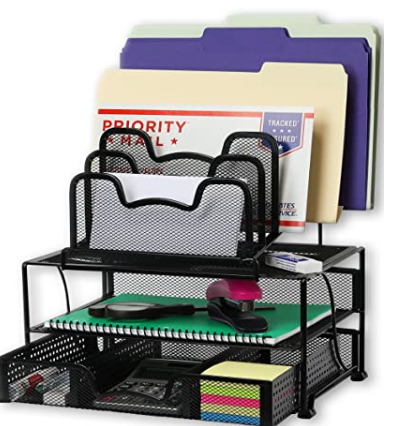 The SimpleHouseware Mesh Desk Organizer has a space-saving mesh design with a sophisticated and stylish drawer. You do not need tools to operate this organizer. It has two sideloaded letter trays, and one tray with 3 compartment drawers. The stacking sorter section is five 1.5-inch compartments. The letter organizers and horizontal file folder can be accessed easily.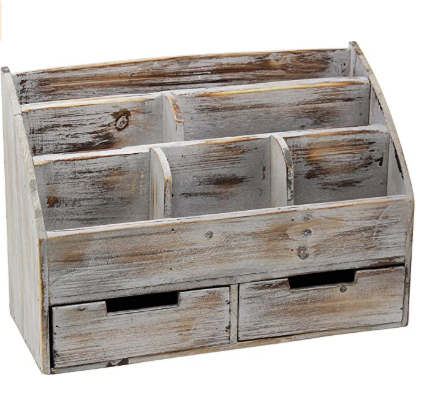 The Executive Office Solutions Office Desk Organizer is an elegantly distressed wood organizer caddy. It has a lot of rooms, with 6 compartments and 2 drawers, this organizer can hold all of your office supplies, accessories, mail and more. Measuring 14.3 x 6 x 9.8 inches, this organizer leaves a lot of room to hold letter and legal-size notebooks and paper, oversized envelopes, and other office and home desk supplies. Perfect for home or office use, it is ideal for binder clips, paper clips, post-it notes, scissors, markers, pens, pencils, highlighters, erasers, tape, folders, white-out, notepads and other office supplies.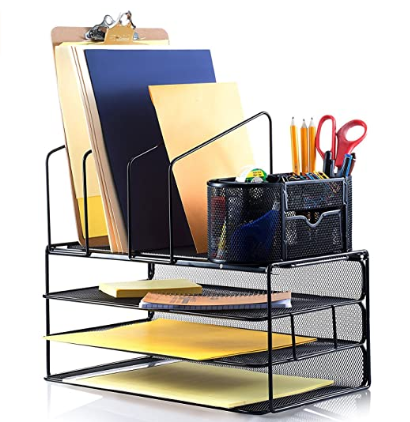 The Saganizer Desk Organizer comes with 3 horizontal place to put 2 letter sizes on each and adjustable 5 vertical dividers, caddy pen holder can be hooked on top of the holder or you can hook it at the side of the holder. This office organizer is made with stylish steel mesh, and it has an excellent finish to complement any decor.
The bottom tray is about 8 x 13.5 inches and there is a space of 3 inches in between the shelves. You can organize your pencils, pens, rulers, scissors and more. It also won't take up much room and it will allow you to store a maximum amount of items.
ALSO READ: Best Adjustable Standing Desks for Dual-Monitors of 2020