Laptops have consistently high temperatures and it could lead to permanent hardware damage and low performance if it is not remedied. This is the reason why laptop cooling pads are very important as it can keep your laptop's temperature in check and you can use your laptop for hours without worrying about it overheating. You can go gaming or you can watch videos on your laptop as much as you want.
There are a lot of laptop cooling pads on the market, but not all are created equally. With that said, here are some of the best laptop cooling pads that you can buy.

The AICHESON Laptop Cooling Pad has a special design to cool down up to a 17.3-inch laptop. It has a wave metal mesh, 1000-1500RPM 1 big fan 4 small fans, flip-up silicone holder, 4 adjustable stand height settings, 2 USB ports, adjustable speeds, and a foam pad. This cooling pad is perfect for gaming laptops, the chill desk has a massive central fan with two smaller fans on each side.
The upper surface is covered in meshed metal with the bottom and sides being plastic. It has a metal bar for ergonomic design, and it is at the bottom part of the pad to provide an elevation mechanism. It has 4 adjustable stand heights for a healthy life. It has a flip-up, high-quality silicone grip at the bottom of the MacBook cooler surface that keeps your laptop from sliding off when it is elevated. It has two USB ports and a switch that turns fans and lights on and off.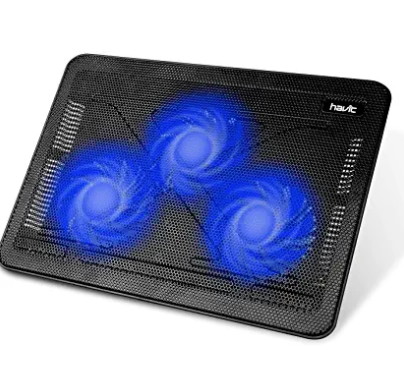 The Havit Laptop Cooler Cooling Pad is ultra-portable, it has a slim, portable and lightweight design that allows you to protect your laptop wherever you go. This cooling pad doubles as an ergonomic stand with two adjustable height settings. The high-quality multi-directional metal mesh gives your laptop a wear-resisting and stable laptop carrying surface. It has three ultra-quiet fans that create a noise-free environment for you. It has an extra USB port and power switch design. It has a built-in dual-USB hub that allows for connecting more USB devices.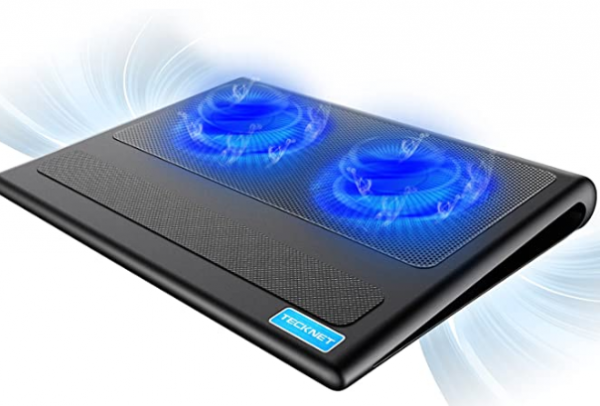 The TECKNET Laptop Cooling Pad has a metal mesh surface that provides amazing airflow to help keep your notebook, netbook, ultrabook, laptop, or Apple Mac BookPro cool and it can help avoid overheating during long periods of gaming or browsing online. It has 2 USB ports, 110mm fans with power switch design so it is simple to use, there is no mains power connections needed.
There is one extra USB port for an additional USB device. This pad is portable, slim and lightweight, easy to carry around. The LED indicator at the rear helps to confirm that the cooler is active. It is angled to place your computer in the best position to use and create a more comfortable experience.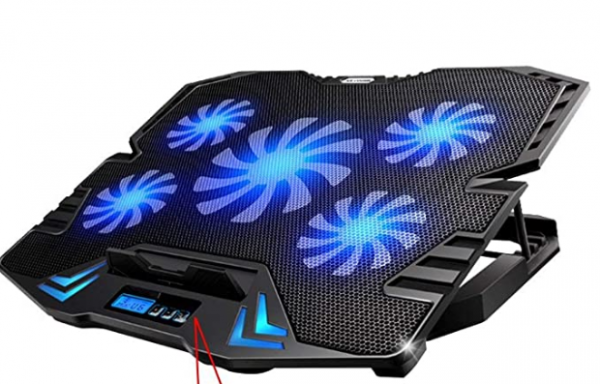 The TopMate Gaming Laptop Cooling Pad has 5 fans, the four fans are at the outer part of the pad and the larger one is at the center and it is a super strong wind fan. The notebook cooler has a unique design and adjustable tilting, it has 5 heights adjustment that allows you to raise your viewing and typing experience, so it can relieve the pain on your back and neck.
There is a hinged flap that you can flip up to keep the laptop from sliding down towards you. It has a small LCD screen and a button control panel, the screen displays information about different wind speeds and the buttons let you switch it to different modes. It has blue LED lights that illuminate while it is working.