The best way to stay productive is to stay organized. You can't work properly if you do not know where you placed your supplies. And as the saying goes, a cluttered desk is a cluttered mind, so an organized and clean desk means that you've got everything under control. With that said, here are some of the best office organizers that you can purchase to help organize your supplies.

The Safco Products Onyx Mesh Corner Organizer promotes workspace efficiency. It fits perfectly in the most underused area of your desk, like the corner. Four center shelves hold sticky notes and staplers while the two outer sections keep folders, binders, and notebooks within easy reach.
It has a sturdy construction and it is manufactured with thick, durable, commercial-grade steel. It is designed to last for years of heavy, repetitive commercial use. The powder coat finish helps resist scratching and chipping while the steel mesh design promotes airflow to reduce dust buildup. The design works great on personal workspaces, desks, corporate mailrooms, dorm rooms, cubicles, family rooms, home offices, and kitchen counters.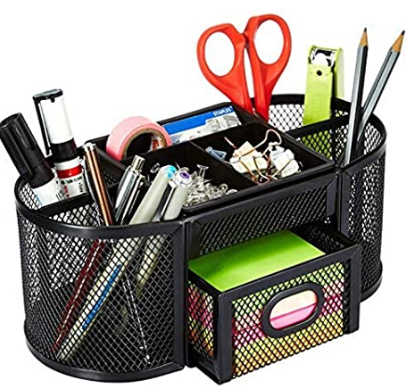 The AmazonBasics DSN-02950 Mesh Desk Organizer can help keep workspace accessories within reach and it makes them easy to find. It can store frequently sued items in the handy desktop caddy so it is convenient, time-efficient and prevents you from rummaging around in drawers searching for what you need.
There are two additional compartments that work well for containing paper clips of various sizes, plus there is storage space for stashing 3 x 3 sticky note pads. It has a sleek, industrial look in solid black, the desk organizer offers an attractive appearance and it coordinates easily with other office accessories and surrounding decor. It is practical, simple and sturdy.

The Rolodex Punched Metal and Wood Desk Organizer is a compact and convenient desk organizer that has multiple features to remove desktop clutter. It has solid wood bases and sturdy steel construction. It has 2 sorting vanes that hold envelopes, messages and paperwork and an angled shelf that holds 3 by 3-inch note pads, with space for a spare pad underneath. It has an attached pencil cup that holds your writing instruments.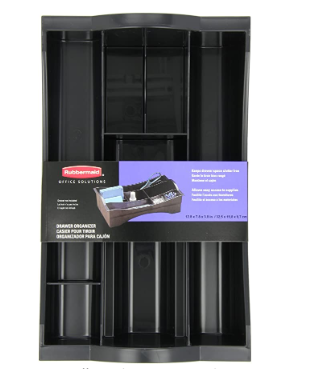 The Rubbermaid Hanging Desk Drawer Organizer can be suspended from hanging file rails. It has shallow front sections that hold tiny items and massive back sections that hold oversized items. Your vital office supplies can now be accessible with this drawer organizer. You can now have enough space on your desk with the Rubbermaid Hanging Desk Drawer Organizer.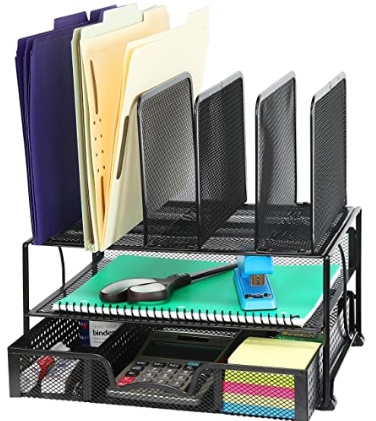 The SimpleHouseware Mesh Desk Organizer with Sliding Drawer is a space-saving organizer with a mesh design. You do not need tools to set this up. It has two side load letter trays and a tray with a 3 compartment drawer. The upright section has five 2-inch compartments. The file folder, desk storage, and letter organizer can help your cluttered desk.