We all love Jennifer Aniston. From being Rachel Green in the hit series "Friends," to romantic comedy movies such as "Just Go With It" and "The Millers," she is admired by fans all over the world.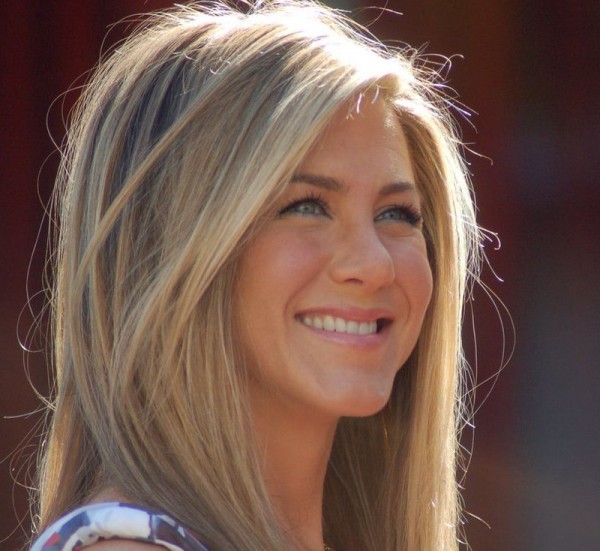 Not only that, but the actress is also idolized because of her ageless features and glowing skin. The 50-year old actress reveals that aside from yoga, getting the right amount of sleep, and drinking lots of Smartwater, Jennifer keeps her skin young and healthy through having a proper skincare routine.
Jennifer's Secret
Jennifer has always been open about her skincare routine. In fact, she admitted that she uses Aveeno ever since she was young. The actress has been a spokesperson of the brand since the year 2013.
While there are many Aveeno products available, Jennifer reveals her most favorite Aveeno product.
Jennifer Aniston's Favorite Aveeno Product
According to the actress, she has been using the Aveeno Positively Radiant Overnight Hydrating Facial since forever. Jennifer shared that she uses this product every week.
While many could think that since Jennifer is an actress and she has all the privilege to go to salons and get professional facials, the actress makes sure that she still gets an at-home maintenance every now and then.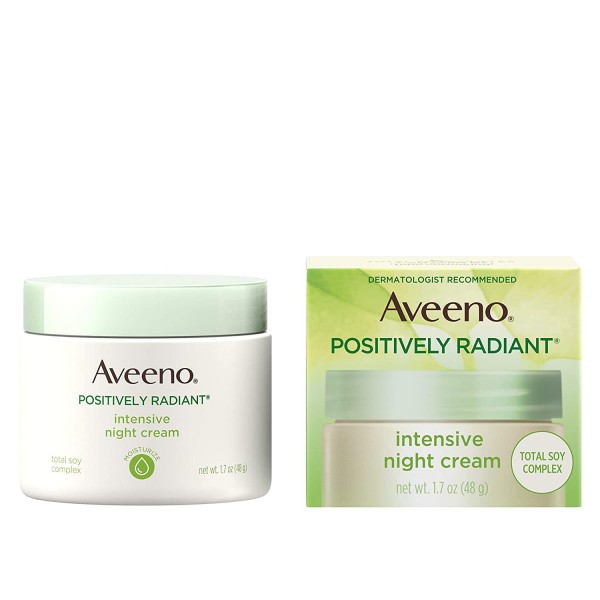 According to her, Sunday has always been her spa day. During Sundays, she would throw herself into her favorite skincare products such as body and face scrubs, facial masks, and lastly, the Aveeno hydrating facial. Jennifer leaves the hydrating cream overnight, and when she wakes up, she gets to have that "dewy, glowing, and twinkling skin" she always loved.
Aveeno Positively Radiant Overnight Hydrating Facial
Now that Jennifer's secret is out, many tried to get the hydrating facial cream from Aveeno.
Aveeno Positively Radiant Overnight Hydrating Facial is a 1.7-ounce jar of pure elegance. The night cream works effectively while you sleep and hydrates your skin overnight. It is specially formulated with Totally Soy Complex that helps brighten skin for a more radiant complexion. It also has Vitamin B3 that helps diminish the appearance of dullness, blotchiness, and brown spots.
The night cream is dermatologist-recommended, just as many dermatologists recommend the Aveeno brand. The moisturizer is creamy and non-greasy and has been known to show visible, even skin tone and texture.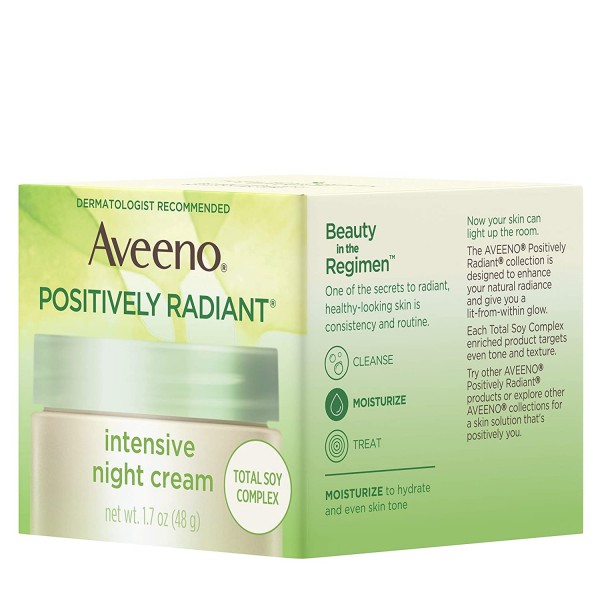 People who have tried the night cream testified that it is perfect for night use, and it is oil-free, hypoallergenic, and non-comedogenic, so it does not clog your pores. The cream should be used to cover the whole face and neck before bedtime to help reduce the look of dark spots, uneven tone, and texture.
The Aveeno Positively Radiant Overnight Hydrating Facial cream is designed to enhance your natural radiance and provide you a lit-from-within glow.
It is always important for everybody-- not only celebrities-- to take care of their skin. Having a good skincare routine and getting the right products will always keep your look healthy and glowing. Whether it's Aveeno or other facial cream brands, always choose products that are suitable and safe for your skin.
Disclosure
BOOMSbeat writes about stuff we think you'll like. We have affiliate partnerships and may earn commission from any sale resulting from this page.