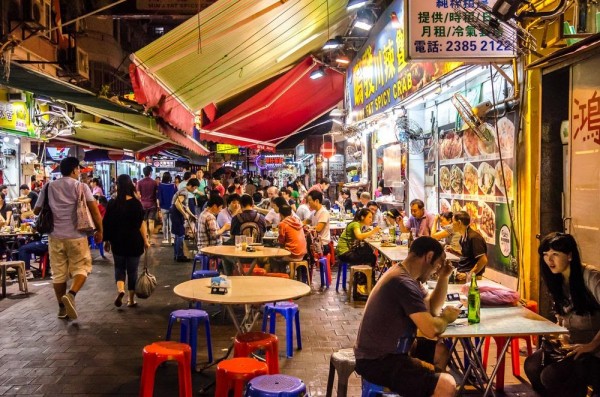 If you live in Hong Kong or if you're just visiting you'll soon realise there's not enough time or appetite to eat your way through every suggestion. So I've put together a list of my favourite top 10 places to eat so that you don't miss a tasty morsel.
1 - One Dim Sum Chinese Restaurant, G/F 209A-209B Tung Choi Street Prince Edward
This is a local restaurant, which you would imagine is an unusual choice for a restaurant list, but the food is amazing. The fact there is a queue around the block for most of the day is testament to that. Don't go anywhere else for dim sum.
2 - Celestial Court Chinese Restaurant, 20 Nathan Road, Kowloon 2/F, Sheraton Hong Kong
Hotel restaurants can be stuffy and unfriendly, but this Michelin starred restaurant is very calm and the service is excellent. There are two outstanding things about Celestial Court; the view and the Peking Duck. This restaurant is not cheap but it is good value for money.
3 - Mott 32, Basement, Standard Chartered Bank Building, No.4-4A Des Voeux Road Central,
The address makes this restaurant sound very unappetising, but don't let that put you off. This upscale Chinese fusion restaurant delivers on taste and quality. The highlight of the visit was the Cha Siu. It just melts in your mouth. If I had to criticise anything I would say the restaurant is too dark. Put some lights on will you!
4 - Tate Dining Room, 210 Hollywood Road, Hong Kong China
This is one of the few restaurants led by a female chef - Chef Vicky incorporates both a Chinese and a Japanese element to her dishes. She is a true artist with every single dish looking like a piece of artwork. This is a restaurant for special occasions and, with this in mind, consider booking the private dining room where all the tableware and the setting of the restaurant, including the food, has been carefully curated to the highest standard.
5 - Dynasty, 3/F, No. 1 Harbour Road, Wan Chai Renaissance Hong Kong Harbour View Hotel, Wan Chai
I'm not going to lie and say I chose this restaurant for its name and reference to the 1980's TV series with Joan Collins. However, I'm pleased to report the Dynasty didn't disappoint. Lovely decor throughout. Conveniently situated right in the middle of HK; but the main reason for eating here is the outstanding sweet and sour pork, spot on!
6 - Veda, 2 Arbuthnot Road, Central, Hong Kong
Veda is a tiny restaurant with a little bar on the side. The food is vegetarian with Indian and Japanese influence all put together in a wonderful fusion melting pot of loveliness. Everything is beautifully presented and delicious. I much prefer to go during dinner where you can order the full menu. The main focus is vegetarian food and it was very tasty too.
7 - Grand Ding House, 8/F, One Pacific Centre, 414 Kwun Tong Road, Kwun Tong Apm
If you are looking for seafood with a view look no further than Grand Ding. You can see the characteristic Kwun Tong old district buildings from the floor-to-ceiling windows in the dining room. The big draw is the seafood soup. The ingredients are incredibly fresh and the seafood succulent; gorgeous abalones, grouper and clams all set in a delicious broth. Highly recommended.
8 - Capo, Shop 4C-D, Tower 1, PL/F, Hong Kong City
When in Rome I usually do as the Romans do, so equally when in China I like to eat regional food. However, there are some days when the only thing that will do is pizza. This was one of those days! 500 reviews say Capo serves the best pizza in town and I can only agree.
9 - Milu Thai Restaurant, No.3 Yiu Wa Street, Causeway Bay 2/F, Bartlock Centre
If you love Thai food and you love jumbo curry, this is the place for you. Three different types of curry, all with a good selection of meat or seafood. The jumbo comes with cubes of garlic bread so you can dip into the curry-like cheese fondue which adds to the experience. The tom yum soup is spicy yet tasty, packed with big juicy prawns. The barbecued tenderloin was super tender, packed with flavour. All in all, an excellent choice.
10 - OMG Mamaday, 29 Granville Road, Tsim Sha Tsui 2/F, Southgate Commercial Centre
One of the reasons I chose this place was because of the ridiculous name and the odd decor. But also because they don't have a bad review. So I took this as a challenge and visited for lunch. Using green curry as the pizza sauce is a new idea, and it turned out to be really good, tasting minty and cheesy with a thin crust. It was a winner. The tuna was excellent, sashimi-grade fish matched well with avocado, the creamy avocado didn't overpower the delicious tuna. Finishing with a waffle with sea salt ice cream. A lovely way to end a very pleasant meal.
Actually, with so many restaurants, bars and take-outs in Hong Kong, you will never go hungry; it's that overwhelming choice that makes it so hard to choose. If you're a foodie like me your time in Hong Kong will be memorable. So eat, drink and be merry, cheers!