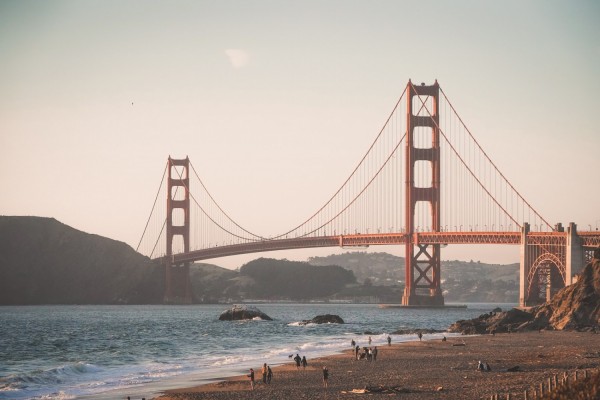 San Francisco movers, indeed movers across the country, are facing hard times due to the pandemic crisis. Despite the crisis people are still relocating as best as they can. It is readily apparent, however, the number and frequency of relocations across the country are likely less than they were in previous years. This is especially likely for areas hard hit by the pandemic, such as California. San Francisco is worth a closer look due to the cosmopolitan nature of the city.
When it comes to cities in California, the two most likely to come to mind are Los Angeles and San Francisco. Los Angeles has Hollywood and is a city of mystique and allure. San Francisco is more down to earth, but is very much the quintessential California city. A progressive, accepting city, people from across the country are often tempted to move to California's cities to find acceptance and opportunity they cannot find in other cities. One guide on the subject makes it a point to explain:
"Known around the world for its Mediterranean appeal, San Francisco has surreal sunsets, world class restaurants, malls, sights & attractions. San Francisco is known for its multi diverse culture, which makes San Francisco one of the world's most enticing places to either live, play or visit. San Francisco is also known for their support and expansion of rights for the LGBT community which has stood out and captured attention throughout the world. San Francisco is the 4th largest city in California behind Los Angeles, San Diego, and San Jose. It is in the northern part of California, between the Pacific Ocean and the San Francisco Bay."
With a population of over 800,000, San Francisco is not the largest city around, but is definitely a decent size. This size and the spread of the city is one reason public transportation is so common within the city. Between the cosmopolitan atmosphere, accepting people, and ease of transport, there is much for the city to offer those who decide to move there.
At the same time, there are also reasons not to move there, and also reasons to move out of the city. The reasons for moving away from San Francisco are varied, and it is such numbers that have likely changed the most radically between previous years and the current year of 2020. In fact, some conjectural information reveals that as much as one third of Bay Area's population desires to relocate away from the city. Such numbers might seem high, but between such conjecture and the actual numbers, there is both truth and the reasoning behind such sentiments.
One of the main reasons in recent years for moving away from San Francisco is the sheer cost of living. One source on the subject noted "only 15% of San Francisco households meet the annual income threshold needed to afford the median-priced home of $1.6 million. While there are many high-paying jobs in the Bay Area, high home prices make it challenging for most people to buy a home in the city. To put this salary requirement in perspective, the median-priced home in Austin, Texas is $383,245."
Rental prices aren't any better, either. One bedroom apartments cost on average $3,000 a month, much higher than some mortgage payments in other cities, much less rental costs. Overall, in fact, the cost of living in California is rather high compared to other major cities. According to some research on the matter, San Francisco can cost as much as 60% more than other cities. This is the result of overall higher costs for standard goods and services, higher gas prices, and the like.
In short, though there is much San Francisco has to offer, there are also reasons to move out. The need to leave a city because of an inability to have earned their way is not uncommon. People who came to the city expecting to make their fortunes or obtain steady employment may have failed to earn what they thought they could, or the chances for making it big fell through. The question then is if the numbers support such statements.
In 2019, from April to July, the city of San Francisco saw an increase of population due to relocation of 52,066. The vast majority of these people were immigrants from other countries settling in California, and thus the United States, for the first time. From 2010 to 2018, however, migration to San Francisco by Americans was down. Specifically, 2,976 American citizens moved away from the city over the previously mentioned dates. This is a negative net number and does give us all the numbers, but already a trend is clear. Namely, over the previous years, while new immigrants from other countries are increasingly moving to and settling in San Francisco, American citizens are not moving there and are leaving the city.
This phenomenon is referred to by economists as an effect of so-called "gateway cities." As one source on the subject explains, "These cities, often planted along the coast, serve as entry points for foreigners moving to the U.S. The immigrants will register in the gateway city, but often move to other parts of California or the country within months."
Further data supports this trend. Another source on the matter observed that, based on data from the California Department of Finance, "Between July 2018 and July 2019, California's population swelled by an estimated 141,300 people, while San Francisco was up 2,742, bringing the citywide total to 889,360. While that's a significant net gain for the city, it's a fraction of the 6,885 from the previous year, which was itself down from 8,070 between 2016 and 2017. Across the state, the department cited "higher domestic out-migration, lower immigration to California, and fewer births" as reasons for dwindling gains."
As for more recent data, the current pandemic has rendered accurate numbers difficult to procure and properly analyze for some time. California was hit especially hard by the pandemic, and it's recovery will be slow, much like it will be for New York and other states hard hit by the disease. Still, the data from previous decades does show a trend toward out migration rather than immigration. At least when it comes to Americans moving into the city, as future American citizens seem perfectly content to move to San Francisco, at least initially. With migration and relocation on hold for the large part through the current crisis, the movement data for 2020 shall prove very interesting indeed.
All this data means that San Francisco movers are not in any immediate danger of losing business once the crisis passes. Though they, along with a great deal of other businesses, are being sorely tested at this time, once the pandemic has run its course and people can safely relocate again, those moving companies will be ready to safely do their jobs once more.
San Francisco has much to offer those who wish to move there. It is a vibrant, accepting city with beautiful scenery, mild climate, and a great deal of business and commercial opportunity. Such conditions are ideal for an immigrant population, so it makes sense that those from other countries seeking to make a new life in America would move to such a city. Conversely, the high costs of living, renting, or owning a house make staying in the city problematic, and also moving to the city for those seeking new lives with more limited means.
One source on the subject noted "that San Francisco has the highest "outflow"-net number of potential homebuyers browsing ads in other cities-of any U.S. metro area, a trend that has remained consistent ever since Redfin began issuing its quarterly migration reports in 2017." That same source use compiled information to observe that "of 500 Bay Area residents polled in a phone survey, 49 percent said they are "considering moving away from California because of the high cost of living.""
Such data is further corroborated by mover data. One source recorded "surveyed the price of U-Hauls and concluded that soaring demand in San Jose and surrounding counties had agitated prices and created a shortage."
Data compiled from research data over multiple sources and years shows the same trend over the years. Immigrants are largely moving to San Francisco, either temporarily or permanently, and this keeps the population steady and even on the rise despite the constant number of people moving out. Though appealing for many reasons, the sheer costs of living in the city can prevent people from properly establishing themselves if they move there. Further, those who fall on hard times or are looking to downsize will also leave to better support themselves and their families.
The data for previous years has revealed such trends. What the data compiled following the pandemic will demonstrate could very well alter such trends. The crisis of 2020 has severely inhibited local, national, and international travel. The relocation data for 2020 will likely be extremely different from the data of previous years. What that data will be remains to be seen.