Throw your trash right into the trash bin easily by getting these amazing locker trash bins! Here are some of the best brands to get today.
This small trash can is perfect for small rooms, bathrooms, office spaces, locker rooms, or even inside your cars. You can choose from four cute colors, such as blue, green, light purple, and black. Each can is made of premium metal and is anti-impact and durable for a long time. It has item dimensions of 3.85 inches by 3.05 inches by 6 inches. The bins also have two small black wheels and a lid. The design is very adorable, and it is the perfect desk accessory to tidy up your pens and pencils, or can be used to throw small papers and candy wrappers. It also has a clamshell design that enables the lid to close when you fill it with items such as pens and small accessories. This mini trash can and can be used on top of your desks as either a trash bin or an office supply organizer.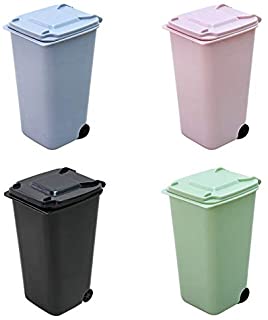 This is made of 100% stainless steel and is made of a matte material that is fingerprint-resistant and stain-proof. The construction of this trash bin is super reliable, and it can last for many years with proper care. This bin measures about 4.7 inches in diameter and 6.5 inches in height. It has a capacity of 1.5 liters or 0.40 gallons. The design of this trash can is exquisite and classic. It has a satin finish and comes with silver color with a swing lid. The brushed stainless steel makes it look neat and tidy and can fit into whatever office them you are in. This trash bin can be placed on top of a desk or a countertop for small litters such as tea bags, candy wrappers, pencil shavings, and other little paper trash. The size is small and compact, and it can fit even in the tightest spaces and cabinets.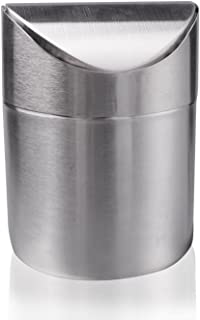 This trash can from SimpleHuman has a smooth, center-weighted swing lid that allows easy access when throwing trash and litter. It is also small, compact, and portable, and you can place this trash can anywhere you like. The lid can be lifted off, and it has a smooth plastic inner lining that is easy to clean. It is also finger-print proof. This trash bin is made with the best materials in the market, and it features a solid-engineered design that will make products last even in the harshest environment.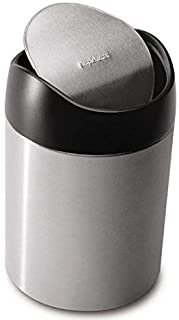 This vanity trash can is one of the best you can get because it is made and manufactured by mDesign. The company is one of the best kitchen and home accessory makers, and all their products are made of high-quality materials. This bin can not only be used as a trash bin but also an organizer in your lockers, desks, and rooms. It features a self-leveling swing lid that keeps the trash covered and out of sight. It is weighted to be gently swung open. The material of this trash can is made of sturdy BPA and chlorine-free shatter-resistant plastic. It is a food-safe, and it has an easy-care clean up even when using only mild soap.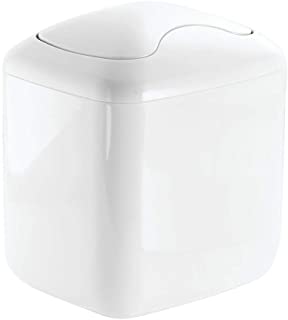 Disclosure
BOOMSbeat writes about stuff we think you'll like. We have affiliate partnerships and may earn commission from any sale resulting from this page.