Are you a fan of Tommy Hilfiger? If yes, you need to get one of this TH luggage now! Here are some of the best luggage designs in the market today.
This luggage from Tommy Hilfiger has a very sleek design, and it comes in a beautiful shade of burgundy red. The luggage is fully lined on the inside with lots of elastic tie-downs to hold items in place wherever you go. Whether the road is bumpy or smooth, your items in the bag will be in the same position as you put them in the first place. It also features an aircraft aluminum trolley system and has an enameled metal logo plate that shows the brand name in a classy and elegant way. The luggage has four spinner wheels and measures about 19 inches by 11 inches by 28 inches. This luggage also comes in other colors such as pink, metallic blue, navy blue, orange, and silver.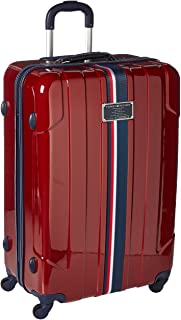 This Tommy Hilfiger luggage is more distinctive and unique among the brand's other models and design because it is made of textured basketweave and shows off a different style. It has the famous Tommy Hilfiger global stripe in the front that goes down in the center panel of the luggage. The luggage has eight wheel spinners that are easy to roll and has superb maneuverability and control. The bag is also flexible and expandable for maximum packing capacity. It has a built-in TSA combination lock that does not need any key for additional security. The luggage has a fully-lined interior and has multiple sectioned and a zippered curtain. The compression straps are also there to secure the items inside of the bag and have zippered mesh pockets.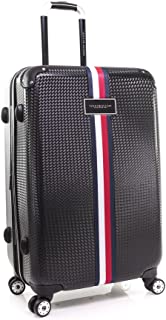 This luggage from Tommy Hilfiger is textured and scratch-resistant. The outer part of the luggage is made of ABS and PC material, which makes a tough luggage shell that can withstand any type of traveling, whether it's rough or smooth. The luggage comes with four multidirectional spinner wheels and has an adjustable height trolley handle for easy and convenient control. The top and side parts of the luggage have grab handles, which makes it easier for users to bring anywhere. The luggage has a lot of space and has a fully-lined interior with compression straps on the inside to keep the items on its place. The zippered pocket is also there to help you be more organized with your stuff.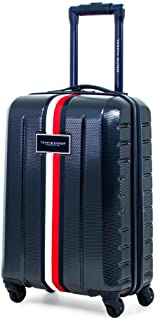 This is a one of a kind designed luggage from Tommy Hilfiger, and you should not miss out on it. The luggage is made of polycarbonate on its exterior, and it features a bold design as a whole. The trolley has a retractable trolley handle and a zipper closure to secure all items inside. It features zipper compartments and adjustable tie-down straps. The luggage also has an expandable design and a grab handle at the top. It runs on four spinner wheels and measures about 19 inches wide, 11 ½ inches deep, 30 inches tall, and weighs about 10 pounds or 6 ounces.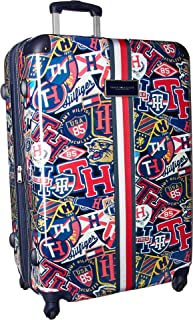 Disclosure
BOOMSbeat writes about stuff we think you'll like. We have affiliate partnerships and may earn commission from any sale resulting from this page.