Do you love roasted meat? How about doing a casual barbecue at your backyard, enjoying a delicious and freshly cooked grill with your family and friends? Whatever your preference is, you will need to get yourself a cordless open fire rotisserie. Here are some of the best brands you can get today:
This rotisserie grill system from OnlyFire includes steel rotisserie stops that come in two positions for tasty, flavorful, and slow-roasted meat. It is made of sturdy and durable steel that is supported by a dual post steel system.
The two steel posts allow a sturdy and durable roasting set up. The system has screws that adust to the height of the grill and rotisserie. The package is inclusive of rollers, four different sizes of prong meat forks, a 38 by ⅜-inch hexagonal spit rod, a 3V DC battery motor, a bracket, and tow adjustable steel height arms.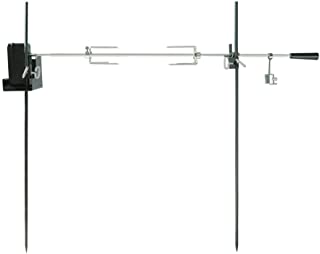 This is the perfect open fire solution for rotisseries cooking when you don't have electricity at home or if you want to gather some friends and family over for a lovely barbecue dinner. This rotisserie grill system is ideal for chicken, ham, brisket, turkey, and other meats. It is easy to assemble and store after use and is recommended for a quick clean fix.
This cordless rotisserie has two 26-inch vertical support for convenient roasting and cooking of a variety of meat. It also comes one 36-inch polished steel support bar to hold the system in place while you are roast. There are also two spit forks included, as well as one gear reduction motor that runs up to 20 hours on 2 D-cell batteries.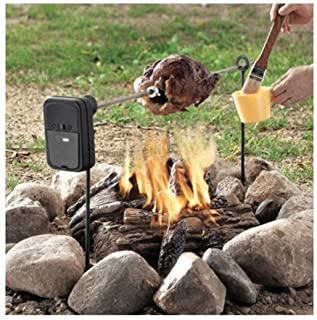 The rotisserie system is easy to set up, use, and store after and can be brought anywhere with its sturdy canvas storage bag.
This cordless rotisserie is big enough for you to cook on large pieces of pork, lamb, goat, turkey, chicken, and more. It comes with a 50-inch stainless steel spit, and it offers solid construction and commercial-grade materials.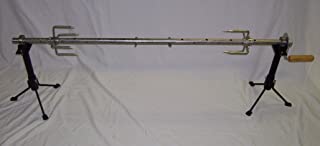 The bearings are made to reduce stress when you use it to ensure a long-lasting prep time. It is also very compact and portable that you can break it down in seconds. It also easily fits in the trunk of your car if you plan to go on hiking, camping, or roasting at a friend's place.
Conveniently cook your favorite roasted meat with a fire beneath it and under open skies with this campfire rotisserie equipment from Guide Gear. This set comes with a cooking equipment set that makes it very easy to cook and barbecue meat in no time. It has everything that you need, and you don't have to buy other tools for you to use this.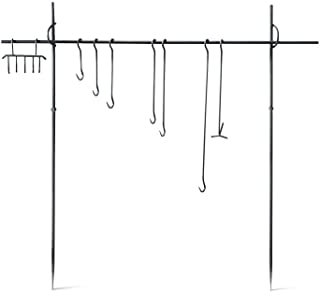 The package includes two side posts, a crossbar, five hooks, a lid lifter, a utensil holder, and lastly, a fire poker for you to tame the fire as your meat cooks. The set is made of sturdy and heavy-duty iron that measures about 4'10 inches on its side post, a steel crossbar that has five hooks that measure 9, 11, 13, 15, and 18.5 inches, and an 11.16-inch pole diameter. This set weighs about 26 lbs.

Check out more items on Amazon.
Disclosure
BOOMSbeat writes about stuff we think you'll like. We have affiliate partnerships and may earn commission from any sale resulting from this page.