Do you have a hard time training your kids to eat correctly without spilling their food? You might need sturdy tableware for them if that's the case. Train your kids' proper eating habits with cereal bowls with straws and stay mess-free every meal. Here are some of the best cereal bowls with straws on the market today.
Stop the spills on your table and other home furniture with this sip bowl with built-in straws from Arrow. These bowls guarantee no spills at all because of its built-in drinking straws your child can use for breakfast, lunch, dinner, or even snack time.
You can now avoid messy mealtimes when you use these lightweight and easy to hold toddler bowls with a ribbed design that is ideal for when little ones are around eating their food. These bowls are perfect for children, especially when they are still learning how to eat by themselves. It is also great for parties and daily meals.
These bowls are made with the safest, food-grade, BPA-free material. They are made in the USA and are made of guaranteed top-rack dishwasher safe, food-safe polypropylene. Help save Mother Earth by using these reusable plastic bowls while enjoying all your favorite snacks and meals with your family.
This sipper bowl with built-in straw from Zak Designs will entice your little ones to eat their food and even make them look forward to their next meals. Having their favorite Marvel hero on their bowls will create imaginations in their mind and enjoy their thoughts while eating from the cereal bowl.
This bowl also has a built-in straw that gets every ounce of liquid in the bowl to the last drop. The bowl can hold up to 22oz of liquid or food. The bowl is made of plastic that is food-grade, BPA-free, and dishwasher safe. This is perfect for children ages 3 years old and above.
Teach your kids how important consuming all their meal servings with the help of this silicone toddler bowl from Munchkin. Children tend to leave even the slightest amount of food on their plates and bowls and won't bother to finish them, so why not get them a meal bowl that will help them finish every bite?
This toddler bowl will entice your child to finish their cereal even to the last drop of milk using the bowl's built-in straw. The bowl and straw are made of 100% silicone, and it is child and parent-approved by many families and experts in the world. Kids will have a good time finishing their meals with this innovative bowl. Also, silicone tableware is safer to use than plastic tableware.
The silicone bowl and straw set avoids slipping because of its smooth texture. This is a kid-approved bowl for children to use when eating soup or to drink their cereal milk.
This is a two-piece bowl and cup set for toddlers and is very recommendable to use, especially for those kids who are still trying to learn how to eat by themselves. It is made of plastic material and is BPA-free and dishwasher safe.
These plastic bowls come with a built-in straw for kids to use when they eat their cereals and soups. It helps kids to learn how to prevent spills and lets them sip their soup or drink their cereal milk neatly. The plastic tumbler also has a built-in straw that makes kids gulp their beverages down without spilling it everywhere. This is perfect for bringing on picnics, parties, camping trips, and more.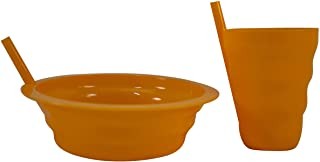 (photo: Amazon.com)
Disclosure
BOOMSbeat writes about stuff we think you'll like. We have affiliate partnerships and may earn commission from any sale resulting from this page.