Solar power is one powerful source of energy that people sometimes underestimate. Say goodbye to batteries and electric-powered toys and get these best-selling solar-powered toys today!
Simply place these cute and nature-inspired solar toys in the sunlight or somewhere where there is intense indoor lighting, and it will dance happily for you. It is a fantastic decoration for office desks, windows, home offices, or even in your bedroom. This is a unique and ideal gift to give your friends, colleagues, and family members.
Each solar toy is individually wrapped in a see-through clamshell to ensure its quality. The toys are eco-friendly, but the package does not have batteries included. The material of these toys is made of durable plastic that is safe to use. These solar toys are packed in 8 pieces per package.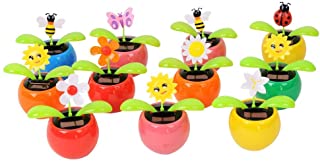 These cute solar-powered dancing lucky cats from Daiso Japan are a must-have, especially when you have a business that needs enough luck for sales to be good. If you believe in luck, these dancing cats are one for the books.
The cute cats will help you brighten your day and make you smile whenever you see it. The package includes two solar-powered dancing lucky cats that come in both white black and stands on a red plastic base. The material of these cat toys is made of ABS plastic, which makes it durable.
These adorable cats will look perfect on your office desk, counter, table, or any windowsill at home or in the office. You can also send this as a gift to a friend, a kid, a colleague, or a family member for birthdays, holidays, or any occasion.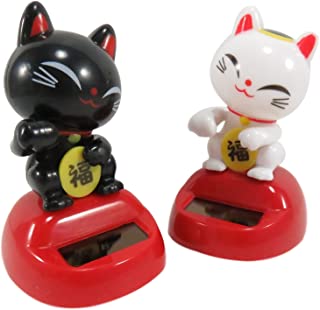 Puckator is a popular solar company that produces solar-powered products and items such as customized and cute solar-powered toys. If you are a huge fan and supporter of US President Donald Trump, you can get this solar pal from Puckator and have it displayed in your room's windowsill, a well-lit room, or in your office window.
The toy is solar-powered, and it is best to place it where it can catch the sunlight or indoor light for it to function. The material of this toy is made of plastic that is durable and safe to use and play with. Puckator has a broad set of solar toy sets, including superheroes, cartoon characters, animals, fairies, flowers, butterflies, and more.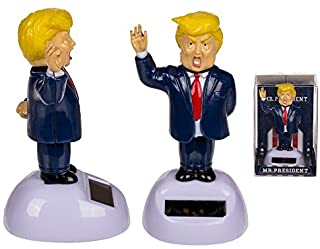 If you're looking for a cool toy set animals that are solar-powered, this is one of the best ones to get. Say goodbye to batteries and electric-powered toys and say hello to solar-powered ones! This set of 2 solar toys contain a monkey and squirrel that are designed with cuteness.
Each toy measures about 4 inches by 3 inches by 2.5 inches by size. The Squirrel toy can move its tail and head while the Monkey toy can move its upper body once solar light is in contact. You can use this as a home and office decor or send it as a gift to a family member, colleague, friend, or kids.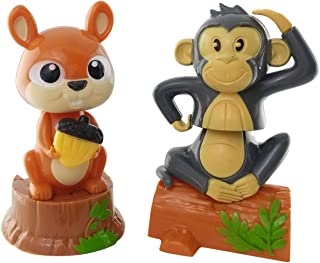 Check out Amazon for more fun and exciting toys!
Disclosure
BOOMSbeat writes about stuff we think you'll like. We have affiliate partnerships and may earn commission from any sale resulting from this page.