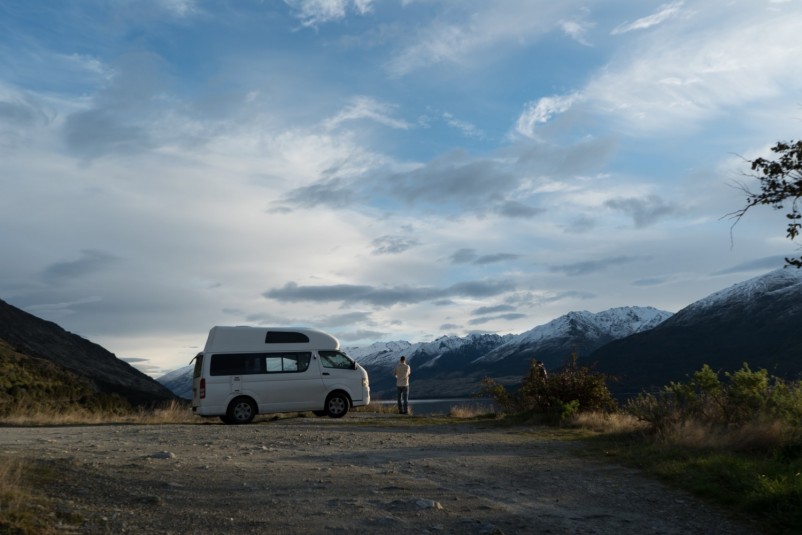 Ah, road trips. The stuff of dreams! Touring the United States by a motorhome opens up a world of endless possibilities. So endless that you might have it challenging to assemble and complete your itinerary. The freedom and flexibility offered by an RV road trip are unmatched, and sticking to a rigid itinerary is almost impossible. But then again, road trips are all about freedom and flexibility, right?
Whether you're coming from overseas or you're a U.S. resident, there is a repertoire of factors to consider before hiring a campervan for your road trip. This entails having a list that designates what your campervan 'needs to have' and another that pronounces items that might add a little taste to your adventure. This means that you can base your decisions on your priorities and allows you to better compare offers from campervan rental providers.
If you're wondering where to start, Hittheroad.rentals is a good spot to begin your exploration. These road trip enthusiasts provide comprehensive reviews of some of the best campervan suppliers in the world. With over 450 companies, more than 300 rental companies reviewed, and hundreds of independent user ratings, you can definitely find a campervan that tickles your fancy. If you're new to this world, here are a few factors to consider before hiring a campervan in the U.S.
Sleeping Berths
Think of your campervan as a mini-apartment, with a kitchen, sleeping berths, and some kind of toilet. Sleeping berths come in handy when your need to make a stop, relax, rest, or sleep before proceeding with your adventure. So, it goes without saying that sleeping berths are some of the most important factors to consider before hiring a campervan in the U.S. Technically, our bedding arrangement will change according to the number of people who will be traveling in your campervan.
If you are just a couple or two friends going on a road trip, a two-berth motorhome will be reasonable for both of you. There are other campervans than can accommodate three, four, or five people. But if you are a family or a group of friends looking for a campervan hire in America that can accommodate 7+ people, motorhome options are available.
Items Included
A great feature of hiring a campervan for your U.S. expedition is that the renting company will have already included most of the items that you'll need during your trip. But, not all rental companies are the same. Some will offer more items than the other, necessitating the need to check before booking or hiring to ensure most of the basics are catered for, and most importantly, are included in the total cost.
Typically, the following items are included when you rent a campervan in the U.S:
Laundered Linen & Bedding: these items include towels, sheets, duvets, pillows, pillowcases, and other useful items to make your holiday easy. Other important items, such as clothes hangers and pegs, may also be included under this category.

Apartment-styled Kitchen Equipment: these are items such as plates, cups, bowls, coffee plunger, drinking glasses, wine glasses, cutlery, toaster, tea towel, gas kettle, electric jug, chopping board, frying pan, saucepans, colander, mixing bowls, and bottle/can opener. This definitely means that there is a cooker, either electric or gas. Most companies will also include a fully-functioning fridge.

Cleaning and Cabin Accessories: these items may include matches, broom, disposable gloves, bucket & hose, detergents, fire extinguisher, biodegradable toilet chemicals, dustpan, and brush, among others.

Optional Extras: normally, some of these optional extras are included but an additional cost. They include items such as outdoor furniture and accessors [such as chairs and tables], additional safety equipment [such as first aid kits, emergency kits, GPS Units], and internal accessories [such as phone charging cables, cigarette lighter adapter, heater, and fans]
Age Requirements & Licensing
This also goes without saying! You must ensure that the campervan you intend to hire is fully registered in the state that you're visiting. Other than that, unless your package includes a driver, the person driving the vehicle must have a driving license. Some states will require you to have a special non-commercial license to drive an RV over a certain weight or length. Others will require you to have a commercial drivers' license-the kind of license you'd need to drive heavy/large vehicles. When it comes to age, most companies in the U.S. require a minimum age of 2, although some may go for 18.
Rental Contract
Before committing to any campervan company, it's critically important to read the company's rental contract or product disclosure statement thoroughly. This document will outline nearly everything you'll need to know about the campervan, its services, requirements, and all the amenities that are included in the cost of hiring. It will also define everything you need to know and do if the vehicle breaks down or if you break something. The rental contract should also include the contact details of the person you may need to talk to in case of any issue during your tour.
Everything about pricing will also be described in this product disclosure statement. In most cases, the cost will be charged based on the number of nights [nightly rate] you'll be renting the campervan; then, you'll have to add that to the mileage times the cost per mile. For instance, if your nightly rate is $99, you travel 500 miles at the cost of 35 cents per mile, your five-night campervan trip will be $670.
Wheel Drive Options
A huge majority of those who hire a campervan go for the 2-wheen drive, as they are able to tackle pretty much any road and are much better for racking up freeway kilometers as you move from one place to the other. But, if you want to be a little more audacious and exploratory into the American outback, a 4 x 4 RV may suit you better. These types of vehicles perform better on both dirty and tarmacked roads, but maybe a little more expensive, and come with special rules and restrictions than 2WDs.