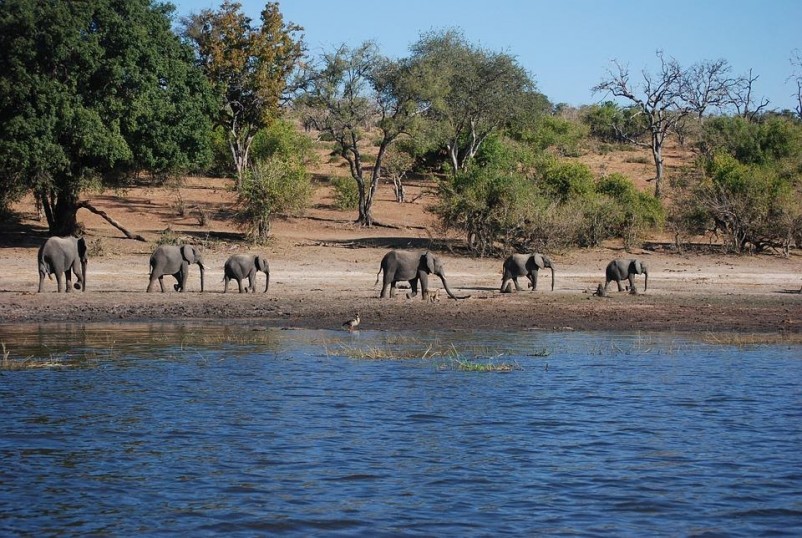 Different people define adventure differently. Luckily, when it comes to outdoor adventures in Kenya, there is always something to suit every taste. In fact, as far as adventurous exploits are concerned, Kenya's mountains, rivers, beaches, savannahs and grasslands will leave you spoilt for choice. This article introduces you to the 5 most adventurous things to do on a safari in Kenya.
1. Witness the Great Wildebeest migration in the Maasai Mara
Also dubbed the 8th wonder of the world, the Wildebeest migration is a spectacle that leaves you enthralled. This natural wonder takes place every year in the Maasai Mara, a Game Reserve situated in Southwestern Kenya, some 280 Kms from the nation's capital, Nairobi. The Reserve has been declared Africa's Leading National Park six times in a row now by the World Travel Awards (WTA).
You may be wondering, what is this annual migration and what makes it so special? Well, every year, during the months of July-December, over 1.2 million Wildebeest, accompanied by hordes of Zebra, Eland, Impala and an assortment of other herbivores, make a frenzied rush from the Serengeti plains in Tanzania for the Mara in pursuit of greener pastures. The migrant herds face mortal danger from Lions, Hyenas and Leopards during their epic journey.
A sneak peeks at the annual Wildebeest migration. 
Their voyage is fraught with even more misadventure as it also includes a thunderous crossing of the Crocodile infested Mara river which boasts of an impressive basin depth of 13,504 Sq. Km, making crossing it quite a feat. It is indeed a scene reminiscent of the Wildebeest rush in the movie 'Lion King'.
For the annual migration, the best time to visit is from June - December. Thereafter, you can still catch the migrant herds on a Serengeti Safari in Tanzania. The climax of a Masai Mara wildebeest migration safari is the Mara river crossing.
Historically, the event occurs between June and July, but no one knows exactly what triggers it or the exact date the animal will start crossing the crocodile-infested Mara River. It only takes the first wildebeest to sniff the air and decide the time is right.
To make sure you are all in for the adventurous Mara river crossing, plan your trip with a Nairobi based tour operator such as AjKenyasafaris.com. Their guides were born and raised in Kenya, and they will safely and smoothly introduce you to the wonder that is the great wildebeest migration.
2. Game Drives
Kenya is the most ideal destination for game drives. It boasts a bevy of National Parks and Game Reserves, each with all manner of wildlife. These Parks and Reserves dot the entire Kenyan landscape and number 52 in total. So, whichever part of Kenya you happen to visit, there is a Park or Reserve nearby! However, the top award winners, where you are assured to spot the Big Five (Lion, Buffalo, Elephant, Leopard and Rhino) in addition to the other game are:
Maasai Mara Game Reserve in the Southwest of Kenya - the Best time to visit is July- December. However, the reserve is an all-year-round game drive destination.

Tsavo East National Park in Southeast Kenya. Best all year round

Amboseli National Park, located in Southern Kenya, the park stands out due to its large elephant population. The Best visit times to visit Amboseli national park are Jan- Feb and June- October when the grass is short and dry, making animals easy to spot.

The Aberdare National Park, located on the East of the Rift Valley, about a 3-hour drive from Nairobi. The best time to visit is July to October
A herd of Elephants. 
3. Mountaineering and rock climbing
In Kenya, Mount Kenya is the apple of every mountain climber's eye. It is the second-largest mountain in Africa (after Mount Kilimanjaro). This extinct volcano is located in Central Kenya, some 16.5 south of the Equator, Northeast of the capital Nairobi. The ice peaked mountain towers at an impressive 5,199 meters. While still scaling the lower levels of the mountain, you are likely to see Zebra, Antelopes, and Gazelles on your way up. Best time to visit are January- March, and July- October.
As for rock climbing, Hell's Gate National Park and Lukenya are great locations. They are located in the Northwest and Southeast of Nairobi respectively. Both locales offer excellent cliffs and crags for beginners and experienced climbers alike.
Of note is that Hell's Gate is rich in wildlife as well as geothermal spas and hot springs. The best time to visit Hell's Gate is June- February when there is no rain, but Lukenya is a year-round destination.
A man scaling a cliff. 
4. Marine safari in Diani
On the South coast of Kenya, lies Diani Beach, Africa's Leading Beach Destination (according to World Travel Awards). The 17 km of white-sanded Beach is a postcard perfect vision of pure turquoise water on one hand, and a serene palm-tree rich shore on the other. The beach has dominated the World Travel Awards for six years now and it is easy to see why. Here, you can enjoy a host of activities, such as scuba diving, kitesurfing, sport-fishing, sailing and snorkeling. While scuba diving, expect to see rare fish such as the Whale shark (which are very friendly) as well as the seasonal Dolphins. Fishing fans can expect to snag some Sailfish, Blue Marlin and of course, Sharks!
A man surrounded by two Whale Sharks. 
If you do decide to snorkel in Diani, the rich coral assures you of vibrant marine life with over 195 species of colorful fish to see! Best time to visit is in July- September and January- March
5. White water rafting and bungee-jumping in Sagana
Located 100Km from Nairobi in Central Kenya, is a small town known as Sagana, famed for the adrenaline-inducing activities it has on its menu. Thanks to River Sagana (which is also known as Tana River or even Thagana among the locals), adventure seekers can get an adrenaline fix by rafting and kayaking on the river's white rapids.
To a large extent, the white rapids are the by-product of the 40ft waterfall found on site. For those who may not be fond of the water, bungee jumping 60 meters down along the banks of the river is a viable alternative. Sagana is an all-year-round destination.
White water rafting. 
Winding UP
Kenya is a magical place to be and the five activities listed here are by no means exhaustive. Camping and Hot Air Balloon ride over the Mara Triangle, walking safaris, birdwatching in Arabuko Sokoke forest, kitesurfing in Malindi or Watamu Marine Parks are just some examples of the myriad of exciting activities that awaits you during your holiday in Kenya. Visit Masaimarasafari.in and start planning your Kenya holiday. The brand has been in the Kenya tourism industry for a decade, and they have Kenya holiday packages of all budgets.