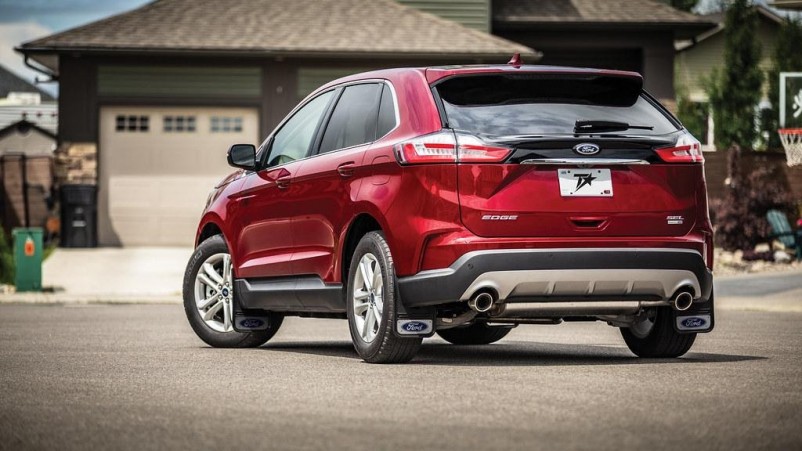 SUVs are known for being versatile vehicles that do it all, but some have more personality and character than others. The Ford Edge has power and practicality, as well as a slew of stylish, attention-grabbing details.
Let's check out the Ford Edge's core features and at all the flair that makes this Crossover SUV such a standout.
Peppy Engine
The Ford Edge packs a serious punch with its 2.7L V6 turbocharged EcoBoost engine good for 335 horsepower and 380-lb.-foot of torque. The Edge ST has a Sport mode that has pep you wouldn't expect from an SUV.
Even the entry-level SE trim comes standard with Hill Start assist, Curve Control, Electronic Power-Assisted Steering, and other modern features that make driving in all conditions more comfortable. For friendly service and a wide selection of Fords in Brampton and the GTA, visit a family-owned car dealership that has been in business for decades.
Style Galore
The amount of unique style points the Ford Edge boasts separates it from other vehicles in its class. Featuring 20" Premium Gloss Black-Painted Aluminum Wheels, a Dark Bezel with LED Signature Lighting, and a steering wheel with Unique Red Stitching, the Ford Edge will dazzle all who see it.
The Metallic Foot Pedal adds some exciting flair for the driver and makes the interior feel like a cockpit. But even passersby will be impressed just to see the curvy lines on the vehicle's exterior. Inside and out, the Ford Edge is a looker!
Smart Comes Standard
The Ford Edge comes loaded with Smart standard features that make driving safer for everyone. Pre-Collision Assist with Automatic Emergency Braking scans the road to see if there's a risk of a collision with another vehicle or object.
If it detects that there's a risk, the vehicle will brace for an emergency stop. The vehicle itself will apply the brakes if the driver takes no corrective action.
The Rear-View Camera, Lane-Keeping System, and Blind Spot Information System make it easier for drivers to identify and avoid nearby road hazards. It makes for a stress-free and relaxing drive.
Finally, the Edge comes with SYNC3 with Apple CarPlay and Android Auto, so getting safe and full use of your phone while driving is simple and comfortable. Keep in touch with your contacts via text, email and voice, and access your music and navigation features via hands-free voice-command, or a capacitive and responsive LCD touchscreen.
The Smart technology in the 2020 Ford Edge has all been redesigned so that driving safely and keeping fully connected is not just possible but can be done effortlessly.
Modern SUVs are very rugged and versatile vehicles with muscle under the hood, nimble handling, and smart technology throughout. When you add to this the Ford Edge's palpable sense of style that turns heads wherever it goes, you have a vehicle that can really do it all.