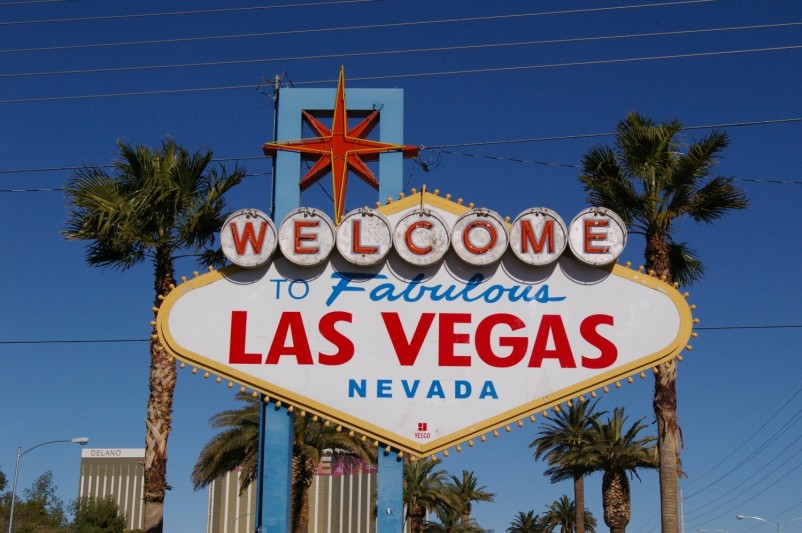 Over the past few years, Las Vegas has seen a decline in visitors. This has been attributed to a number of reasons, from hotel upgrades and parking fees.
It remains one of the world's largest adult playgrounds, but the fact that conventions have moved online has lowered numbers. As technology has improved, and companies' lower budgets for travel, conferences can now take place online.
Visitors from the UK prefer European countries and especially cities and towns with a beach. Those who can't afford to travel now have the chance to take in the lights of Vegas through the screen.
You can even watch weddings live from the Viva Las Vegas Chapel, sometimes with an Elvis impersonator. Check out people posing by the 'Welcome to Las Vegas' sign on Earthcam too.
Technology has opened up our opportunities to see different places without even leaving our living rooms.
The best Vegas attractions
Of course, this doesn't mean that no one is visiting Las Vegas anymore. This desert wonderland attracted nearly 17 million visitors in the first seven months of this year.
When people come to Vegas, it's not just for the many casinos that line the Strip. There's so much live entertainment and tickets to some of the hottest shows in town don't come cheap.
Some come to see megastars such as Britney Spears and Celine Dion, who both had long-running residencies in Vegas. Others book a magic show, or live sporting events, which regularly take place in the city.
Which shows to see?
There's no doubt that shows in Las Vegas are some of the biggest on earth. Nowhere else has quite the spectacle, and the excitement is in the air.
These are some of the most popular shows right now:
1. Mystere by Cirque du Soleil at Treasure Island
Dancers, trapeze artists, aerialists and gymnasts come together to bring the beauty and mystery to life onstage. This intense experience for all the senses has been running for almost 30 years.
If you can't get tickets to Mystere, Cirque du Soleil has six other shows running in Vegas. All of them feature spectacular costumes and incredible acrobatics.
Another crowd favourite is O, at the Bellagio, an aquatic-themed show that is suitable for all ages. Cirque du Soleil also have the show LOVE with Beatles songs, and ONE, a Michael Jackson tribute show.
2. The Mentalist, at Planet Hollywood Hotel and Casino
The Mentalist is Gerry McCambridge - a magician and mind-reader with brilliant comedy skills. This is a show that features heavily on audience participation, but Gerry delights people with his skills night after night.
3. Blue Man Group at the Luxor Hotel and Casino
Quirky cast members who don't say a word entertain the crowd in an eye-catching and fun performance. Music, lighting effects and amazing visuals all combine in a dazzling show.
4. Tournament of Kings at the Excalibur Hotel and Casino
Hark back to olden days with this dinner show where jousting and battles take place. Expect to see lots of knights and wizards.
Sports
UK sportsbook fans know that Vegas is one of the global capitals for sports such as boxing and MMA. These events are live streamed all over the world, but the action takes place in Nevada.
Here are some of the biggest fights to ever take place in Las Vegas.
1. The Showdown, Caesar's Palace, 16 September 1981
"Sugar" Ray Leonard and Thomas Kearns battled it out over 14 rounds on a hot September night. The match was strongly hyped as the competitors had never fought before, but went down in history as legendary.
2. Riddick Bowe and Evander Holyfield, Thomas & Mack Center, 13 November 1992
Two very different boxers met in the ring to fight it out for the heavyweight champion. It was a relentless fight with Bowe and Holyfield using different tactics, but the former took the title.
3. Robbie Lawler and Rory MacDonald, MGM Garden Arena, 11 July 2015
Many argue it's the best UFC fight in history, when then-champion Lawler took on MacDonald for the welterweight title. It was hard fought, but Lawler won by TKO.
4. Nate Diaz and Conor McGregor, T-Mobile Arena, 20 August 2016
📆 OTD in 2016...

Conor McGregor and Nate Diaz went to war at #UFC196 👊pic.twitter.com/SRm2yOHDTg

— UFC on BT Sport (@btsportufc) March 5, 2019
UFC 202 was a chance for Irishman McGregor to redeem himself, having submitted to Diaz earlier that year. McGregor was victorious, and also earned the highest fight purse in history.
Many boxers have made Vegas their home, including Mike Tyson and Floyd Mayweather Jnr.
Visit or watch from afar
Of course, the huge sporting events are available on pay-per-view, so many more can tune in from afar. Nothing beats the atmosphere of being ringside for one of the big fights though.
Visiting Las Vegas may be a dream for some and a bucket list item for others. In terms of live entertainment, no other city can hold a candle to it.