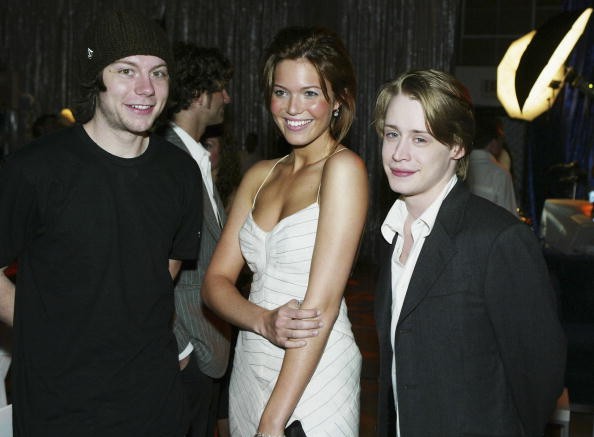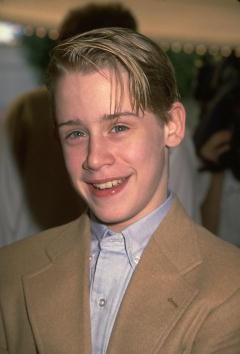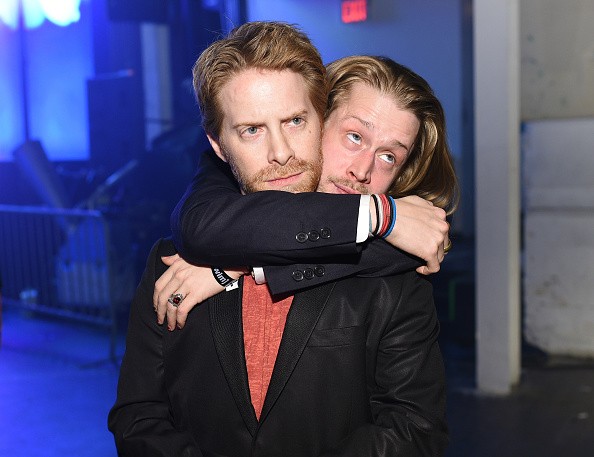 Macaulay Culkin and 50 things from his life.
1. The role of Kevin from Home Alone was written specially for Culkin.
2. His younger brother Kieran also landed a part as Kevin's bed-wetting cousin, Fuller in Home Alone.
3. His brother Kieran built acting career for himself in movies like The Cider House Rules, Igby Goes Down, and Scott Pilgrim vs. the World.
4. Home Alone where Culkin stars earned a Guinness World Record as the highest-grossing live-action comedy ever domestically.
5. Culkin has been performing in an avant-garde cover band "The Pizza Underground" since the beginning of 2014.
6. Culkin wed Rachel Miner when they were both 17. After two years of marriage, however, the couple split.
7. Was in a long-term relationship with Mila Kunis.
8. Culkin was the first child actor to receive one million dollars for a single movie.
9. The film, "My Girl," features his first on-screen kiss.
10. Culkin was close friends with Michael Jackson.
11. Culkin is godfather to two of Michael Jackson's kids, Prince Michael and Paris Jackson.
12. In 2004, Culkin was arrested for marijuana possession in Oklahoma City.
13. Turned his apartment into a painting workshop in 2012.
14. Before he became famous he appeared in a 1988 episode of the action series "The Equalizer" as a kidnapping victim.
15. His full name is Macaulay Carson Culkin.
16. His feature screen debut was in in 1988 in the film Rocket Gibraltar.
17. Has been selected by People Magazine as one of the "100 Greatest Movie Stars of all Time."
18. He is the third of seven children.
19. He performed in his first play Off-Broadway at age 4.
20. Studied the performing arts extensively as a child, including training at Blanchine's School of the American Ballet, and appeared in numerous television commercials.
21. Throughout Macaulay Culkin's career his father, Kit Culkin, was his manager.
22. His mother won custody battle over their children and Macaulay's fortune.
23. In 2005, Culkin defended Michael Jackson at the pop star's molestation trial.
24. His father is Christopher Cornelius Culkin. He is a former actor known for his productions on Broadway. He is also the brother of actress Bonnie Bedelia.
25. His mother is Patricia Brentrup, who never married Culkin.
26. Studied ballet at the School of American Ballet.
27. During Culkin's early childhood, the family lived in a small apartment.
28. His mother was a telephone operator.
29. His father worked as a sacristan at a local Catholic church.
30. In December 2013 a video of Culkin eating a cheese pizza went viral. Culkin was parodying Andy Warhol consuming a Burger King Whopper in Jørgen Leth's documentary 66 Scenes from America.
31. Through the video Culkin was promoting the debut of his New York-based, pizza-themed comedy rock band the Pizza Underground.
32. The band began their tour in January 2014 and was stormed off stage at Rock City during Culkin kazoo solo after fans began booing and throwing pints of beer at the band.
33. The band cancelled the remaining U.K. shows claiming the cancellation had nothing to do with the Rock City performance/
34. Culkin has been dating former All My Children actress Jordan Lane Price since November 2013
35. Culkin appeared in Michael Jackson's "Black or White" music video.
36. Culkin attended Jackson's burial on September 3, 2009.
37. In 2009, Culkin appeared in a UK-based commercial for Aviva Insurance to help promote their company's rebranding.
38. In February 2010, Culkin appeared in an episode of Poppy de Villeneuve's online series for The New York Times, The Park.
39. On March 7 of the same year, he appeared alongside actors Matthew Broderick, Molly Ringwald, Judd Nelson, Ally Sheedy, Anthony Michael Hall, and Jon Cryer in a tribute to the late John Hughes.
40. In April 2011, Culkin was featured in musician Adam Green's experimental film "The Wrong Ferarri", which was entirely shot on an iPhone.
41. In September 2012, he appeared in a video on YouTube explaining how he turned his apartment in New York into a painting workshop.
42. Culking was inactive in his career for several years.
43. Culkin returned to acting, in 2000, with a role in the play Madame Melville, which was staged in London's West End.
44. Began doing voice-over work, with appearances in Seth Green's Robot Chicken.
45. Culkin published an experimental, semi-autobiographical novel, Junior, which featured details about Culkin's stardom and his shaky relationship with his father.
46. After seeing movie Big he wanted a lot space wtih an elevator that opened direclty into his apartment just like Tom Hanks' did.
47. Shared apartment with friends Adam Green and Toby Goodshank.
48. Both, Green and Goodshank are both former members of the indie rock band Moldy Peaches.
49. Home Alone star Culkin was regarded as the most successful child actor since Shirley Temple.
50. Culkin is now working on his upcoming book which is a collection of non-fiction stories about his friends. The book will be a follow-up to his 2006 novel Junior.