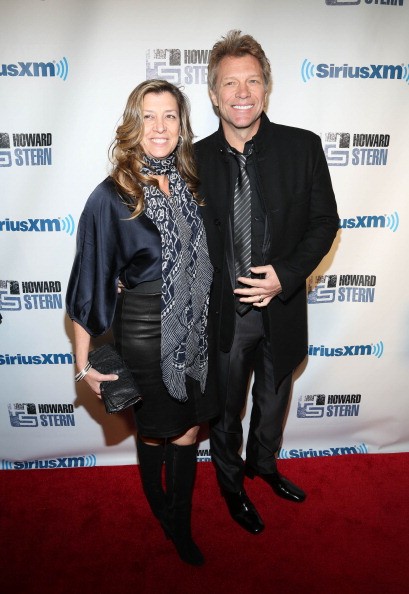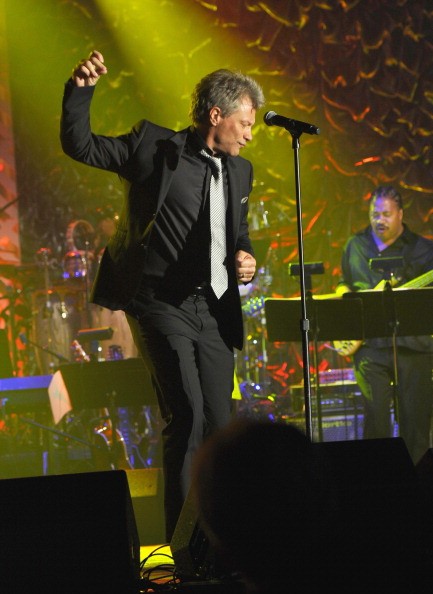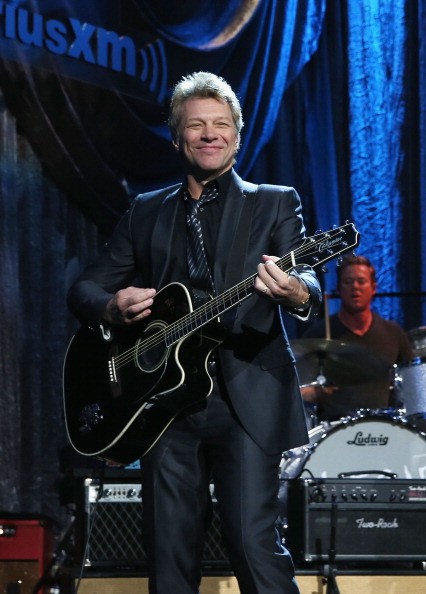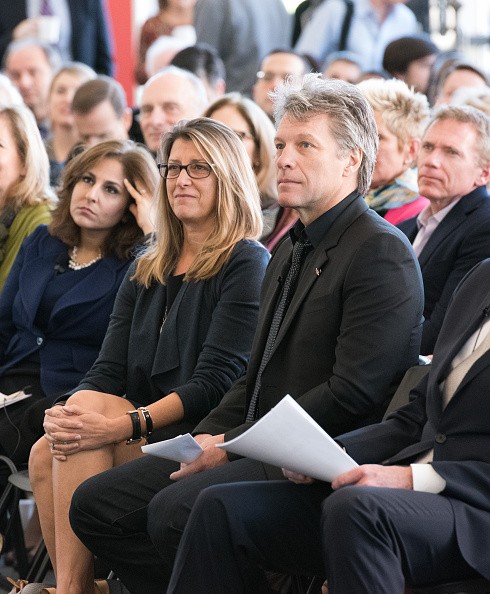 50 things about Jon Bon Jovi's career and personal life.
1. John Francis Bongiovi, Jr. known as Jon Bon Jovi, is an American singer-songwriter, record producer, philanthropist, and actor, best known as the founder and frontman of rock band Bon Jovi, which was formed in 1983.
2. During his career, he has released two solo albums and twelve studio albums with his band, which to date have sold over 130 million albums worldwide making them one of the world's best-selling music artists.
3. In addition to his music career, Bon Jovi started an acting career in the 1990s, starring roles in several movies include Moonlight and Valentino and U-571 and also made appearances on TV series including Sex and the City and Ally McBeal.
4. As a songwriter, Bon Jovi was inducted into Songwriters Hall of Fame in 2009.
5. In 2012, Bon Jovi ranked number fifty on the list of Billboard magazine's "Power 100", a ranking of "The Most Powerful and Influential People In The Music Business".
6. In 1996, People magazine named him as one of the "50 Most Beautiful People In The World".
7. In addition, Bon Jovi was the one of the founders and majority owners of the Arena Football League team Philadelphia Soul.
8. He is the founder of The Jon Bon Jovi Soul Foundation which was founded in 2006 and exists to combat issues that force families and individuals into economic despair.
9. Jon Bon Jovi also campaigned for Al Gore in the 2000 Presidential election, John Kerry in the 2004 Presidential election, and Barack Obama in the 2008 Presidential election.
10. In 2010, President Barack Obama named Bon Jovi to the White House Council for Community Solutions.
11. Jon Bon Jovi was also awarded an honorary Doctorate of Humanities from Monmouth University in 2001.
12. John Francis Bongiovi, Jr. was born in Perth Amboy, New Jersey, the son of two former Marines, barber John Francis Bongiovi, Sr. and Playboy Bunny turned florist Carol Sharkey.
13. He has two brothers, Anthony and Matthew.
14. His father was of Italian (from Sciacca, Sicily) and Slovak ancestry and his mother is of German and Russian descent.
15. Jon Bon Jovi has stated that he is a blood relative of singer Frank Sinatra.
16. Jon Bon Jovi was raised Catholic.
17. Jon Bon Jovi spent summers in Erie, Pennsylvania, with his grandparents, and sold newspapers.
18. As a child, John attended St. Joseph High School, in Metuchen, New Jersey, during his freshman and sophomore years.
19. Jon Bon Jovi later transferred to Sayreville War Memorial High School in Parlin, New Jersey.
20. Jon Bon Jovi spent most of his adolescence skipping school to opt for music activities instead, and ended up playing in local bands with friends and his cousin Tony Bongiovi, who owned the then famous New York recording studio, The Power Station. As a result, his academic records displayed poor grades.
21. By the time he was 16, John Bongiovi was playing clubs. It was not long before he joined up with keyboardist David Bryan (real name: David Bryan Rashbaum), who played with him in a ten-piece rhythm and blues band called Atlantic City Expressway.
22. Jon Bon Jovi also performed with bands called The Rest, The Lechers and John Bongiovi and the Wild Ones.
23. When he was seventeen, Jon Bon Jovi was working sweeping floors at his cousin Tony Bongiovi's recording studio.
24. In 1980, when Meco was there recording Christmas in the Stars: The Star Wars Christmas Album, Tony Bongiovi recommended him for the song "R2-D2 We Wish You A Merry Christmas". This became his first professional recording (credited as John Bongiovi).
25. During 1983 Jon Bon Jovi joined Scandal as a rhythm guitarist (briefly). He also appears during a demo recording of the music video for Scandal's 1983 single "Love's Got A Line On You" which reached #59 in the US.
26. In June 1982, Jon Bon Jovi recorded a song called "Runaway". The studio musicians who helped record "Runaway" - known as The All Star Review - were guitarist Tim Pierce, keyboardist Roy Bittan, drummer Frankie LaRocka, and bassist Hugh McDonald.
27. Jon Bon Jovi went to several record companies, including Atlantic Records and Mercury (PolyGram), but they all turned him down.
28. Jon Bon Jovi visited major rock station WAPP 103.5FM "The Apple" in New York City. He spoke directly to the promotion director John Lassman, who accepted the song "Runaway" for inclusion on the station's compilation album of local homegrown talent.
29. "Runaway" became a local hit. Along the way, Mercury Records gave Jon Bon Jovi a recording contract in 1983, and to promote "Runaway", Jon Bon Jovi called up David Bryan who in turn called bassist Alec John Such and drummer Tico Torres.
30. After Jon Bon Jovi claimed he wanted a group name, a friend of Richard Fischer and an employee of Doc McGhee, suggested they call themselves Bon Jovi, following the example of the other famous last name bands such as Van Halen and Dokken.
31. The band released their eponymous first album on January 21, 1984.
32. The band became an international act in the late 1980s, when they released their breakthrough album Slippery When Wet. Their fourth album New Jersey, which was released in 1988, became as successful as its predecessor.
33. Following the group's success, Jon Bon Jovi and Richie Sambora were asked to assist in producing Cher's self-titled album in 1987.
34. Jon Bon Jovi and Richie Sambora co-wrote and sang backup vocals on Cher's single "We All Sleep Alone" and also produced several other tracks on the album, later going on to co-produce Cher's multi-platinum album Heart of Stone in 1989 and co-wrote the song "Does Anybody Really Fall In Love Anymore?".
35. During the Slippery When Wet Tour in 1987, Jon Bon Jovi's attempt to give it his all during live shows and the tour's exhausting schedule greatly strained his vocal cords, and he began receiving steroid shots to help him sing. With the help of a vocal coach, he was able to continue doing the tour.
36. In 1990, Jon Bon Jovi recorded a soundtrack to the movie Young Guns II more commonly known as Blaze of Glory.
37. Having been originally approached by his friend Emilio Estevez to lend "Wanted Dead Or Alive" as the theme song for his upcoming Billy the Kid sequel, Jon Bon Jovi ended up composing an all-new theme song for the film's soundtrack and delivering his first solo album. The album featured high-profile guests such as Elton John, Little Richard and Jeff Beck.
38. In 1991, "Blaze of Glory" won an award for Favorite Pop/Rock Single at the American Music Awards and awarded a Golden Globe, as well. The song also earned Jon Bon Jovi an Academy Award nomination and a Grammy Award nomination.
39. In 1991, Jon Bon Jovi started his own label, Jambco Records, and produced Aldo Nova's album Blood on the Bricks and Billy Falcon's album Pretty Blue World.
40. Disillusioned with the music business, despite all his success, and unhappy with the status quo, in the summer of 1991 he set off on a two-week cross-country motorcycle trip that would significantly affect his creative juices.
41. In September 1991, he fired the band's long time manager Doc McGhee, business advisers, and agents and created Bon Jovi Management.
42. Jon Bon Jovi put the band together. Upon resolving their issues, they returned with the album Keep the Faith, released in late 1992.
43. Jon Bon Jovi cut his trademark hair and the band turned away from the 1980s hair metal to conventional rock and introduced a more mature sound.
44. The media focused considerable attention on Jon Bon Jovi's hair. When Jon Bon Jovi cut his hair, he made headlines on CNN.
45. Jon Bon Jovi wrote what would become his second solo album, 1997's Destination Anywhere. A short movie of the same name was recorded right around the record's release, based entirely on the songs from the record and starring Jon Bon Jovi, Demi Moore, Kevin Bacon and Whoopi Goldberg.
46. Jon Bon Jovi is a credited actor in the movies Moonlight and Valentino, The Leading Man, Destination Anywhere, Homegrown, Little City, No Looking Back, Row Your Boat, Vampires Los Muertos, U-571, Cry Wolf, National Lampoon's Pucked, and New Year's Eve.
47. Jon Bon Jovi has worked on behalf of the Special Olympics, the American Red Cross, the Elizabeth Glaser Pediatric AIDS Foundation, Habitat for Humanity, Covenant House, Project H.O.M.E., The Jon Bon Jovi Soul Foundation (formerly the Philadelphia Soul Charitable Foundation), and other groups.
48. He has been named the first Founding Ambassador of the Habitat for Humanity Ambassador program as part of the international nonprofit organization's new advocacy outreach initiative.
49. During a stop in Los Angeles on The New Jersey Syndicate Tour in 1989, Jon secretly took a trip to Las Vegas, and married his high school sweetheart, Dorothea Hurley.
50. The couple has four children: a daughter, Stephanie Rose (born May 31, 1993), and three sons, Jesse James Louis (born Feb 19, 1995), Jacob Hurley (born May 7, 2002) and Romeo Jon (born Mar 29, 2004).
Source: Wikipedia.org