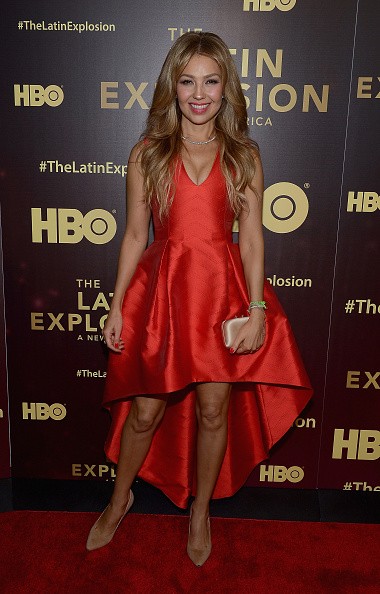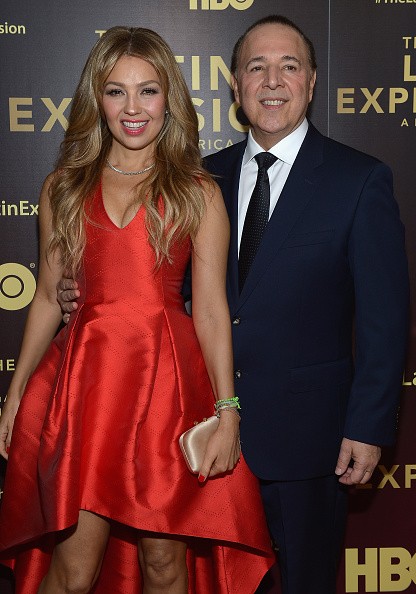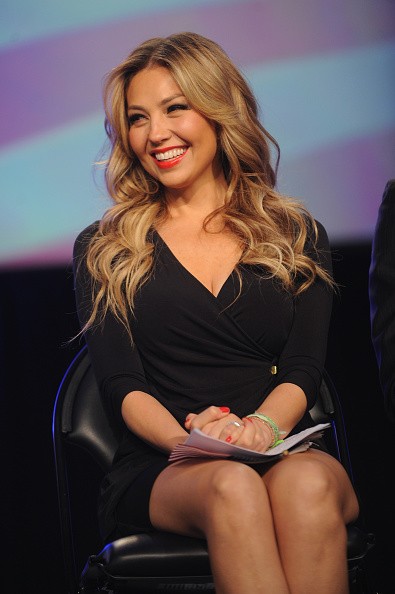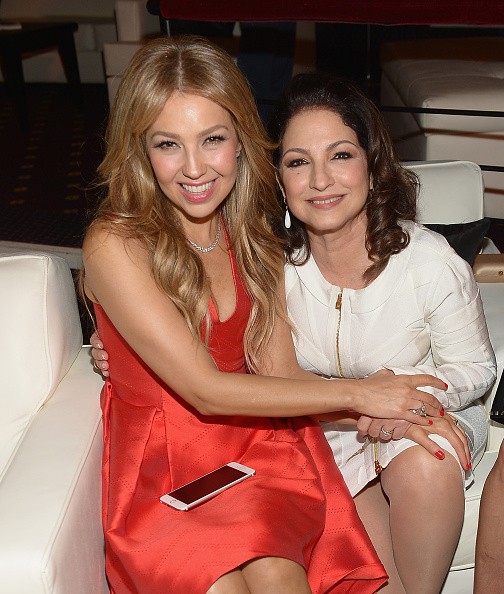 50 facts about Mexican star Thalía.
1. Thalía was in Mexico City, Mexico.
2. She is the youngest of five daughters.
3. Her mother is Yolanda Miranda Mange, a painter who was Thalia's manager from 1980 to 1999.
4. Her father is Ernesto Sodi Pallares, a scientist, doctor of pathology, criminologist, and writer.
5. Her four sisters are Laura Zapata, Federica, Gabriela, and Ernestina Sodi.
6. When she turned one year old, Thalía appeared in her first TV commercial in Mexico.
7. When she turned four, she began taking ballet and piano classes at the National Conservatory of Music of Mexico.
8. Thalía's father suffered from diabetes and died in 1977 when Thalía was only six years old.
9. Years later, Thalia realized that her father's death traumatized her drastically, since she could not talk to anyone for a whole year. This led to her being diagnosed with childhood disintegrative disorder (CDH), which belongs to a series of developmental disorders caused by autism spectrum. Her mother took her to many psychologists at an early age.
10. Thalía went to Liceo Franco Mexicano elementary school, where she learned to speak French fluently at a very young age.
11. Her full name is Ariadna Thalía Sodi-Miranda Mottola but is known mononymously as Thalía.
12. She is a singer, published author, actress and entrepreneur.
13. She is recognized as the most successful and influential female Mexican singer.
14. She is often referred to as the "Queen of Latin Pop" by international media, mainly because of her legacy within the Latin pop music scene for the last 25 years.
15. As a solo artist, she has sold over 40 million records worldwide, being considered one of the best-selling Latin musicians of all time.
16. She has had 28 Top 10 singles, 16 of which went to No.1 and she has received numerous accolades including five Latin Billboard awards, several Premios Juventud awards and various Latin Grammy nominations.
17. Apart from her success as a recording artist, Thalía has also had a successful career in acting, as she starred in a variety of soap operas (known as telenovelas) that have aired in over 180 countries.
18. During the decade of the 1990s, she was converted into a television icon and was publicly referred to as the "Queen of telenovelas" by the mass media around the world.
19. She was also reported to be the most successful and best-paid telenovela actress, as stated by Televisa, the largest mass media company in the Spanish-speaking world.
20. In 2008, the British tabloid The Sun named her one of "the 50 female singers who will never be forgotten" and in 2011, Terra Networks included her in their list of "the most powerful and iconic women in music".
21. She is also an occasional fashion designer.
22. In 1999, she starred in soap opera, Rosalinda. She abandoned the field of television in order to focus more in her music projects.
23. Is an accomplished author having released four books, one of them being her personal memoir.
24. On December 5, 2013 she was honored with a star on the Hollywood Walk of Fame, as a recognition for her successful career in music and entertainment.
25. In 1981, when Thalía was nine years old, she was incorporated as a vocalist in a children's group named Pac Man, which was formed in order to participate in a popular music festival known as Juguemos a cantar ("Let's play at singing"), a TV program by Televisa.
26. Visited Los Angeles in order to take English courses in the University of California. She also attended music, singing acting and dancing classes before beginning her career as a solo artist.
27. In 2001 she was nominated for her record Arrasando and won a Lo Nuestro award in the category of People's Prize, and was the first artist to whom an innovative award from Billboard Awards for Latin Music was given, the "Star Award".
28. On May 4, 2001, the President of the United States, George W. Bush, invited her to a party celebrating Cinco de mayo organized at the White House, where she interpreted a medley of popular Mexican songs with a Mexican mariachi band.
29. On August 28, 2001, expressing her love for her country of birth, Mexico, she released her album Con Banda: Grandes éxitos: a "greatest hits" album, but recorded with the typical Mexican "banda" sound. "Amor a la Mexicana" banda version was released as a single. The album was nominated for a Latin Grammy for "Best Banda Album" at the 3rd Annual Latin Grammy Awards in 2002.
30. On February 10, 2004, Thalía released her first official Greatest Hits album, and "Cerca de ti" and "Acción y Reacción" were the singles from this album. In April and May, she toured USA and Mexico with her "High Voltage Tour".
31. In 1987, she went on to star in her first major role for Televisa in the 1987 teenage drama series Quinceañera, along with Mexican actress Adela Noriega. Quinceañera won the TV y Novelas award for Best Telenovela of the Year 1988.
32. In 1989, she got her first lead role in Luz y Sombra, which was less successful.
33. However, Thalía's explosion in popularity came in 1992, when she starred in María Mercedes for which she won a TV Y Novelas award as Best Young Actress in 1993.
34. Thalia married music executive Tommy Mottola on December 2, 2000.
35. The couple has two children, daughter Sabrina Sakaë, and son Matthew Alejandro.
36. Thalía has stated in her autobiography and elsewhere that she is religious and believes profoundly in God.
37. She began studying Kabbalah in 2002, using many of its symbols in the artwork of her album El Sexto Sentido.
38. In 2008, Thalía was affected by Lyme disease, a disease commonly transmitted by ticks. Thalía's illness prevented her from promoting her album Lunada, while it functioned as a motivation for her to have a totally different perspective towards life. In reference to her illness, Thalia stated in her autobiography : "I would sweat profusely, soaking my pajamas, the sheets and even the mattress; everything hurt, even my hair, which, by the way, started to fall out. At times it felt as if my head were going to burst, as if there were lead inside of it; my eyes ached in their sockets....the hypersensitivity of my skin was so severe that sometimes I couldn't even handle the bed sheets."
39. Since 2004, she has been an official celebrity ambassador and volunteer of March of Dimes, in order to support national fundraising and awareness campaigns. March of Dimes is a United States nonprofit organization that works to improve the health of mothers and babies.
40. In 2006, Thalía along with her husband attended the event A Funny Thing Happened On The Way To Cure Parkinson's with the aim to economically support the foundation The Michael J. Fox Foundation for Parkinson's Research of Michael J. Fox.
41. In May 2009, Thalía and Tommy Mottola were recognized from St. Jude Children's Research Hospital in Miami for their support in children in need.
42. In 2010, she reunited with other recording artists, performers and actors like Sharon Stone, Michael Douglas, Jennifer Lopez and Marc Anthony between others, in order to raise funds for the "Foundation of the New York's police department", which works for better urban security.
43. In 2011, she attended a beneficial event in New York, organized by the Robin Hood Foundation with the aim to raise money for homeless youth.
44. Also in 2011, she closed the Mexican Teleton by offering a live concert.
45. Thalía is also a member of "ALAS Foundation", which is a non-profit organization that strives to launch a new social movement that will generate a collective commitment to comprehensive Early Childhood Development programs for the children in Latin America.
46. In April 2013, Thalía was awarded with the "Your Voice Inspires Many" award by the Lyme Research Alliance.
47. According to Thalia herself, her major personal influence was her mother, who was a motivating manager for Thalia from the very beginning of her career until 2000.
48. As for her artistic influences, Thalia's work is mostly influenced by Gloria Estefan, Celine Dion, Sade, Billie Holiday, Frank Sinatra, The Doors, and Kylie Minogue.
49. Stated that she always admired Marilyn Monroe and Madonna.
50. Thalia's first idol, according to her, was athlete Nadia Comaneci.