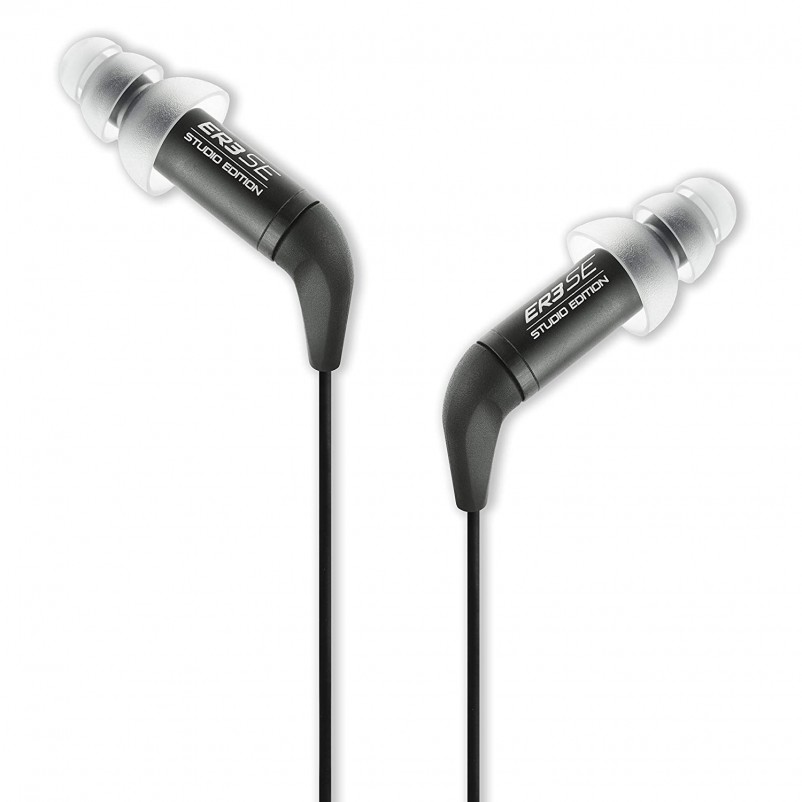 (Video Review) Etymotic ER3SE Studio Edition Balanced Armature In-Ear Earphones
-Studio grade accuracy
-Precision machined metal bodies; High performance balanced armature micro-drivers
-4ft reinforced detachable cables with 3.5mm gold plated stereo plug and MMCX connectors
-Assorted eartips for 35-42dB of external noise isolation; 120dB max output
-2 year manufacturer's warranty provided for products purchased from authorized resellers
From the manufacturer
Etymotic Research, Inc. is an engineering-driven research, development and manufacturing company. The name 'Etymotic' (pronounced 'et-im-oh-tik') means 'true to the ear'. Innovation, education and hearing conservation are central to Etymotic's mission.
ER3SE Studio Edition
The Most Accurate Earphone In Its Class
Over 30 years ago, Etymotic invented noise-isolating, in-ear earphones. Etymotic's original design, developed for auditory research and hearing testing, used balanced-armature receivers and established these speakers as the gold standard for high-definition, in-ear earphones.
Studio grade accuracy
Sleek, precision machined metal bodies
High performance balanced armature micro drivers
Detachable, reinforced 4 ft cables with 3.5mm gold plated stereo plug and MMCX connectors
Why Etymotic?
Etymotic designs products to measure, improve and protect hearing, and enhance the listening experience of music lovers everywhere. Audio engineers, musicians and audiologists at Etymotic have generated over 100 patents issued and pending.
Why ER3SE Studio Edition?
Utilizing the balanced armature drivers regarded as the gold standard for high definition, in-ear earphones, the ER3SE is for those who demand nothing less than the highest fidelity. ER3 series earphones are tuned to extremely tight tolerance specs for the most accurate sound reproduction on the market.
The new ER3SE incorporates significant cosmetic and functional improvements, from sleek, precision machined metal bodies to the reinforced, user-replaceable detachable cable. A must have for discerning audiophiles and consumers.
Specifications
High performance, balanced-armature micro drivers
20Hz-16kHz Frequency Response
35-42dB Noise Isolation
Detachable 4 ft cable with MMCX connectors
120 dB Max Output
Impedance 22 ohms
Detachable, Reinforced Cables

To detach the cables, pull the cable connector away from the earphone body. Pull straight out-Do Not Twist.

To attach the cables, align the key tab on the cable connector with the notch in the body of the earphone. Press together until it snaps in place.

Proper Insertion

Sound quality, full bass response and noise isolation all depend on a good eartip seal in the ear canal. While pulling up and out on the back of the ear carefully insert the earphone. Twist the earphone into the ear canal while inserting until outside noise is blocked out.

In The Box

ER3SE Studio Edition earphones.

Filter removal tool and replacement filters.

Assorted eartips.

Carrying Pouch.

Shirt Clip.