Although men are not as obsessed with bags as women are, branded men's bags are still trendy. Bags are used on a daily basis either for school, work, or traveling. Prestigious and known branded men's bags are Adidas, Herschel, Hurley, Nike, and the such.
If you're looking for a branded men's bag for your boyfriend, dad, brother, uncle, or friend, Amazon is the best place to go to. Amazon has hundreds of men's bags and they are always at the best deals. You can even save money if you buy items on Amazon compared if you buy at your local mall. Plus, ordering on Amazon is hassle-free and very convenient. All you have to do is just log in, shop, pay, and it will be delivered on your doorstep in no time!
To help you out, we will reveal Amazon's top and best-selling branded bags for men in this article. Once you've taken a glance at what's in store, make sure to visit Amazon's website.
Adidas is a famous brand all over the world. Adidas is known for its sporting and outdoor accessories that include bags, shoes, sporting attire, shirts, and even sporting accessories. This Adidas bag is made of 100% polyester ripstop and is imported. When you clean this bag, make sure to use a clean, damp cloth to clean it. This bag has a screen-printed logo. It comes with a zippered main compartment and has a branded webbing on the bag with a shoulder strap. The front pocket is zippered as well and it has a slit pocket in the back. The zippers are made of nylon.

The bag's body is made of 100% polyester but as a whole, the bag is made of 71% polyester and 29% nylon. This bag is imported as well. It has a zipper closure and should be hand washed only when you clean it. This branded bag is water-resistant and has a coated bottom. It has a large main compartment that you can put all your gym or travel stuff in. It has a removable and adjustable padded shoulder strap for comfort and a padded side for easy handling and lifting.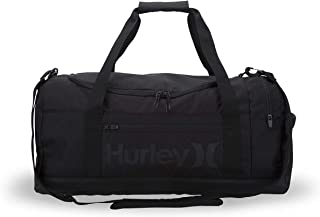 PUMA is also a known sports brand that sells bags, shoes, and sporting accessories and clothing. Most of their items are for men, unlike other brands that are unisex. This Ferrari gym sack bag is made of 100% polyester and is imported. It comes with a drawstring closure that is adjustable and dependable on how much you are carrying inside that bag. It also has a carbon fiber look that features fabric panels. The front is woven with an Italian flag label.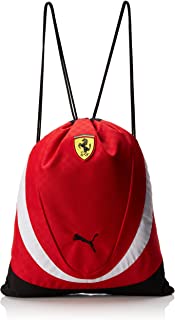 This bag has a vegetable-tanned leather that is imported from Italy. It is made of full-grain cowhide that is matched with durable metal and zinc alloy combined. It offers a classic and professional briefcase look that is perfect to use for work and school. It has a large capacity and has a three-compartment design. It has a key lock and double buckles closure which can securely keep your 14-inch laptop, A4 folders and paperwork in. This vintage bag can also stand upright on its own without falling over. It has an extra detachable and adjustable shoulder strap that is also made with vegetable-tanned leather and cotton fabric.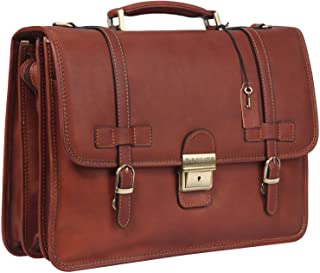 This weather-proof Herschel Supply Co. tote has a daisy-chain trim, branded front pockets, and two side pockets. It also has a welded zip and drawstring closure at the top. This bag has a lined interior with a laptop sleeve and organizer pockets. The webbed handles are also present and an adjustable shoulder strap as well.
This bag has cushioned adjustable straps that have two front pockets with zipper closure, and two side pockets for smaller items. It is a traditional large bag pocket with zipper closure. Jordan branded pins are also included on the front and the straps are made of polyester fabric for durability and fast dry.