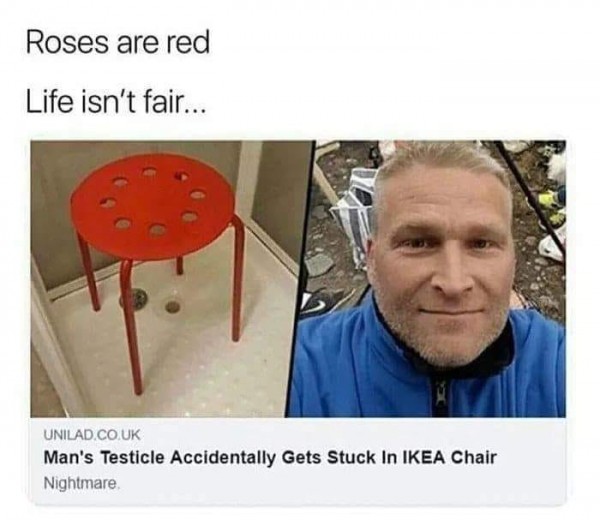 A man's testicles were stuck in Ikea chair after he used it in a shower. The man, whose name is Claus Jørstad, posted his hilarious story on Facebook to warn men of the horrors that can happen when you take an Ikea chair to the shower. He happens to live in Norway. Many people are now asking, so how did he get in such a predicament?
It turns out Claus had a knee injury which required him to need assistance while showeing. To help himself in the shower, he bought a Marius stool from Ikea to sit on when he takes a shower. It is smart to take a stool to the shower when you can't stand for a long time. However, it would help if you were picky with the right stool you take. Maybe next time, pick ones without holes in them! But Claus learned this the hard way.
In a report by Yahoo! News, Claus said that he sat there for a long time and he didn't notice that his testicles were stuck in the Ikea chair. That was worsened by the hot water that caused his balls to expand. He sat in the seat for a long time until the water got cold. Claus did something that could have killed him. His idea was to take a dryer to dry his testicles. When he reached for it, he realized he was free.
Claus told the DailyMail that he could not move and cursed like an angry Irishman. He had no ideas other than the one that could have killed him. He even likened the cold water to his mother-in-law's smile when he married her daughter. That is quite a feat.
Claus posted his problems on Facebook, which then become viral. He posted pictures and updates with headlines saying, "Man's testicles stuck in Ikea chair." What made it even funnier was that Claus did not mention the word testicle. He stated that Swedes do not like to use direct words for genitalia. Instead, he called his testicles "little nutter" and "skipper and two sailors." He describes it as the skipper being the captain, and the sailors are the two nuts that dangle.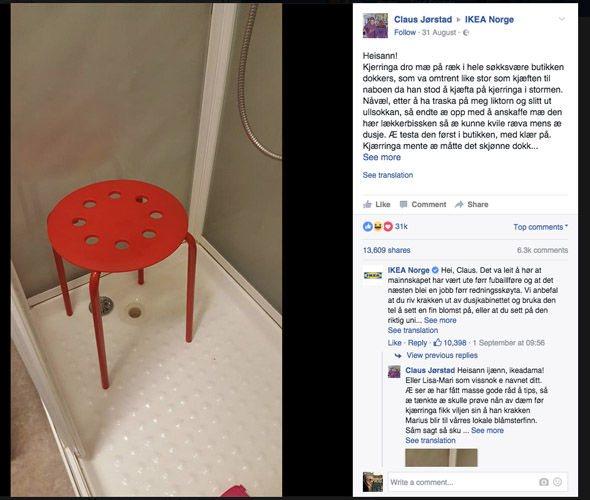 When he posted this to Ikea, he said that he was once again a free man. He also asked Ikea if the stool was available in yellow. They answered that the Marius stool is only available in white, red, and black.
Ikea responded to Claus, recommending that he either take the stool out of the shower or sit on it with the right uniform. The staffer humored him with his skipper and two sailors' description when he told Claus to make sure he's well dressed for his next sea excursion. On Claus' next bath, he avoided making the same mistake by covering the stool with a washcloth. So his little nutter will be safe from such a humiliating predicament the second time around.