Clean your house and office conveniently with zero hassle at all with these fantastic shoulder and backpack vacuums on Amazon today!
Lightweight design weighs less than 10 pounds allows for superior mobility. A chiropractor designed harness reduces user strain. It has a quiet operation and cleans without disrupting the environment around you. Extra-long, 48 foot 3-wire quick change power cord- switch outlets less often between cleans. Includes an accessory pack with 6" crevice tool, 11" turbo floor tool, 2" dusting brush, and 4" upholstery tool. Get 66dBA quiet operation without disrupting the environment around you. And switch outlets less often with the extra-long 48 feet 3-wire quick change cord.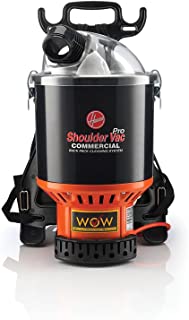 Make your cleaning experience easier and more comfortable with the Hoover CH30000 PortaPower commercial lightweight canister vacuum cleaner! This reliable commercial vacuum can clean tight places and large spaces with its outstanding features. As a canister vacuum, the CH30000 can be used for detailing as well as to extend long distances with its 33' long power cord.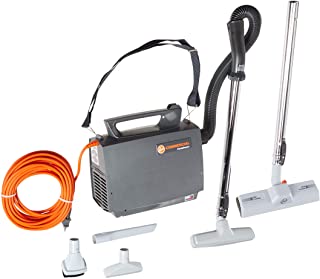 You can vacuum stairways, down halls, and around sharp corners with ease. At 8.3 lbs, the CH30000 canister vacuum weighs less than the average 6th grader's backpack, which is 18.4 lbs.! With its lightweight design, using the CH30000 can be a breeze and reduce fatigue.
Not only does the CH30000 vacuum cleaner have a built-in blower, but it also can be used to clean up hard-to-reach places such as up draperies, upholsteries, and even in your vehicles. The CH30000 can use both a reusable commercial cloth bag and a paper dust bag, allowing you to switch and alternate between cleaning jobs. For example, a cloth bag would most likely be used with sharper objects and paper bags for dust clean-up.
The Oreck XL Pro 5 Canister Vacuum lets you take high performance to hard-to-reach spots and above-the-floors. At just 5 pounds*, this quick and convenient carry canister cleans stairs, furniture, ceiling fans, molding, bookshelves, curtains, light fixtures, and more with a set of detailing tools.
Best of all, the Oreck XL Pro 5 Canister was proudly made in the U.S.A with the U.S. and globally sourced components. Carry it by hand or shoulder. Compact, lightweight design. Powerful high vortex motor provides strong suction and long life. This compact canister has the power of heavier canister. Eleven accessories make it the most versatile compact vacuum available. Power cord: 30 feet and has a 1-year commercial.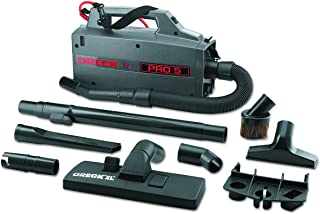 The backpack vacuum weighs 10.3 lbs with dimensions of 12" x 9" x 20". The perfect size to move around comfortably while vacuuming. Easily convert to the right or left hand. The belt loop contains storage for the accessories to transition for any job performed easily. Weight is 18.95 pounds.
The 8-Quart HEPA filter safely captures particles. It was made to eliminate the risk of exhausting, dangerous bacteria during vacuuming virtually. The powerful vacuum and backpack blower work for both residential and commercial applications. Use the lightweight backpack vacuum for pest control, hotels, hospitals, schools, janitors, JAN/SAN, offices, warehouses, stairs, ceilings, entryways, drapes, blinds, and hard to reach corners.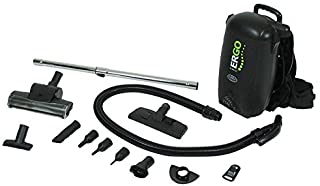 Disclosure
BOOMSbeat writes about stuff we think you'll like. We have affiliate partnerships and may earn commission from any sale resulting from this page.