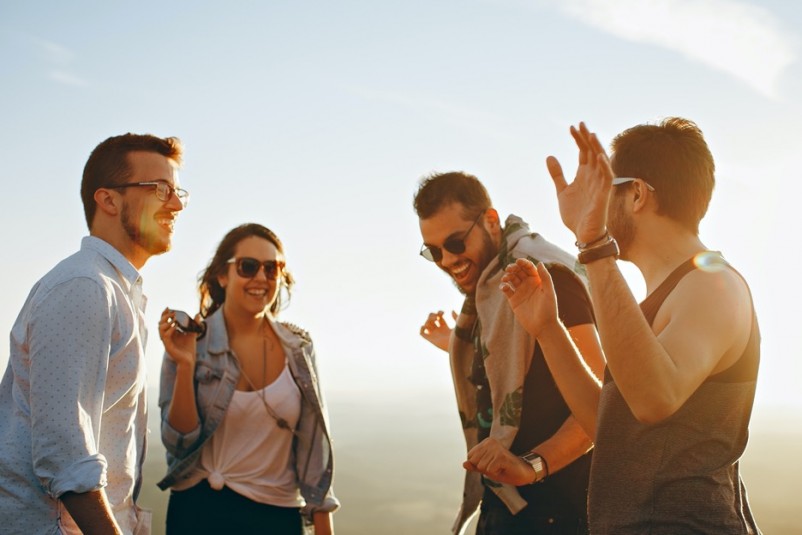 Having a friend with benefits relationship (FWB) with a complete stranger can be quite exciting but at the same time, a bit scary too. Because of the many risks involved with having an FWB relationship with a stranger, you must always prioritize your safety. This is, by no means, a way to scare from having such a relationship. Instead, you should make sure to stay cautious, be aware of all the warning signs (if there are any), and stay safe.
Notify Your Friends About This
As you go about your FWB relationship, finding a FWB partner online, make sure that you keep some close friends in the loop. Most of the time, families aren't too acceptive of these relationships so if you can't tell your family, make sure to keep your good friends in the know.
Drop your friends a text whenever you are meeting the person and tell them where you're headed. This way, they will know your whereabouts and you will also be at some level of ease while having an FWB relationship with a stranger.
Know Your Limitations and Be Vocal About Them
When you are dating online using a FWB finder, you must know what your boundary is. If you're not comfortable with something, don't let it linger on for too long. Make sure to be vocal about what you like and dislike. This will help make sure that there are no uncomfortable instances between you and the stranger! Also, make sure to consider their limitations as well.
Contraceptives Are Essential
You don't want to be in a situation where you have contracted an STD or where you have to make difficult choices. Being safe is the only way to go about it when you're using a dating site like FWBtinder to find a friend with benefits. It doesn't matter what the situation is, make sure to always have contraceptives on hand in case the other person doesn't. If neither of you possesses one, then it's better to keep things on the lighter side.
Have An Exit Strategy
Sometimes you're unable to tell what the other person is like and give them the benefit of doubt. While it's great to be optimistic in every situation, giving strangers complete access can sometimes be very risky. So, make sure that you have an exit strategy in mind.
When you're in a confined location with a stranger, an exit strategy isn't the easiest thing to plan. But given the situation, you'll either have to make sure that you have a friend on stand-by or excuse yourself and make a run for it! You might not need to do this every time, but you should have one planned out for your own safety!
Keep Your Private Life, Private
Don't ever make the mistake of getting into too many details about your private life. Casual dating with a stranger can become more than what it is. You're both clear on what the goal is here so don't beat about the bush or get into details about your private life.
Keep conversations light and away from the gory details about what you do, where you work, how many siblings you have, and all that. You get the idea. Be smart and try to minimize all the private life talk.
Get Your Hands on A Personal Safety Device
With the way technology is advancing, you have access to so many devices that you can keep with yourselves at all times to keep you safe. Personal safety devices are big yes when it comes to practicing FWB relationships with strangers. You don't want to risk your safety for anything so make sure that you've got something that can connect you to your friends and family in a second.
This way, they will know when and if you're in trouble and help you to get out of that situation. Your locations and other details will be promptly communicated to them so no worries about having to explain to someone where you're at and what you need.
Trust Your Instincts
One thing that you should always do is trust your gut! There's no other way to put it. If you get a bad feeling from someone, then it's best to stay away. Don't purposely put yourself in a situation that you already feel will have a bad turnout.
All in all, it's great to have fun and having an FWB relationship with a stranger is exciting. But you need to make sure that you're practicing all the safety tips and tricks to keep yourself safe and out of difficult situations!