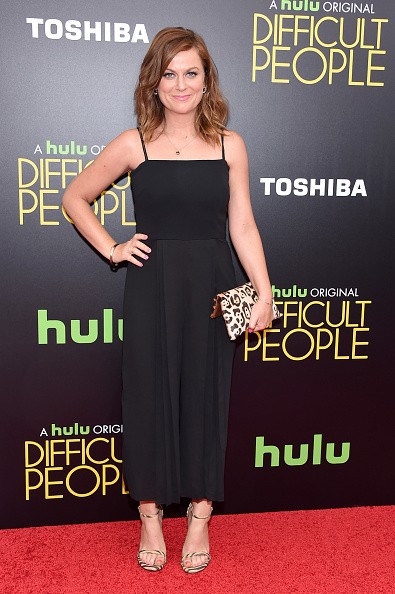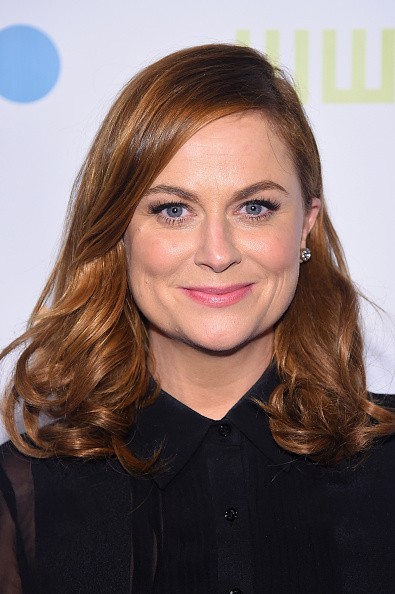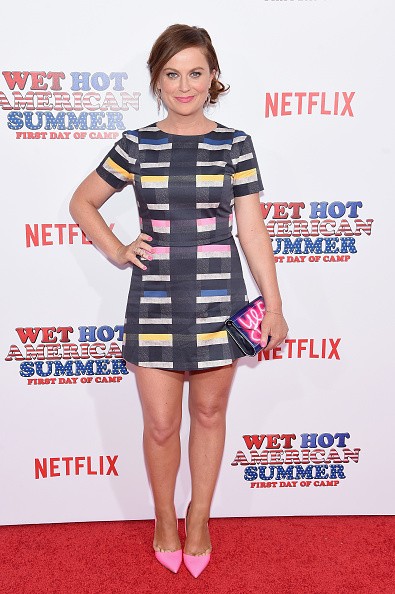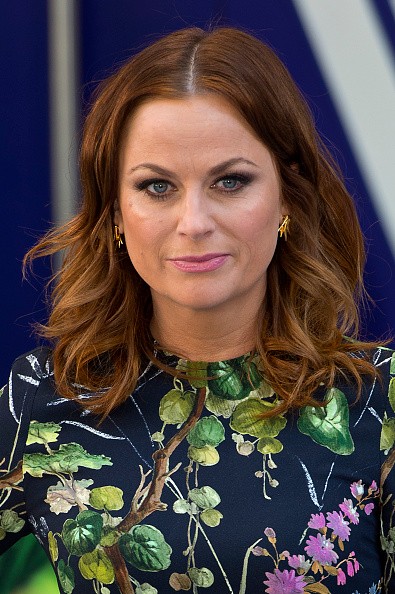 Amy Poehler's 50 facts.
1. His mother is a high school teachers.
2. Her brother, Greg Poehler, is a producer and actor.
3. Her father is of English, German, Irish, and Portuguese ancestry.
4. Her mother is of Irish descent.
5. She was raised as a Catholic.
6. Graduated from Burlington High School in 1989.
7. While attending Boston College, Poehler was a member of My Mother's Fleabag, the oldest collegiate improv comedy troupe in the United States.
8. She graduated from Boston College with a bachelor's degree in media and communications in 1993 and moved to Chicago, where she studied improv at Second City with friend and future co-star Tina Fey.
9. She also studied with Del Close at ImprovOlympic.
10. Her middle name is Meredith.
11. She is an actress, comedian, voice artist, director, producer, and writer.
12. In 1996, she moved to New York City after becoming part of the improvisational comedy troupe Upright Citizens Brigade, which later developed into an eponymous television show that aired on Comedy Central for three seasons.
13. She was also one of the founding members of the Upright Citizens Brigade Theatre in 1999.
14. Amy Poehler was a cast member on the NBC television series Saturday Night Live from 2001 to 2008.
15. In 2004, she became the co-anchor of the Weekend Update sketch alongside her friend and colleague Tina Fey.
16. Poehler is known for voicing Bessie Higgenbottom in the 2008-2011 Nickelodeon series, The Mighty B! and Homily Clock from the English dub of The Secret World of Arrietty.
17. From 2009 to 2015, she starred as Leslie Knope in the sitcom Parks and Recreation, for which she received widespread critical acclaim and won a Golden Globe Award for Best Actress in a Television Musical or Comedy Series in 2014.
18. Poehler served as an executive producer on the Swedish-American sitcom Welcome to Sweden, along with her brother Greg Poehler.
19. She is also an executive producer on Broad City which airs on Comedy Central, and appeared in the Season 1 finale.
20. She also voiced Joy in the 2015 animated Pixar film Inside Out, and received critical acclaim for her work.
21. Since August 2015, she has served as an executive producer on the Hulu original series Difficult People, which stars her former Parks and Recreation co-star Billy Eichner and comedian Julie Klausner, the latter of whom is the creator of the show.
22. During her time at Second City and Improv Olympic in Chicago, Poehler studied under Del Close and Charna Halpern along with Matt Besser, where they were part of the original improv team called the Upright Citizens Brigade. While the group initially consisted of many members (including Horatio Sanz, Adam McKay, Rick Roman, and Neil Flynn), Poehler quickly became part of the group along with Matt Walsh. The two, along with Besser and Ian Roberts, performed sketch and improv around Chicago before moving to New York City in 1996. Immediately after moving to New York, the group quickly scored a TV gig, appearing as sketch regulars on Late Night with Conan O'Brien.
23. Poehler joined the cast of SNL during the 2001-02 season, her debut episode being the first one produced after the 9/11 attacks - with host Reese Witherspoon, musical guest Alicia Keys, and New York City Mayor Rudy Giuliani as a special guest. Poehler was promoted from featured player to full cast member in her first season on the show, making her only the third person to have earned this distinction (after Harry Shearer and Eddie Murphy).
24. Beginning with the 2004-05 season, she co-anchored "Weekend Update" with Tina Fey, replacing the newly departed Jimmy Fallon.
25. When Fey left after the 2005-06 season to devote time to the sitcom she created, 30 Rock, Seth Meyers joined Poehler at the anchor desk.
26. In 2008, Poehler was nominated for the Primetime Emmy Award for Outstanding Supporting Actress in a Comedy Series, the first SNL cast member recognized in this category.
27. It was officially announced on September 16, 2008, that Poehler would be leaving SNL in October due to the birth of her child. On the October 25, 2008 episode, it was announced by "Weekend Update" co-anchor Seth Meyers, who anchored the segment alone, "Amy Poehler is not here because she is having a baby", to wild applause from the audience.
28. Poehler returned to Saturday Night Live on September 25, 2010, to host the Season 36 opening episode with performer Katy Perry.
29. In 2015, during Saturday Night Live's 40th Anniversary show, she returned to anchor "Weekend Update", this time with Tina Fey and Jane Curtin.
30. Welcome to Sweden is a Swedish sitcom that premiered on TV4 on March 21, 2014. On July 10, 2014, the series began airing on NBC in the United States, and on The Comedy Network in Canada. It is based on the experiences of Greg Poehler, who moved with his girlfriend to her native country of Sweden in 2006.
31. Poehler dated Matt Besser in the 1990s.
32. She married actor Will Arnett on August 29, 2003
33. Arnett and Poehler had a recurring role on the series Arrested Development as the wife of Arnett's character Gob Bluth. They also played a quasi-incestuous brother-sister ice skating team in the 2007 film Blades of Glory, and appeared together in Horton Hears a Who!, On Broadway, Spring Breakdown, and Monsters vs. Aliens, along with Arnett having a guest appearance on Parks and Recreation.
34. Poehler and Arnett also did voice acting in The Secret World of Arrietty.
35. Together, Poehler and Arnett have two sons: Archie and Abel.
36. Poehler and Arnett announced on September 6, 2012, that they were separating.
37. Poehler began dating actor and comedian Nick Kroll in 2013.
38. Poehler appeared in the films Wet Hot American Summer, Mean Girls, Deuce Bigalow: Male Gigolo, Tenacious D in The Pick of Destiny, Blades of Glory, Envy, Shrek the Third, Mr. Woodcock, and Hamlet 2.
39. She appeared in various comedy segments on Late Night with Conan O'Brien, often playing her recurring role as Andy Richter's little sister, Stacy, as well as appearances as a recurring character in two episodes of the college dramedy, Undeclared.
40. In 2008, she appeared in Horton Hears a Who!, Hamlet 2, Baby Mama, and Spring Breakdown.
41. She also co-created an animated series for Nickelodeon called The Mighty B!, about Bessie Higgenbottom, a "sweet, merit-badge-obsessed girl scout", to which she lends her vocal talents.
42. In 2009, Poehler earned a Daytime Emmy Award nomination for Outstanding Performer in an Animated Program.
43. In September 2008, Poehler began producing a digital series with two of her friends, Meredith Walker and Amy Miles, titled Smart Girls at the Party. Launched by the Texas-based ON Networks distributor, the official press release stated that the show "aims to help girls find confidence in their own aspirations and talents." In each episode, Poehler interviews a girl with a "unique talent, community interest or point of view." The first season of Smart Girls at the Party premiered online November 17, 2008, with Mattel's Barbie signed on as the lead sponsor.
44. In 2011, Poehler was included on TIME's "100 most influential people in the world".
45. She also delivered the Class Day address to Harvard University's class of 2011.
46. Poehler and Fey hosted the Golden Globe Awards ceremony for the first time in 2013.
47. Poehler hosted the Golden Globes ceremony with Fey again in 2014 as part of a three-year contract.
48. Poehler's memoir, Yes Please, was published on October 28, 2014.
49. Poehler and Fey hosted the Golden Globe Awards ceremony for the third successive time in 2015, confirming prior to the event that the third time would be their last.
50. In 2014, she won the Golden Globe for Best Actress in a Television Series - Comedy at the 71st Golden Globe Awards.