The year 2020 has given us a series of shocking events, and one mother from the Philippines decided to immortalize them by naming two of the biggest 2020 events after her newborn son Covid Bryant. Amidst the panic and fear brought by the coronavirus pandemic, netizens pointed out the fact that there are those who still find humor in the situation.
Mom names baby Covid Bryant
Twitter user @chicprotagonist shared a story about their house helper who gave birth to a baby boy on March 15, the user said that the baby is named Covid Bryant, to remember the COVID-19 outbreak that has affected millions of people, forced numerous countries to go on lockdown and has took thousands of lives all over the world. Byrant is one of the best basketball players of all time, Kobe Bryant, who tragically passed away in January. The tweet quickly went viral, garnering laughter and confusion among the public.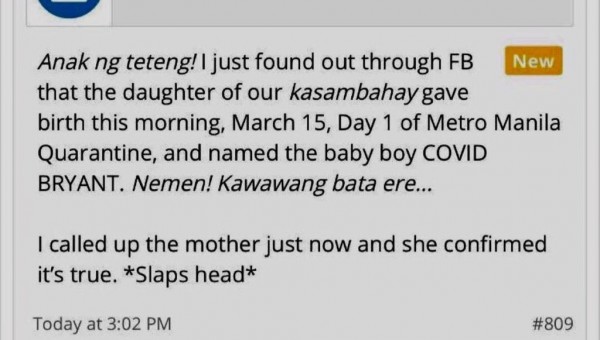 Although there was no ill intention in naming the child Covid Bryant, a lot of netizens voiced their concern over the mother's decision. Numerous netizens said that the child might get bullied by his peers because of his name and that he will be reminded about the two biggest tragedies of the decade for the rest of his life.
Naming babies based on trends
When it comes to being witty with names, the Philippines is on top of the list. In the early 90s, numerous babies were named after the famous Mexican actress Thalia. Hundreds of babies were also named after her characters on her hit TV shows such as Marimar and Maria Mercedes.
In the early 2000s, the Harry Potter franchise was very popular around the world that it inspired a mother in the Philippines to name her son "Lord Voldemort" and the news quickly went viral. The citizens are not the only ones with unusual names, even Filipino celebrities were given unusual and witty names by their parents. Celebrities like Dingdong Dantes, Ketchup Eusebio, and Makisig Morales to name a few.
Netizens also poke fun over some celebrity names that would sound ridiculous if they are combined. Some say that they can't get married because their merged names will have a different meaning. Some examples are Miss Universe contestant Venus Raj and singer Bruno Mars which will result in Venus Mars and actress Maja Salvador and singer Rico Blanco, which will result in Maja Blanco, the name of a famous delicacy in the Philippines.
Importance of a child's name
Child psychologists have stated that the name of your child is very important and that it should have meaning. A child's name will become a part of their identity so it is vital that parents pick a name that is meaningful. Netizens argue that naming a child after a tragedies may not be a good choice.
The is a chance that the mother may have been overwhelmed by everything that is happening this year, and she may have ran out of ideas. Naming her child Covid may also mean that she survived one of the worst pandemics in modern history. After all, the child was born on March 15, which was the day that Metro Manila went on lockdown.
ALSO READ: Best Modern Bidet of 2020