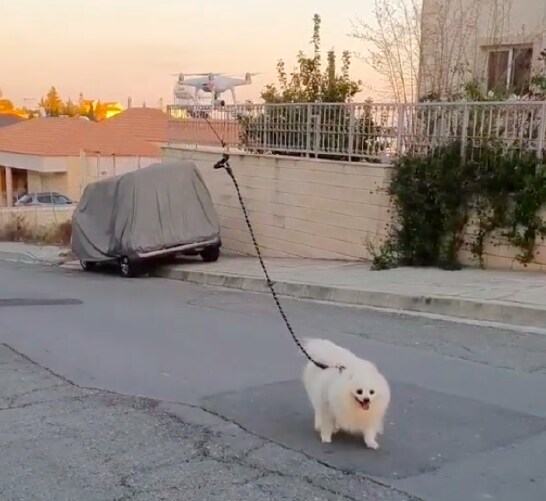 As the coronavirus spreads around the world and people are encouraged to stay at home, more and more people are afraid to go out as there is a high chance of getting contaminated. This fear is especially true for those who are high risk like the elderly, children and those with underlying medical conditions.
Because of the possibility of getting the virus every time you go out, a man from Cyprus named Vakis Demetriou has been self-isolating since Cyprus announced their lockdown on March 24 and it will be effective till April 13. Demetrious is taking extra precautions and thought of a unique strategy to go about his everyday routine.
Man uses drone to walk dog
Vakis Demetriou is a fitness instructor that is based in Limassol, Cyprus. He showed his Instagram followers how he walks his dog amid the shutdown of the city. Instead of taking his chances and risk leaving his house, he used a drone to walk his Pomeranian dog.
The video of his unique and brilliant strategy was posted on his Instagram with the caption "5th-day quarantine. Stay Home Safe but don't forget your dog's happiness." The said video has now garnered 17,000 likes and more than 300 comments.
UK and US shutdown
Although Cyprus is late with enforcing a community lockdown, the other parts of the world have been practicing it for weeks now. In the UK, people are encouraged to stay at home. Prime Minister Boris Johnson has permitted people to have one form of exercise, either a walk, a run or a cycle. Dog owners will be able to walk their dogs and leave their home once a day.
In the US, numerous states have declared complete lockdown since March 16, and President Donald Trump is currently assessing the stock market and is thinking of lifting the ban. People can still walk outside with their dogs but social distancing is a protocol.
Social distancing
The World Health Organization or the WHO has ordered governments around the world to enforce social distancing as a way to help slow down the spread of the virus. In the US, numerous people found fun ways to continue with their daily life while practicing social distancing.
People are now having their groceries delivered through Amazon. People go for a walk with their dog or they go for a jog while making sure that they are at least six feet away from each other. Markers and tapes have been placed all over the states that declared lockdown.
Even celebrities are now using their social media accounts to entertain the people. Singers John Legend, Coldplay and Keith Urban live-streamed their mini-concerts that were viewed by thousands of their fans. DJ D-Nice hosted an Instagram live party that was attended by celebrities like Drake and Jennifer Lopez, and even former first lady Michelle Obama and former vice president Joe Biden joined in.
Community art museums were also created by locals and they drew them on the pavement for everyone to see. Encouraging words and promises of hope and healing are scribbled on the artworks.
ALSO READ: WATCH: This Cute Orangutan Shows Everyone She Can Also Do Proper Hand-Washing